Podcast Episodes
Tim Martin discusses a Workamping opportunity with Kitchen Craft in Episode 042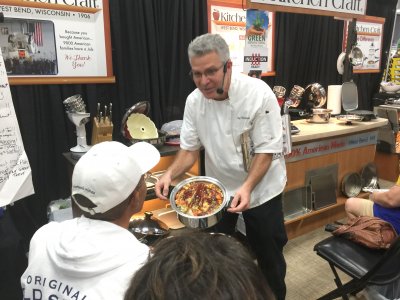 Podcast: Play in new window | Download | Embed
Subscribe: Google Podcasts | Spotify | Stitcher | TuneIn | RSS
Tim Martin is a sales representative for Kitchen Craft, a company based out of West Bend, WI, that produces cookware of all types and sells it at big events like RV rallies, fairs and campgrounds.
He travels with his wife and two daughters doing live cooking shows around the country demonstrating how people can make meals in their RVs and how Kitchen Craft products can make it easier to do the job.
The waterless cookware steams food to help maintain more nutritional value.
Tim explains what makes the cookware so unique and why people like to buy it. He also outlines ways in which people can make money on the road by doing what he does – demonstrating the products and taking orders.
The company provides training to help Workampers understand how to use and promote the cookware. He outlines how much money people can make by selling Kitchen Craft products.
Tim also describes the lifestyle his family gets to enjoy while he is selling the cookware.
I have bumped into Kitchen Craft at several RV shows over the years, and the demonstrations always seem to generate a crowd, so I can see why Tim is successful at doing what he does.
As a coach, he is also involved in training other representatives. The company does offer two days of training in Florida where people become more acquainted with Kitchen Craft, its products and processes.
The firm helps representatives tweak their presentations to ensure they are able to sell more and, thus, make more money selling cookware.
It sounds like there are a number of other nice perks for representatives, like trips.
It's an opportunity where people get to set their own hours and where they are going to work – plus there are some pretty nice tax advantages as well.
For more information, visit www.cookforlife.com.
Whether it is running a business from your RV or working short-term jobs for a variety of employers, Workamper News can give you information to help plan a course to live your own dream and get you on the road faster than you thought possible.
For more information about opportunities to live, work and play in your RV, visit www.workampernews.com.