Podcast Episodes
J.J. Condella, with Flamingo Adventures, describes Workamping jobs in the Everglades during Episode 141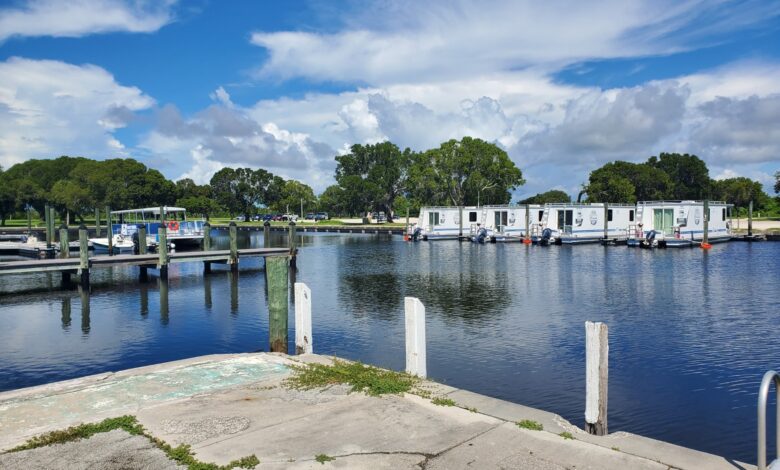 Podcast: Play in new window | Download
Subscribe: Google Podcasts | Spotify | Stitcher | TuneIn | RSS
Today I am going to speak with an employer in Florida about working in one of the most ecologically-diverse places on earth: The Everglades.
J.J. Condella is the general manger of Flamingo Adventures, which is part of the Guest Services network of companies which are contracted by the National Park Service and other agencies to provide food, gifts, lodging and recreation to people visiting the parks.
The Everglades encompasses 1.5 million acres of wilderness at the southern tip of Florida. People from around the world visit the park to enjoy hiking, canoeing, biking, kayaking, camping and fishing among the diverse wildlife.
Flamingo Adventures has a 20-year contract to provide guest services to Everglades visitors. The company operates a marina store that rents canoes, kayaks, bikes, skiffs and pontoon boats as well as four houseboats that allow people to explore the back country of the Everglades and yet take all the conveniences of home with them.
The firm operates several larger boats that offer guests 90-minute guided tours of the park where a naturalist describes plants and animals that make up the Everglades ecology.
Flamingo Adventures manages two campgrounds within the park. The largest one is near the Flamingo visitor's center and the other is in Long Pine Key in the northern section of the park. The Flamingo campground offers RV and tent sites as well as several eco-tents which are furnished with beds, fans, lights and other comforts.
There is a new lodge and restaurant being constructed now and expected to open in January or February. The lodge will have 24 rooms of varying sizes and the restaurant will offer quick-service casual dining with seating for 80 people inside and 20 on the outdoor deck.
It's a big operation and, consequently, Flamingo Adventures needs a bunch of Workampers to staff many positions including camp hosts, cashiers, waitstaff, cooks, housekeepers and front desk attendants. The company hires couples and solo Workampers.
These are full-time paid positions with wages ranging from $11 to $16 per hour.
The firm has 19 full-hookup RV sites and is adding another 12 in the months ahead. There are two additional full-hookup sites in Long Pine Key. RVers pay $20 per week to rent the sites which is quite a bargain to spend the winter in Florida.
Peak season begins in early October and all Workampers are in position by mid-November and continue working through the end of April or May.
I have visited the Everglades several times and enjoyed each experience. It is an interesting place to visit simply for the wildlife you'll encounter. When I first visited, I hoped I'd get to see an alligator. I wasn't more than a few steps from the visitor's center when I encountered a dozen or so sunning themselves along one of the walking paths.
Don't worry, the gators are very accustomed to visitors and pose nicely for photographs, if you maintain a respectable distance. You'll also see many different birds, animals, reptiles and amphibians. Spending the night in the Everglades is an experience all by itself with the different noises serenading throughout the night.
Although most jobs are already filled for this winter, Flamingo Adventures will need some Workampers starting in January or February when the lodge and restaurant open.
Generally, recruitment for the winter season takes place in June and July. The hiring process involves an initial prescreening interview to discuss what living and working at the park is like, and to talk about available jobs and the requirements for each one. Sometimes an additional interview is needed with a hiring manager although many jobs are offered right away.
Because the jobs are located on federal property, a background check is required for all positions.
There is plenty to do in the area when you're not working. Miami is about 90 minutes away and so are the Florida Keys. Workampers also enjoy free use of bicycles and paddleboats as well as discounts on skiffs and houseboats when they're available.
There are some things to note about working in the Everglades. Cell service is pretty much limited to AT&T in the Flamingo campground and Verizon at Long Pine Key. Pets are allowed in the park, but must be confined to paved streets and walkways. You wouldn't want to leave one unattended outside or allow it to run off-leash. There are also no bathhouses at the campgrounds, so RVs must have working air-conditioners and bathrooms.
For more information about Workamping in the Everglades and available jobs, visit www.flamingoeverglades.com.
Today's show is sponsored by the Small Business RVer School. This online course from Steve Anderson, co-creator of The National RV Training Academy, is designed specifically for entrepreneurs on the move and helps you build a business you can run anytime from anywhere.
The self-directed course helps you be your own boss while reducing stress and saving on taxes. Through a series of online videos, and monthly calls, you are taught the steps necessary to build and manage a successful mobile business.
Life is too short. So, choose what you want to do and when you want to do it by starting a business of your own. For more information, visit www.smallbizrver.com.
That wraps up another episode. Next week, I will speak with a different employer hiring Workampers for jobs at Yellowstone National Park.