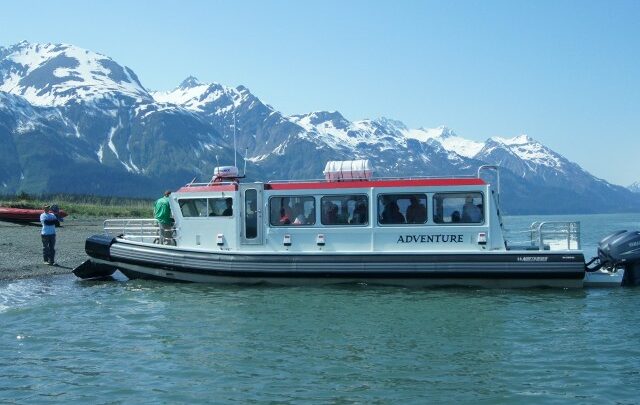 Podcast: Play in new window | Download
Subscribe: Google Podcasts | Spotify | Stitcher | TuneIn | RSS
Over the course of my 20-year-career with the RV industry – including three years of full-time RVing – I must have talked to thousands of RV owners. One of the common desires among people who like to RV is that they want to visit Alaska. Today, we'll explain how to get paid to do so.
Our guests today are Shauna Hansford and Erin Redington, with Alaska Excursions or Alaska X for short.
Their company caters to guests who arrive via cruise ships. Alaska X offers several fun excursions for the cruise passengers, and the firm hires workampers to guide, drive and escort them as they have some fun.
Based in Skagway, Alaska X offers a dog mushing experience as well as a zip line adventure, horseback riding and a wilderness adventure. The firm hires about 120 workampers for a variety of jobs.
They greet people coming off the cruise ship and direct them to the right buses. Workers drive buses, fix and maintain equipment, and sell merchandise at various stores. They escort guests on horseback on dog mushing excursions. They answer phones, respond to email and make presentations.
In exchange, they get paid between $14 and $16 per hour, and get free admission to tours and excursions offered by other companies, too. Most jobs are 35 to 40 hours per week from the middle of April to the end of September.
It sounds like a fun way to spend a summer in an area of the country that features a Kodak moment around every corner.
I had the opportunity to visit Alaska in 2006 where I interviewed an RV dealer who rented hundreds of motorhomes and truck campers to tourists every summer. After the interview was over, I was able to travel the state for about a week.
It was probably my all-time most memorable business trip. I got to take a boat to visit the glaciers. I saw the Northern lights and experienced the 24 hours of daylight. I even got to see a multitude of wildlife at Denali National Park.
It was an incredible experience, and I'd return to Alaska in a heartbeat.
That's why I'm grateful to Shauna Hansford and Erin Redington for taking time to talk to me about workamping opportunities with Alaska Excursions, or Alaska X for short.
If you like helping people have a good time, there is a job waiting for you next summer. The cruise industry is huge in southeast Alaska, and all the passengers are looking for ways to make their trip to The Last Frontier even more memorable.
You'll live in a community with hundreds of other RVers and once the ships leave in the evening, you'll have the town pretty much to yourself. But, there's plenty of other things to do, as well. You're just a few hours away from the Yukon Territory of Canada, and Juneau is a few hours away by ferry.
I'd encourage everyone to check out the opportunities awaiting them with Alaska Excursions by visiting www.alaskax.com. Then grab your camera for a memorable summer.
Whether it is running a business from your RV or working short-term jobs for a variety of employers, Workamper News can give you information to help plan a course to live your own dream and get you on the road faster than you thought possible. For more information about opportunities to live, work and play in your RV, visit www.workampernews.com.
*** TRANSCRIPT ***
Greg Gerber:                     Now we're going to go all the way up to Alaska — America's playground — to talk with a couple of ladies who have a lot of fun, exciting and interesting things for workampers to do. We have Shawna Hansford and Erin Reddington with Alaska X. How are you folks?
Shauna Hansford:            Doing well today.
Greg Gerber:                     That's great. And you guys are based out of where?
Shauna Hansford:            We're based out of Skagway, Alaska, which is down in Southeast Alaska.
Greg Gerber:                     We were talking a little bit before we started the interview and you folks work primarily in developing excursions for people arriving in Alaska on cruise ships, is that correct?
Shauna Hansford:            Yes, that's correct. Our company, AlaskaX, offers various excursions to cruise ship passengers visiting here in Southeast Alaska. Our main base here is in Skagway. We have several different adventures here. We have our mushers camps as well as our Grizzly Falls zip lining, our Chilkoot horseback adventure, Glacier Point wilderness Safari, I Wish for an APB Adventure in Juneau. We also have a mushers camp there, but as far as workampers go, they'd maybe be interested in our Skagway location. That's where we have our own RV park.
Greg Gerber:                     You're own RV park. Okay. And what kinds of things do the workampers do when they're working for you?
Shauna Hansford:            We have a great variety of positions that we're looking to fill each season. Everything from front desk personnel, answering phone calls and emails, the folks down at the dock who greet our guests coming off of the cruise ships, a retail sales staff, maintenance crew and mechanics, down to guiding positions as well. We need folks who will drive our shuttle buses or who can give presentations to the guests about dog mushing. We need horseback guides and all sorts of a really good interesting positions.
Greg Gerber:                     How many people do you employ in a typical season?
Shauna Hansford:            Generally, each summer at our Skagway location here we have about 120 individuals on staff for the summer season. Our summer season here generally runs from about the middle of April until the end of September.
Greg Gerber:                     So you're almost coming up to the end of the season.
Shauna Hansford:            Yeah, we're getting close to here. I've just a couple of weeks left right now.
Greg Gerber:                     I visited Alaska once a number of years ago. I went in the middle of May and found it to just be fascinating. Although I don't know if I could ever get used to having light out 24 hours a day. That was just kind of freaky.
Shauna Hansford:            It is pretty neat. It does take some getting used to having a whole bunch of brightness there and in May, June and July, it's really bright out a lot of the time. In August we finally started getting back to having some darkness so we can see the stars and the Aurora at night. But, man, Skagway is a beautiful place to be in with the mountains and the ocean. All sorts of really cool trees if you like hiking and a nature things. It's a great place to come.
Greg Gerber:                     Well, what I remembered about Alaska was having a Kodak moment around every corner. I think a lot of people would really have fun going up there. One of the best commercials I ever saw years ago was put out by the Department of Tourism up there in Alaska. It had two guys in fishing outfits standing in front of a stream where the salmon were actually leaping out of the water. And they were saying, "No, no, there's no good fishing here in Alaska. Don't come up here. It's way too cold." Obviously that wasn't the case. So it's a fun place to spend a summer.
Shauna Hansford:            It is a very fun place to spend the summer. There are so many great things to do, all sorts of neat people that you can meet. It's just, like you said, Kodak moments around every corner.
Greg Gerber:                     So the workampers are basically working for your company. They're not working for the excursions themselves, right? They're not going to be mushing dogs and running the zip lines and things like that. They're basically going to be working with the people coming off the cruise ship to direct them to where they need to go.
Shauna Hansford:            Well, a little bit of all of those things. Some of our staff direct them to the buses and where they need to be. Some of the staff are driving the buses to get people out to their adventures. And then some of the staff are the folks that are out there being zip line guys or being the dog mushers. So that covers a little bit of everything, depending on the position that they've been hired for.
Greg Gerber:                     Are there special requirements for people who want to work for the company?
Shauna Hansford:            As far as specific qualifications go, everybody does need to be CPR and first aid certified and some positions do require special licenses. Like people who are driving our short 24-passenger mini busses. They must have a class C CDL at minimum with a passenger endorsement. Boat captains need to have the appropriate captain's licenses. But for many other positions, as long as the person has the right attitude, we're willing to train them for the position.
Greg Gerber:                     Are those special licenses and requirements they must have that before they can apply? It's not something that you help them to obtain once they get the job, correct?
Shauna Hansford:            Oh, that's a great question. So yes, for CPR and first aid certification, they will need to have that when they arrive. Any kind of a captain's license that they're applying for a boat captain position, they do need to have that ahead of time. For CDL licenses, we are able to train and help them obtain that license once they get up here to Alaska.
Greg Gerber:                     How many hours a week do the workampers typically work?
Shauna Hansford:            Most of the time our staff is going to work somewhere between 35 to 40 hours a week. Some weeks at the beginning of the season might be a little bit slow as it starts to pick up with the cruise ship season. Then we are really super busy during the middle of the season all the way from about last week of May until about the first week of September. From the middle to end of September it will tail off and start to get a little bit slower again as cruise ships reposition to different areas of the globe.
Greg Gerber:                     To the warmer climates, I'm sure. So do you folks work with singles or do couples have to apply?
Shauna Hansford:            Either is just fine and dandy. We're happy accept any applicants who are interested in coming on up here to have a great summer with us.
Greg Gerber:                     Okay. What kind of perks do you offer the workampers?
Shauna Hansford:            As far as perks go for employees, we obviously have our own RV park, so it is generally just our own staff that are there in the RV park. As far as other kinds of perks here in town, we are able to offer complimentary tours with other companies to our staff. So, our staff can go on their tours, and their staff can go on ours. It's a great way to see a little bit more of Skagway while they're in town.
Greg Gerber:                     Are these paid positions that you are hiring for?
Shauna Hansford:            They are paid positions, so we do have an hourly rate for our positions. Depending upon the position, the hourly rate starts somewhere between about $14 to $16 an hour. All positions are eligible for an additional $2 an hour as an end-of-season performance-based bonus. Many of the guiding positions are within the company's tip pool. As far as our RV park goes, we do have spaces in available there for rent and it has sewer, water and electric hookups — all that good stuff.
Greg Gerber:                     Okay. What kinds of things do you expect from the workampers? Are there any special character traits that they need? You had mentioned they'd had to be good people-people
Shauna Hansford:            Characteristics that we expect from our staff members are we want to have people who are here to deliver an incredible experience to our guests. A fun and outgoing personality is something we like to see. They should be fearless when it comes to entertaining individuals. Not afraid to get out there and put it all on the line. We need folks who are safety conscious because lots of our adventures have elements of safety, like when they're driving the bus or leading zip lining. A strong work ethic is another really good thing and also a positive attitude. A positive attitude in life can overcome a whole lot. And we also look for folks who are great team players. We work as a group to make sure that we're giving our guests the best experience they can possibly expect when they get up here. So , a team player is another big one.
Greg Gerber:                     Do you work with people of all ages or are you looking for people who are younger who can just staff these zip lines and do all these kinds of tasks?
Shauna Hansford:            We do we look for people of all ages. We have something for everybody up here. As far as tradition goes. So some of the younger generation, yes, they tend to go for more of the zip lining guide positions. But some of the more senior individuals, like my mom for instance, who works here, she drives their buses and helps out in the office. And so there's a little bit of something for everybody.
Greg Gerber:                     Okay. Do the workampers have to commit to the entire season when they're hired?
Shauna Hansford:            Ideally we'd do like individuals to commit for the full season. It really helps staffing-wise to have somebody who's there from start to finish. But we do occasionally have some positions that allow for a little bit of flexibility. They can come for a couple of months out of the season, but they don't necessarily have be here for the whole thing.
Greg Gerber:                     Erin, what do you do for the company?
Erin Redington:                 I'm the general manager for the company. I would generally describe myself as glue some days in doing a little bit of everything to make sure that the show keeps running.
Greg Gerber:                     Okay. Very good. And Shauna, what do you do?
Shauna Hansford:            I'm in sales and marketing primarily, but again, a lot of us be the team are kind of stepping in at certain places throughout the summer season and do whenever is necessary.
Greg Gerber:                     If people wanted more information about the opportunities that were available at Alaska Excursions, is there a place they could go to get that?
Shauna Hansford:            If anybody would like more information on Alaska X, just go to our website, www.alaskax.com and go to the employment page. It has answers to many of the questions there. And also please feel free to reach out to us jobs@alaskaex.com and we're always happy to answer any questions.
Greg Gerber:                     When do you start interviewing people for next year?
Shauna Hansford:            We're going to start that about the 1st of October. We'll start out interviewing for a next season and getting folks hired on to come and join us for an excellent adventure.
Greg Gerber:                     Wow. That's early. So people can start applying right now for one of these jobs.
Shauna Hansford:            The earlier the better. We know it takes a lot of planning to come  thousands of miles away from wherever you are and visit us up here in Alaska for the summer. And so we do get our hiring process started as soon as we can.
Greg Gerber:                     When are the hiring decisions made? Are they made throughout the winter?
Shauna Hansford:            Our hiring decisions are made throughout the winter. Generally, within no more than a couple of weeks after you've been interviewed for positions you could expect to hear back about a decision one way or the other.
Greg Gerber:                     What are some of the more fun jobs that people are doing? You had mentioned driving a bus and a helping on the zip lines and things like that. What are some of the things that people find most interesting about working for you folks?
Shauna Hansford:            I just depends on the individual's personality. Like you said, we get all different age groups and, across the span of age groups, everybody's always interested in something different that draws them. Some of the things that folks who are really into the history love doing is those guiding positions like the CDL driver for the bus. They get to share knowledge that they have found extremely fascinating about the area with so many people that are coming up here. We have naturalists on board our vessels that take the guests to the Bishop Point location. They get to talk for like an hour about the beauty of Alaska around them. Some people just find that absolutely a job they really, really love doing. And I know those who are a little bit more into the adventures – the daredevil side — then zip lining thing is kind of great for them to get people's hearts racing out there on the course.
Greg Gerber:                     Very good. It sounds like there's a lot of things to do, a lot of a lot of variety there for scheduling purposes. Are people scheduled for specific days, like are they working eight-hour days or four-hour days? Do they have time off to be able to explore the Alaska countryside?
Shauna Hansford:            Yes, definitely. We make sure that all of our staff have time out to explore the Alaska countryside here as much as they want to. And also it's important to be able to recharge your batteries here. So most staff will work either four or five days a week and then they'll have a couple of days off to make sure they have time to recharge, explore and that kind of thing. Sometimes the days we do try to stick to about an eightish hour day. Occasionally they will get a little longer. Sometimes staff will work about 10 hours in a day. But with all our positions, there's nothing overnight or anything. Most of the positions are going to start no earlier than about 6:30 in the morning and everything's pretty much done by about 7:30 or eight o'clock in the evening.
Greg Gerber:                     Okay. And that's because the cruise ships have to depart. That's when everything ends and people have to be back on board the cruise ships to continue their own adventures. The staff has time off waiting for the next group to come in.
Shauna Hansford:            Yep, exactly. We get our quiet small town way back for a while.
Greg Gerber:                     Super. Well, thank you very much. This has been fascinating information and it sounds like a great company with a lot of exciting, fun things to do. And I would encourage workampers to visit your website again, and that's Alaskax.com and go to the employment section to find out more information about the various jobs that are open.
Shauna Hansford:            Thank you so much for your time and we do hope to have some folks interested in joining us up here for the excursion a whole lifetime next summer.