Podcast Episodes
Workamper Bill McLead describes his family's unique situation in Episode 230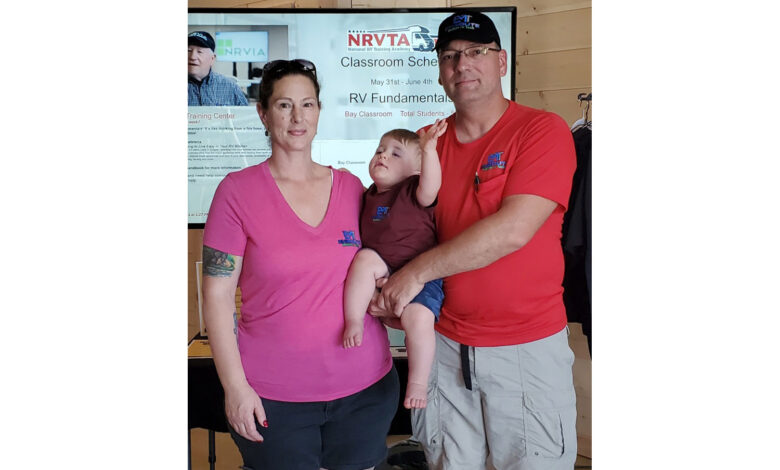 Podcast: Play in new window | Download | Embed
Subscribe: Google Podcasts | Spotify | Stitcher | TuneIn | RSS
Today I will be interviewing someone who has a unique Workamping situation. He runs a business wherever they travel and his wife works traditional Workamping jobs. It helps reduce travel costs while giving them lots of flexibility.
When I caught up with Bill McLead, he was in Pella, Iowa, where his wife, Jennifer, was serving as a camp host for a U.S. Army Corps of Engineers project at Lake Red Rock. They arrived in mid-April and will be there the entire summer.
Although Bill helps out with Workamping responsibilities upon occasion, Jennifer is responsible for the lion's share of duties. Bill makes a living as a mobile RV service technician and he is often working on a job in his campground or a nearby facility. He describes his business as helping make people's lives a little better by fixing things that break.
The couple launched their RV experience in the middle of the COVID situation. After his position as a magazine printer was eliminated, Bill and Jennifer weighed their options and decided now was the time to pursue their travel dream.
Almost two years ago, their lives changed again when their month-old grandson joined them. Since then, the couple adopted the boy, who loves being outdoors. He also enjoys walking through the campground greeting all the friendly dogs he encounters.
The McLeads were attracted to the RV lifestyle because it allowed them to travel around and see things from a different perspective than they would by simply visiting an area as tourists. That allows them to develop deeper connections to the places they call home for a few months.
Although Jennifer was not interviewed, Bill did a great job describing the type of Workamping jobs his wife has held over the past few years and the challenges they have had in finding them. Because he does not often help with the jobs, she is basically a solo Workamper traveling as a couple, and it's sometimes more difficult to find those positions.
At their current assignment, Bill has been known to dress up in a dog costume to greet guests as Bobber, the water safety dog. He has also worked maintenance positions in the past, but he spends most of his time fixing RVs. It's a skill he can apply anywhere and he makes a good income doing so.
It seems that wherever the couple is at the moment, that is their new favorite place to visit. They love the scenic beauty and wildlife they get to enjoy while staying at the Army Corps of Engineers project in Pella, Iowa. However, they love the people they have met working at private campgrounds, especially in Texas.
Bill's story about staying at the same park he enjoyed visiting as a youngster nearly four decades ago was heartwarming, especially since he could watch his grandson do many of the things he enjoyed doing as a child.
The McLeads are living the best of both worlds. They get a free RV site because Jennifer serves as a Workamper, but Bill makes money by fixing RVs wherever they go. All he has to do is drive around a campground with magnetic signs on his truck and he's often flagged down quickly. After fixing a few RVs, word spreads that there is a trained technician in the park. From that point forward, he often has no shortage of work to do.
Running a business gives him the flexibility to work at times when Jennifer isn't needed for her Workamping job. That ensures one of them is always available to care for their young grandson.
His job as a technician has not created any conflicts of interest at the campgrounds they have stayed. Although Bill can't put signs outside to advertise his business, especially on government property, he does let campground owners know he's available to fix things for their customers. After all, if an air conditioner breaks and people can't get the unit fixed, they usually cancel the reservation and head home. So it's a win-win situation for Bill to keep campground guests happy and in the park.
Being a Workamper gives the couple some other perks, like discounts on propane or local attractions, which also helps stretch the travel budget.
Best of all, the lifestyle allows them to scale back from the hectic 60- to 70-hour workweeks they endured in their professional careers to truly enjoy life and each other. Jennifer works less than 20 hours a week for the RV site and electricity. By fixing a few RVs each week, Bill makes enough money for food, entertainment and other expenses.
The key, Bill said, is to remain as debt free as possible. When Workampers don't have to make payments on trucks, RVs, credit cards and the like, they really don't need much money to support a travel lifestyle.
People can connect with Bill and Jennifer by visiting his business webpage at www.enroute-rv.tech or checking out their Facebook page at McLead's Travels & Adventures. I wish them the best of luck as they pursue their travel dreams and introduce their grandson, now adopted, to some tremendous experiences.
Today's episode is sponsored by Workamper News. With its Diamond and Platinum membership tools, Workamper News is much more than just a job-listing website. When you put the tools of this professional service into action, you'll find out just how easy it can be to turn your Workamping dreams into reality.
The one-year memberships open the door to a one-stop-shop for all-things Workamping. Being the original resource for Workamping, you'll find the largest number of job listings, be able to connect with a community of Workampers, and view resources compiled by experts who have been enjoying the RV lifestyle for many years.
If you're serious about leading a successful and enjoyable Workamping lifestyle, then a Diamond or Platinum membership is for you.  You can even get started with a free 30-day trial by visiting www.workamper.com/trial. Embark on new adventures today with the support of Workamper News behind you!
That's all I have for this week's show. Next week I'll be talking to another RVer who runs a business to inspect RVs and teach people how to drive motorhomes and tow RVs. I'll have that interview on the next episode of the Workamper Show. If you like these interviews, consider leaving a review wherever you download the episodes. Thank you for listening.