Podcast Episodes
Ranger Rob Hill and Workampers Mike and Sue Ward describe opportunities at a USACE project in Florida on Episode 113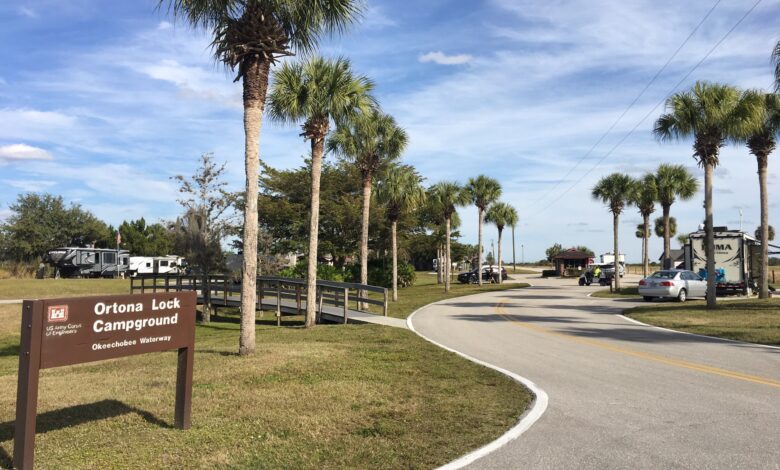 Podcast: Play in new window | Download | Embed
Subscribe: Google Podcasts | Spotify | Stitcher | TuneIn | RSS
This week, I'll be interviewing one of the park rangers for the U.S. Army Corps of Engineers project along the Okeechobee waterway in Florida about volunteer opportunities in the Sunshine State.
Rob Hill has been involved with the U.S. Army Corps of Engineers for almost six years. He works for a water resources development project that stretches the entire Florida peninsula from the Gulf of Mexico through Lake Okeechobee to the Atlantic Ocean. The waterway allows recreational boaters to save a lot of time by cutting through the state rather than traveling all the way around the peninsula.
Rob is specifically responsible for the W.P. Franklin Lock and Recreation Area. According to its website, the campground, which is located about 10 miles east of Fort Myers, provides visitors with a taste of tranquil, tropical country life. Nearby Telegraph Creek offers exciting opportunities to canoe Florida's backcountry swamps and view wildlife.
On the south side of the property, there is a visitor's center and day-use area with a boat ramp, picnic area and large group pavilions available for rent.
He needs several volunteers to help create and deliver water safety presentations to area schools. For that reason, any Workampers with teaching experience would likely love this opportunity. Rob is also looking for volunteers to help with maintenance of the property, serve as gatehouse attendants and simply interact with guests while overseeing the project.
Rob is developing a Workamper program at the project because volunteers have proven to be an indispensable resource for the Army Corps of Engineers. Each volunteer donates 24 hours of service per week in exchange for a full-hookup RV site.
There are 16 to 20 Workampers staying at the project's volunteer village, but another 20 volunteers will be scattered across the Lake Okeechobee waterway.
These jobs are available year-round. The project's peak season would be from Thanksgiving to Easter, but the waterway is utilized by boaters and campers throughout the year.
This sounds like a fabulous opportunity for outgoing individuals who enjoy teaching or public speaking.
Rob is looking for people with positive attitudes who have the flexibility to be speaking to groups one day, painting walls or doing landscaping another day, or serving as gatehouse attendants. Generally, he prefers working with couples to help share the workload, but there are some jobs available for singles, too.
Volunteers can be scheduled to work a few hours each day or to serve four days on with four days off as long as they're donating at least 24 hours of time each week.
Workampers who like boating, canoeing or kayaking will love this opportunity. There is water everywhere in Florida with lots of lakes, rivers and swamps to explore. The worksite is centrally located to a lot of major attractions in the state from the theme parks of Orlando to the historic Florida Keys.
Workampers Mike and Sue Ward also come on the show to describe their experiences as well. Mike and Sue talked about the community of Workampers that create friendships at the project as well as some of the jobs they do when working and some of the activities they enjoy during their time off.
COVID changed a lot of things for guests, staff and volunteers, but Mike and Sue made the best of the experience to create some fun memories of their time in Florida.
There are a number of volunteer opportunities along the Okeechobee waterway. For more information about the jobs and how to apply, visit www.volunteer.gov. Simply search for Okeechobee and all the open positions will pop up.
Volunteer opportunities are just one type of job you'll find with Workamper News. There are lots of paid positions, too, in every state from Florida to Alaska and from California to Maine.
With its Diamond and Platinum membership tools, Workamper News is much more than just a job-listing website. When you put the tools of this professional service into action, you'll find out just how easy it can be to turn your Workamping dreams into reality.
The one-year memberships open the door to a one-stop-shop for all-things Workamping. Being the original resource for Workamping, you'll find the largest number of job listings, be able to connect with a community of Workampers, and peruse resources compiled by experts who have been enjoying the RV lifestyle for many years.
If you're serious about leading a successful and enjoyable Workamping lifestyle, then a Diamond or Platinum membership is for you.  You can even get started with a free 30-day trial by visiting www.workamper.com/trial. Embark on new adventures today with the support of Workamper News behind you!
That's all we have for this week's show. Next week, I'll be talking with a representative from Cherry Republic about some interesting Workamping opportunities available in the great state of Michigan. I'll have more details on the next episode of The Workamper Show.