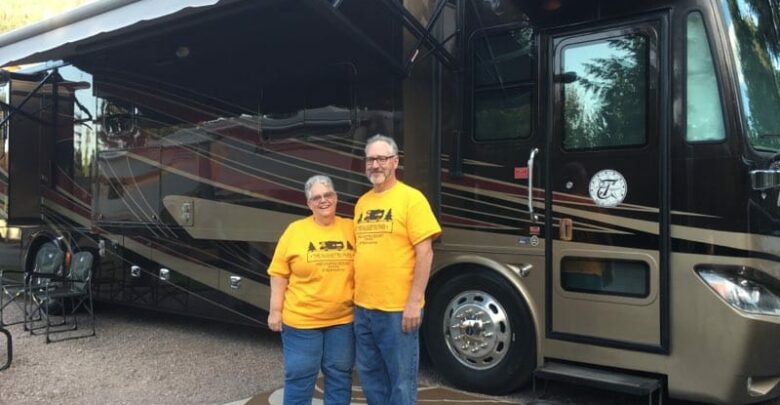 Podcast: Play in new window | Download
Subscribe: Google Podcasts | Spotify | Stitcher | TuneIn | RSS
People who are new to the RV lifestyle and to workamping are going to enjoy this episode. We're going to be talking with two experienced workampers about a variety of issues, not just the jobs they've had, but how they manage their lives on the road.
Mike and Yvonne Hall have been full-time RVing and workamping for 18 years. They did it seasonally for 14 years, and have been full-timing since Mike retired four years ago.
They lived in a fifth wheel for many years, and loved it. However, they just acquired a motorhome, and love it, too. They'll explain the advantages of both and why they opted for a 40-foot motorhome at this point in their adventure.
They have had plenty of experience working as campground hosts, which is a popular workamping job. They'll offer tips on finding a job and sticking it out even when it doesn't pan out as they envision.
We also get into technical aspects of workamping, such as selecting a domicile state, setting up a mail forwarding service, and managing banking from the road.
After sharing what attracted them to workamping in the first place, and what fuels their interest to keep looking for a new assignment every season, they offer advice on how to maintain a happy, healthy marriage when everyone is cooped up in 400-square-feet of space.
Eighteen years is a very long time to be RVing, and after four years of full-timing, I would say Mike and Yvonne Hall are outright experts in the lifestyle and in workamping to support that dream.
I really liked how they are planning their next assignment at least six months, if not a year in advance. That ensures they get the jobs they really want.
I also found their advice on working with managers and other workampers to resolve situations early before they fester and ruin the entire experience for everyone.
Most couples get into workamping to explore the country and enjoy retirement together. Still, living in 400 square feet of space and present its challenges. I appreciated Mike and Yvonne sharing how they manage to keep the spark in their marriage.
They've landed an envious position up in Squim, Washington, at a small campground where they can enjoy 10 days off every month.
Very few workamping jobs offer that type of perk. But, each assignment is different. Like Mike said, it is possible to negotiate with the employers regarding schedules, jobs performed and other perks, like free or discounted propane.
This was a great interview that touched on all the basics of workamping. Yet, both Yvonne and Mike stressed the need to educate yourselves on every aspect of workamping and the RV lifestyle. They highly recommended the Workamper Rendezvous event every October in Heber Springs, Arkansas.
In the months ahead, we'll be featuring a number of interviews recorded at this year's Workamper Rendezvous.
Whether it is running a business from your RV or working short-term jobs for a variety of employers, Workamper News can give you information to help plan a course to live your own dream and get you on the road faster than you thought possible. For more information about opportunities to live, work and play in your RV, visit www.workampernews.com.