Podcast Episodes
Greg & Bonnie Dixon discuss operating a LifeWave business from their RV in Episode 122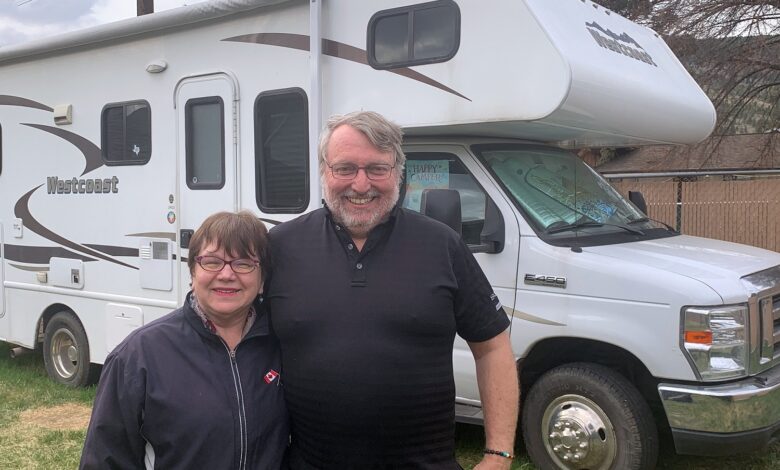 Podcast: Play in new window | Download | Embed
Subscribe: Google Podcasts | Spotify | Stitcher | TuneIn | RSS
In today's episode, we're going to look at two issues that many full-time RVers often think about – staying healthy and making money.
Greg and Bonnie Dixon are from Vancouver, British Columbia. They have been RVing since October 2017. In fact, they have put on 18,000 miles traveling between what they call the alligator line and the snow line.
They describe some of the places they have visited and experiences they have enjoyed. The couple also explains what attracted them to the RV lifestyle and what motivates them to keep seeking new adventures. Greg and Bonnie describe some of the Workamper jobs they've enjoyed over the years.
At their last Workamping gig, they met a woman who introduced the Dixons to the multi-level marketing company LifeWave, which is based in San Diego. The firm sells products that employ phototherapy and acupressure to help people heal and maintain their health.
Bonnie worked as a buyer in the natural products industry for more than 25 years. So, she said she was very familiar with many types of alternative health products. But, when she learned about LifeWave, Bonnie found it to be a very effective product and a sustainable business that she could operate from the RV.
She describes how the product works and the affect it can have on people who use it. Both Bonnie and Greg explain how the business works and how other people can tap into the opportunity.
The Dixons have been so successful with their business that they launched a website called Healthy Wealthy Camper.
I don't think we give natural products enough credit for helping to maintain healthy bodies and minds. That's why I like that the Dixons have found something simple, but naturally based, that doesn't require a lot of money to use. The patches they sell promise to improve sleep, give people energy and generally improve their health.
As a business, it's a good one for RVers to investigate because it doesn't require maintaining an inventory and it is fully portable, meaning that wherever they park their RV, they're in business. The sales are done online and, as consultants, Greg and Bonnie can talk to people in person, over the phone or through video conferencing.
The Dixons said that medical professionals have embraced the products for their healing qualities. Using light therapy sounds different, but for so many people who are couped up in their homes and offices without access to natural light, it may be what they're looking for.
Remember, it is a business and in order to be successful, you have to treat it like a business in finding new customers and servicing existing clients. It costs just $25 to get started and, according to the Dixons, people can make enough to have some spending cash, even make an RV payment or fully support themselves on the road.
For more information about what the Dixons call a "business in a box," visit www.healthywealthycamper.com.
Today's show is sponsored by the Small Business RVer School. This new course from Workamper is designed specifically for entrepreneurs on the move and helps you build a business you can run anytime from anywhere.
The self-directed course helps you be your own boss while reducing stress and saving on taxes. Through a series of online videos, and monthly calls, you are taught the steps necessary to build and manage a successful mobile business.
Life is too short. So, choose what you want to do and when you want to do it by starting a business of your own. For more information, visit www.smallbizrver.com.