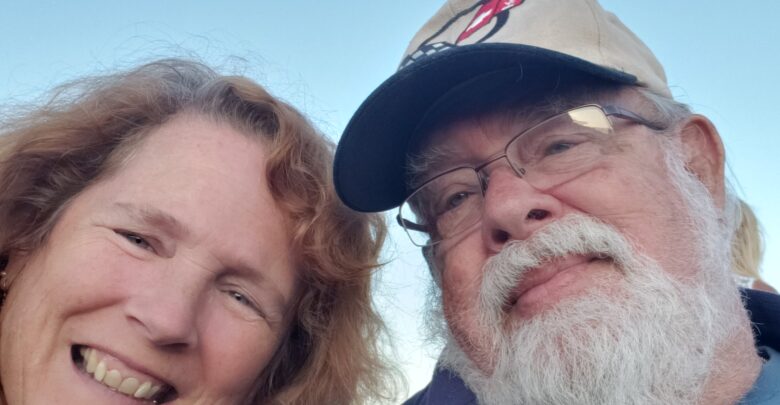 Podcast: Play in new window | Download
Subscribe: Google Podcasts | Spotify | Stitcher | TuneIn | RSS
Today, we're going to talk to a woman who has been workamping with her husband for several years. Last summer, they were in Alaska. They're about to leave Vermont and head to Tucson, Ariz., for the winter.
Liz Cress and her husband, Mike, have been full-time RVers for three years. In fact, they no longer have a sticks-and-bricks home of their own.
This summer, they have been working at a camping resort in Vermont where Mike has been serving in the golf course pro shop. Liz, on the other hand, has been working in the campground store either ringing up purchases, or stocking shelves or helping make sandwiches in the little deli.
One of the perks they enjoy is free golf – and Liz had never even picked up a club. Now she says she's addicted to golf.
Another perk is that the campground features a marina, and the workampers enjoy free use of boats after 5 p.m.
What Liz and Mike are really looking forward to is traveling throughout New England during the region's famed fall foliage season. It truly is spectacular as the mountains explode in fall colors.
Fall is my favorite season of the year. As a Wisconsin native, I enjoyed some pretty colorful seasons. But, nothing compares to the explosion of color throughout all of New England.
I have had the opportunity to tour New England in fall twice, and I'd go back again. The cool nights and sunny days make for a memorable adventure. Being in Vermont to enjoy a pancake breakfast outdoors – with real maple syrup, of course – and planning a day hike through the woods should be on everyone's bucket list.
Just driving through the mountains is one of the best ways to enjoy autumn in New England. In Vermont especially, driving to a ski resort to enjoy a bird's eye view of the fall colors from a ski lift is spectacular. Just don't forget to stop by the Ben and Jerry's ice cream factory on the journey.
The best way to enjoy those experiences is to be paid to be there.  After spending a summer in Vermont, I know Liz and Mike Cress believe that to be true.
They've had quite an adventure this summer, but the fun isn't over. After a quick trip to Niagara Falls,  they'll head to Tucson to bask in the sun for a few months.
Liz will explain kind of jobs they have done as workampers, and what they like the most about the lifestyle. They offer some advice to other workampers and people of dreaming about the lifestyle.
I really appreciated their advice on how to find the ideal workamping job. Liz was correct in noting that there are plenty of job opportunities like the one they experienced. For more information about opportunities to live, work and play in your RV, visit www.workampernews.com.
*** Transcript ***
Greg Gerber:                     Thanks for joining us today, Liz. I really appreciate it. I understand you're in Vermont right now. Tell us a little bit about what you're up to.
Liz Cress:                            Well, we're here for about five months. We got here back in April, my husband and I are camping at a really beautiful resort right on the lake and we are visiting with my grandkids and my son who lives in Middlebury, which is nice too. It's been a beautiful summer so far.
Greg Gerber:                     And you're about to go into one of the most spectacular seasons in all of America — fall foliage up in Vermont.
Liz Cress:                            Yes, it will be beautiful. And we will be traveling from here in October over toward Niagara, so we're going to catch a lot of the foliage, hopefully through Vermont, New York and new England.
Greg Gerber:                     That's neat. How long have you been RVing?
Liz Cress:                            Probably what about three years.
Greg Gerber:                     Three years. Are you full-timers without a sticks-and-bricks home anywhere?
Liz Cress:                            Not anymore. It took a little doing, but we got there.
Greg Gerber:                     Have you been workamping the whole time you've been on the road?
Liz Cress:                            About two years we've been workamping.
Greg Gerber:                     What are some of the things you've been doing while you've been workamping?
Liz Cress:                            Well, in Alaska, we actually did a little bit of everything, but it was a really, really a fun place to be. And the management was very nice, which was also very important. We got to see a lot of Alaska because we really only worked three days a week and very short hours. So, it gave us time to explore.
Greg Gerber:                     Did you work at a campground in Alaska?
Liz Cress:                            Yes, just outside of Anchorage. And here in Vermont it's a little different story. It's a bigger resort and there are definitely more people here and more jobs here. I work in the country store and my husband works up at the golf course and we have really good hours here, too. We only work two days a week, which is nice. The rest of the time we get to explore and do things throughout New England.
Greg Gerber:                     That's really neat. When you were up in Anchorage, did you adjust to it being light out all the time?
Liz Cress:                            That took a little bit of getting used to, yeah, we had to blackout our bedroom windows with black garbage bags so that we could sleep and get on our own schedule. That definitely took a little bit of time.
Greg Gerber:                     I remember when I was up in Alaska a couple of years ago. It felt eerie to almost be two o'clock in the morning, looking out the window and seeing all the way across the campground. It was more Twilight, but still, that was kind of neat. Did you get a chance to see the Aurora Borealis?
Liz Cress:                            You know, that's the one thing we missed. We were leaving just as it was happening. We spent one night on our way out of Fairbanks. We hung out in a field for about an hour and a half cause they said it was supposed to happen that night and we didn't see anything. And so we were a little bummed. But you know, you can't see it all, unfortunately.
Greg Gerber:                     That's right. What attracted you to the idea of workamping?
Liz Cress:                            Well, you know, we thought about doing some different things and doing some traveling. We did do some traveling before we started workamping. We went out West and visited Seattle, Yellowstone Park and places like that. We saw the United States for a little bit. And then when we came back, we thought about it some more and got involved with Workamping Magazine. We found out there are a lot of places out there that use workampers. You don't have to pay for your site and you get to see America. That drew us in quite a bit. There were places we'd never saw before and we thought, well, what do you think about going to Alaska for a little bit? I applied for the job and I thought to myself, well, they're not going to call us back.
Liz Cress:                            Sure enough, we got a letter back and they said, would you like to come out and workamp with us? So, we took the time and spent about what, a week and a half on the road headed to Alaska. We had our ups and downs. We got there and just settled in. We were so glad we did because it was really a great trip. So far, we've just had great experiences with the whole workamping environment, meeting new people and making new friends and just getting a chance to really see the United States. A lot of people don't get that chance in their life.
Greg Gerber:                     It is nice to be able to travel the entire country and stay in an area for a relatively short term, maybe three, four to six months and then move on. That's like cultural absorption. You just get to experience everything that particular area has to offer. That's what I like about workamping.
Liz Cress:                            Yeah, exactly. I mean there's things that you want to do on your list. Some people believe we'll do it next year or in a couple of years. You don't know if a couple of years is going to come.
Greg Gerber:                     That's right.
Liz Cress:                            You don't know what tomorrow's going to bring. You've got to live life for today.
Greg Gerber:                     The people I talked to who have been RVing full time say their biggest regret is that they didn't start it sooner. So what, in your current position, do you generally do?
Liz Cress:                            Here at the resort? Well, I'm working in the store and Mike works up at the golf course and we work about 12 hours a week on Fridays and Sundays. So we have the rest of the time to enjoy life, go fishing and see my son, our grandchildren and just enjoy life.
Greg Gerber:                     So you only work 12 hours a week in exchange for free campsite. You don't get paid anything above and beyond that. Correct?
Liz Cress:                            Actually, here we do get paid. Our last job did not, but in this position, we do. We reap the benefits of being paid while working and get a lot of other perks that come with this workamping job. I've never golfed a day in my life, but I actually got free golf lessons. So I said, well, why not? And now I'm addicted to it. My husband says he's created a monster.
Greg Gerber:                     No kidding. Now you'll have to take more workamping jobs because that can get expensive and addicting.
Liz Cress:                            Or you find a place that gives you free golf!
Greg Gerber:                     That's right. By working at the country store, you're basically working in retail. Is that just ringing people up and stocking shelves?
Liz Cress:                            In our store, I do a little bit of everything. We learned how to stock, run the register and make sandwiches because we have a little bit deli. We have a little bit of everything in the store. So, we see a lot of different faces, and everybody wants something different. We just make everybody happy.
Greg Gerber:                     So, do you get to work a different job every day or do you do a little bit of everything every day?
Liz Cress:                            It's a little bit of all of it every day. It's slowing down now a little bit until foliage comes around. But it got pretty busy this summer. We had a pretty busy time period and then it slowed down a little. We'll get a little busy before they close. October 15th is the last day here.
Greg Gerber:                     Okay. So less than a month ago. And your hubby, he's pretty much on the mower probably all day, every day
Liz Cress:                            Actually, no, he works in the pro shop, so he gets to check people in and visit with them before sending them out on the golf course.
Greg Gerber:                     He hears stories about the shots that were almost super.
Liz Cress:                            The funny thing is, as I said, I just started golfing probably three months ago and I got a hole in one and most people never get a chance to do that their whole life. So it's kind of funny.
Greg Gerber:                     Oh my goodness. Have you faced any challenges while workamping?
Liz Cress:                            Not while workamping. Maybe getting to and from. I knew when we went to Alaska that we had challenges while coming back. We got some dings and dents on our vehicle that we were towing behind us. Come to find out our insurance covered almost all of it. So that was a nice perk there. With the two main jobs in Anchorage and out here, we've had really, really good luck with workamping. We've met great people; they're almost like family here. You know, we've developed relationships that are bringing us back next summer. It's nice to be able to develop relationships like that so you want to come back. You want to tell people about it and say this is a great place to come visit.
Greg Gerber:                     It appears that when you're at that resort and encounter other people, you can make recommendations to them about things they can do in the area, too.
Liz Cress:                            Oh, exactly. Yeah. I grew up in Vermont, so to me this is my second home.
Greg Gerber:                     That's neat.
Liz Cress:                            And we also promote the workamper environment too. People ask us all the time, why do you workamp? We tell them because we get this, this and this. And they kind of go, wow, wow, we could do that. Yeah, anybody can do it. You just have to make a decision. That is something you want to do.
Greg Gerber:                     You had mentioned free golf is one of the perks. Were there any other perks with this position?
Liz Cress:                            Let me think. The resort has a marina next door, and we can take boats out after 5 p.m. if we want and we don't have to pay for that, which is nice. And we get to golf for free on the golf course and we also get 10% off in the store that I work at. If our friends and family come up, they also get 20% off if they stay at the resort. So there were some very nice perks here.
Greg Gerber:                     Well that is nice. I don't hear about many of those at other locations. I guess each job has its own perks. Would you say that you found that to be the case?
Liz Cress:                            A lot of people think there's so much to workamping. In my opinion, it's really up to you, the workamper. If you decide it's something you want to do, you have to look at each place that you would like to work. You have to decide what you want and then talk to them about it. You ask, "Can I have this or can I get this," and make it what you want. It could be because they're looking for something, too. And if you can both be happy, then that's the nice medium where you can make it a really great experience.
Greg Gerber:                     That's a very good point. So it just requires some communication, right? Just be open and honest. Say, "I'm looking to do this. We want to go out and explore. So, can we have these days off, or can we get four or five days off in a row and we'll work overtime during the rest of the weeks, or whatever the case?
Liz Cress:                            Some people do that. Yes. And when my husband just mentioned that contracts are very important, too. You should never, in my opinion, just jump in your car and drive 2,500 miles and expect it to go all right without some kind of contract.
Greg Gerber:                     Exactly. You'd hate to get there and say, wait a minute, we didn't make that formal.
Liz Cress:                            Exactly. Or have them say, "We never promised you this or promised you that." Now you're stuck in something that you really don't want to be doing.
Greg Gerber:                     Right. So what's next for you folks?
Liz Cress:                            Well, our next our next planned place that we are going to go to is Tucson, Ariz. We're following the sun and we will be there the second week in November for about four months at another good size resort with a lot of amenities. We're hoping that it works out just like this. You just have to keep your fingers crossed and hope for the best and hope you're falling into something that you're going to enjoy.
Greg Gerber:                     I'm based out of Arizona, myself up in the Phoenix area and I've been down to Tucson a couple of times. I think you're going to have a great time. I mean there are a lot of national parks in that area there where you can get out and see some of these big, saguaro cacti and other desert plants and wildlife. They also have an observatory down there where you can go up at night and look through the telescopes the researchers use to view other galaxies and planets. I think you'll have a great time.
Liz Cress:                            We are very excited about it. We are definitely excited about it!
Greg Gerber:                     What kind of RV do you have?
Liz Cress:                            We have a 30-foot Thor Hurricane that we just adore. It's a great little rig.
Greg Gerber:                     Thirty feet is a nice size that can still get you into parks, if you want to visit. And it's big enough for the two of you?
Liz Cress:                            We have we pulled behind a little Trek SUV that is perfect for us.
Greg Gerber:                     Is there any other advice you would give to people who are considering becoming a workamper or wondering if the lifestyle might work for them?
Liz Cress:                            Well, like I said, in our opinion, you really just have to weigh the odds out and you have to try it. It's not like you have to make a lifestyle out of it right away. Give it a try, see what you like and what you don't like. Take away the good things and then make your own logical decision about it. There's so much out there to see and do, and the best way to do it is for free.
Greg Gerber:                    What is the application process been like for you when you're getting these jobs? Is it just as simple as filling out an application?
Liz Cress:                            The application process for us has been very, very, very simple. Basically, for the last job, I contacted them and said, we're interested in your position. I sent them our resume. By resume, I don't mean a work resume like you would send to a corporation to get a job. I need a resume that's going to entice them to understand a little bit more about you and how you live your life because that's what they're looking for. They really want your life experience.
Liz Cress:                            That's really important too because it's a different type of resume than you would be sending for a corporation-type job? This isn't really a corporation-type job. It's kind of out of the ordinary and there were special skills you might have that they're looking for. You might have a carpentry skills or you might have an electrical skills. Or, you may be able to cook, but it might be just what they're looking for. And if that's what you're looking for, too, then you're more apt to get that job.
Greg Gerber:                     Well, that's a very good point. So things that you may have been a hobbyist at — like cooking for example — if you just love to go home and cook, you're not going to put that on a resume when you're applying for a job at a corporation. But, at some place like a resort where you're having to make sandwiches and things like that, they might think that's a real plus. The same thing with kids. If you raised kids and the campground caters to children, they would like to have somebody who knows and speaks childrens' language.
Liz Cress:                            Exactly. It's very much catering to your needs and their needs, and where you want to be in the United States. You pick where you want to be. Don't go somewhere where you really don't want go just because the job looks good. I mean, if you want it and it's for you as well as them, then pick a place you've never been before and look in that area. The other thing people say is there aren't any jobs in my area. Well, what area are you looking into? You know, look around that area and you'll find something because there are jobs out there. They're everywhere.
Greg Gerber:                     Yup. I would agree with that. There's seems to be an opportunity anywhere that you would pretty much want to be. And if there isn't, I think you need to look even harder. You'll be able to find one because there are just so many people looking for good quality workampers right now.
Liz Cress:                            Oh yeah. I encourage people to follow the blogs, too. There's a lot of blogs I read. Some of the questions that people ask causes my mouth to kind of drop to the floor. I know the answer because it is basically logical thinking. A lot of it is just logical thinking and just knowing what you want to do and where you want to be.
Greg Gerber:                     That's great. Well thank you so much. It's all about fun. That's the main purpose. Absolutely. And seeing the country and making memories that will last long after you come off the road.
Liz Cress:                            Oh yes, definitely.
Greg Gerber:                     Well thank you so much Liz. I really appreciate the time and I wish you the best of luck on your trip down to Tucson as well as your trip back to Vermont next summer.
Liz Cress:                            Well, thank you very much.