Podcast Episodes
Episode 174 features Joshua Sheehan, the founder of Gander Flight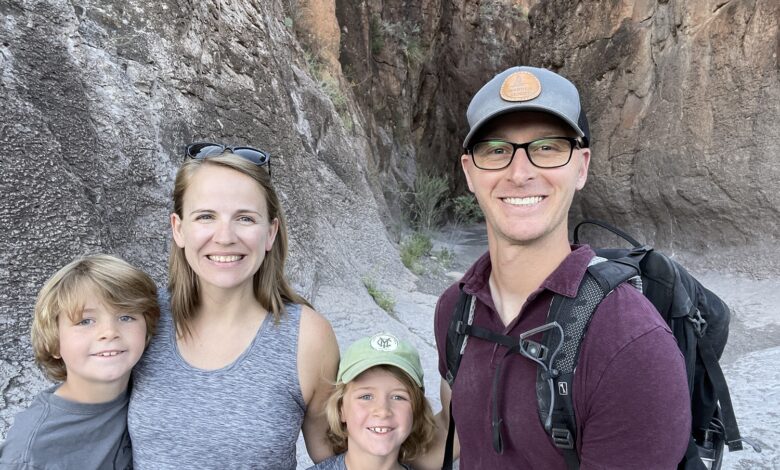 Podcast: Play in new window | Download | Embed
Subscribe: Google Podcasts | Spotify | Stitcher | TuneIn | RSS
Today, I am interviewing a man who has become a full-time online content creator producing do-it-yourself videos and hosting a podcast to help other entrepreneurs finance their travel dreams.
Joshua Sheehan, his wife and twin 8-year-old boys started RVing in November 2021 after Kolie completed a 20-year career in the U.S. Air Force. The military family moved frequently during her career, yet they did not really know where they wanted to settle down. So, they hopped into a 30-foot bunkhouse travel trailer to search for the ideal place to call home.
They selected that RV because it offered a separate living area from the bedrooms and used closable doors, rather than curtains, to help control noise and provide more privacy.
The family relies on Kolie's military pension to support their travels, but Joshua also started planning for location independence nearly three years ago when he launched a YouTube channel called Gander Flight. Because he likes tinkering, testing things and thinking outside-the-box to come up with new ways of doing something, Joshua creates do-it-yourself videos and shares his observations within the RV community.
Recently, Joshua also stepped in to host the RV Entrepreneur podcast that was originally founded by Heath Padgett. In that podcast, Joshua interviews RV entrepreneurs about their businesses and various ways they fund their travels.
Prior to hitting the road, Joshua was the full-time homeschooling parent while Kolie worked as a paralegal. Now that she is retired from the military, Kolie homeschools the boys while Joshua produces even more content. Kolie also plans many of the family's adventures.
Since neither of them work a full-time job anymore, they try to schedule their activities during the week in order to avoid weekend crowds, and use weekends to tend to school projects. Joshua describes ways he and Kolie ensure their boys enjoy plenty of socialization and educational opportunities.
His family really enjoys having the freedom to visit popular touristy sites during the week when it's less crowded and sometimes cheaper. They also love hiking, biking and enjoying picnics. Joshua and his wife like to expose their boys to different cultures, as well as travel to connect with friends they made in the military who now live around the country.
They have several areas they'd still like to evaluate before selecting a place to call home. Ideally, that location will offer four seasons, but they are open to living as snowbirds, too.  So far, they have visited Texas for six weeks, spent time with family in Illinois, then traveled to Florida for the winter before beginning a long trek to Washington State and returning to Wisconsin later this summer by traveling through the northern states.
Originally, they envisioned visiting all 48 connected states in a year. However, after realizing that's only one week per state – and there is way too much to do and see in any state in just a few days – they scaled back that ambitious goal to take their time and truly enjoy their adventures.
Through their travels, Joshua is discovering new hacks to make RVing easier and sharing those with his YouTube audience, which currently has 18,400 subscribers. He also does product reviews and interviews other RVers about things they do to enhance their experiences on the road.
Joshua has a degree in outdoor recreation and experience planning excursions for military members. So, he's putting that knowledge and experience to work helping others to better enjoy the RV lifestyle. His do-it-yourself videos are really popular and cover things like installing keyless door locks, restoring faded plastic, creating a heater out of a paint can, and setting up an internet system.
He has already produced nearly 175 videos on various topics. You can subscribe to his channel by searching for GanderFlight on YouTube.
That's all I have for this week's show. Next week, I will be speaking with a woman who makes a great living as an RV technician who specializes in one area – flushing out RV tanks. She certainly found a niche and makes money providing the service to RVers who benefit greatly from her work. I will have that interview on the next episode of The Workamper Show.
Until then, all of us at Workamper News wish you a happy, memorable and safe official start to the summer season. Thanks for listening!