Podcast Episodes
Peggie Scott, 79, describes Workamping with AmeriCorps in Episode 239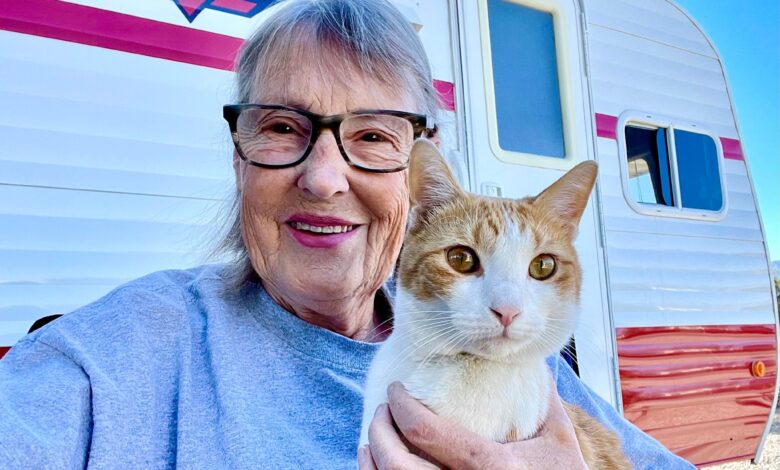 Podcast: Play in new window | Download | Embed
Subscribe: Google Podcasts | Spotify | Stitcher | TuneIn | RSS
Today I am interviewing a woman who will turn 80 years old in January. She found a niche working as a volunteer for AmeriCorps.
Peggie Scott worked as an engineer when she was raising her children. Today, she loves teaching youngsters about STEM topics, which stands for science, technology, engineering and math.
She has traveled all over the world, but today she lives in an Oliver brand travel trailer working at various AmeriCorps projects for a year or so at a time. Peggie said it's the ideal opportunity for people on Social Security because it keeps them active in a way that utilizes their skills, talent and experiences to help other people.
As an AmeriCorps volunteer, Peggie has worked at a library where she developed literacy kits for preschoolers. Another job had her training teachers at a university. She helped develop hands-on activities for teachers to use in their classrooms.
Peggie explains there are two branches of AmeriCorps. Vista, which is modeled after the Peace Corps, allows volunteers to work on developing a project that can continue after the volunteer moves on. The state and national branch plugs volunteers into jobs that enable them to work directly with people being served by a project.
Peggie also describes some interesting challenges she has faced as an RV owner, such as losing control of her travel trailer on the highway and having it flip over into a swamp.
The fact Peggie is RVing by herself when she is months away from her 80th birthday is rather remarkable. It should encourage others who think they are too old to pursue a Workamping or a travel lifestyle.
Although AmeriCorps was a wonderful experience for Peggie, she would like to broaden her Workamping experiences by getting a job as a camp host or ranger at a small campground. She absolutely loves meeting new people who just want to have a good time and avoid all the drama that typically divides people today.
But, Peggie is also applying for a different AmeriCorps project in Florida where she could work with homeless people in the Tampa area. Yet, she still desires to visit Montana, and especially Glacier National Park.
I loved the response Peggie gives to people who ask whether traveling as an older, single woman makes her afraid. Peggie says she doesn't "do afraid." It bothers her when people allow fear to hold them back from doing things they have always dreamed of doing.
People can connect with Peggie on Facebook by looking for the @peggiescott profile. Peggie ends in "ie."
Today's episode is sponsored by Workamper News. With its Diamond and Platinum membership tools, Workamper News is much more than just a job-listing website. When you put the tools of this professional service into action, you'll find out just how easy it can be to turn your Workamping dreams into reality.
The one-year memberships open the door to a one-stop-shop for all-things Workamping. Being the original resource for Workamping, you'll find the largest number of job listings, be able to connect with a community of Workampers, and view resources compiled by experts who have been enjoying the RV lifestyle for many years.
If you're serious about leading a successful and enjoyable Workamping lifestyle, then a Diamond or Platinum membership is for you.  You can even get started with a free 30-day trial by visiting workamper.com/trial. Embark on new adventures today with the support of Workamper News behind you!
That's all I have for this week's show. Next time, I will be speaking with a long-time employer who hires Workampers to help prepare taxes for other folks. He also offers some good tax advice specific to Workamping. I'll have that interview on the next episode of The Workamper Show. Thanks for listening!