Podcast Episodes
Dawn and Jorge Hernandez describe their lifestyle of fun working at amusement parks in Episode 140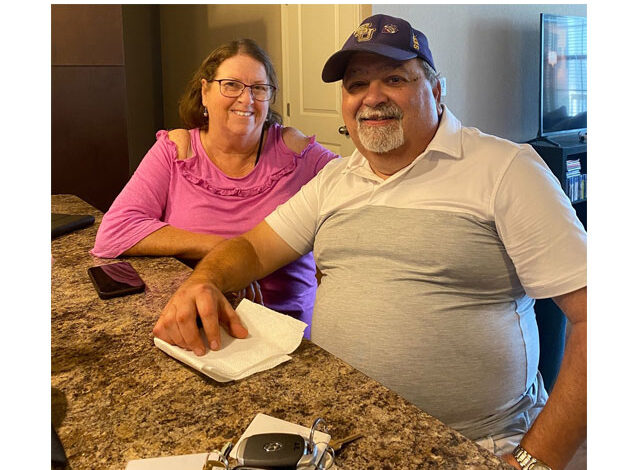 Podcast: Play in new window | Download
Subscribe: Google Podcasts | Spotify | Stitcher | TuneIn | RSS
Today I will speak with a couple from New Orleans who have found new purpose and enjoy lots of fun by working at several amusement parks.
Dawn and Jorge Hernandez have been married for 42 years and spent most of their lives living in Florida, Tennessee, Georgia and New Orleans before deciding to hit the road as full-time RVers.
They were attracted to the lifestyle by friends who had purchased an RV to do some tailgating before Louisiana State University football games. Then, after their friends started full-timing, when Jorge retired from his job working for the City of New Orleans, the couple opted to do some traveling, too.
They spent three years working in food service at Dollywood amusement park in Pigeon Forge, Tenn. They also worked as camp hosts at a campground while Jorge worked in the front office and Dawn performed maintenance around the park.
The job they keep returning to every year involves working at Adventureland amusement park in Des Moines, Iowa, where Dawn oversees 15 retail stores throughout the park and Jorge works at the park's 320-site campground assigning guests to their sites and helping them feel welcome.
As a supervisor, Dawn directs nearly 80 other workers, many of whom are international students, high schoolers and young adults attending college. Her staff ranges in age from 14 to 82, which poses some challenges at times.
They both enjoy meeting people from across America who come to Adventureland to have fun. They have been at the park for so many years that they get to know regular visitors and enjoy watching the children grow up. Of course, they have made many friendships with other Workampers at the park and try to meet up with them at other places around the country in the winter months.
As soon as their jobs at Adventureland end this season, the couple will head to Minnesota to work the beet harvest for the first time before heading to Albuquerque to spend the winter with family.
The couple opts to return to the same jobs year after year. Not only does that allow them to maintain a familiar routine working at jobs they love, it has opened the doors for them to take on greater responsibility over the years.
They like working at amusement parks for the entertainment options that come with the jobs, especially at Dollywood where Jorge said they played like teenagers when they weren't working. Horseback riding, ziplines and first-class shows were all free to them because they worked at the amusement park.
When opting to RV full-time, they faced a challenge of what to do with all their stuff at their home. Dawn admitted that she was a hoarder when she lived in a sticks-and-bricks home. When they moved into their 2008 Alfa 40-foot diesel pusher, she had to cut all of the accumulated belongings in half, then cut it in half again.
However, the process was liberating in that it broke their reliance on accumulating stuff. The jobs they have requires them to wear uniforms, which really cuts down on the need to travel with a lot of clothing.
The couple offered some advice for new RVers and those contemplating the lifestyle and that was to do a lot of planning before jumping in. For them, Workamper News is a good resource to keep abreast of other jobs. So they know that there are plenty of jobs available to support people who want to pursue a travel lifestyle.
By downsizing their belongings and adopting a minimalist lifestyle, Dawn and Jorge don't need as much money to support themselves – and they still have the ability to travel pretty much wherever they want to go.
I wish Dawn and Jorge Hernandez the best of luck as they wrap up another season at Adventureland and try their hand at The Unbeetable Experience in Minnesota.
This episode has been sponsored by Workamper News. With its Diamond and Platinum membership tools, Workamper News is much more than just a job-listing website. When you put the tools of this professional service into action, you'll find out just how easy it can be to turn your Workamping dreams into reality.
The one-year memberships open the door to the one-stop-shop for all-things Workamping. Being the original resource for Workamping, you'll find the largest number of job listings, be able to connect with a community of Workampers, and peruse resources compiled by experts who have enjoyed the lifestyle for many years.
Most Diamond and Platinum members receive inquiries from their online resumes within a day of being posted. The Workamper Experiences section has been piling up reviews of employers since 2007.  Each archived issue of the Workamper News magazine lists hundreds of jobs.  Hotline jobs are emailed right to you, for the states you're most interested in visiting.
If you're serious about leading a successful and enjoyable Workamping lifestyle, then a Diamond or Platinum membership is for you.  You can even get started with a free 30-day trial by visiting www.workamper.com/trial. Embark on new adventures today with the support of Workamper News behind you!
That's all for this week's show. Next week, I'll be speaking with an employer who will describe an opportunity to spend the winter months enjoying an adventure within the Everglades National Park at the southern tip of Florida. You'll never have to endure a cold winter again. I'll have more details on the next episode of The Workamper Show.