Podcast Episodes
Lynne Swanson talks about Workamping at dog-friendly Safe Harbor Farm in Episode 237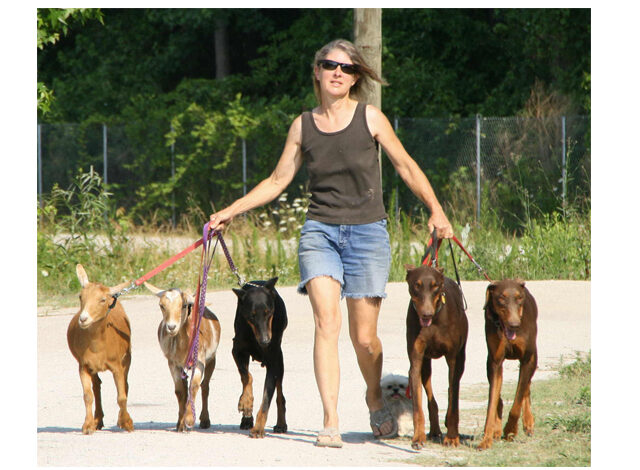 Podcast: Play in new window | Download | Embed
Subscribe: Google Podcasts | Spotify | Stitcher | TuneIn | RSS
Today I will be interviewing a woman who operates a non-profit organization in North Carolina where dog owners can get training, and Workampers can help develop walking trails through the adjacent 61-acre nature preserve.
Lynne Swanson developed Safe Harbor Farm with the help of Workampers back in 2005. In fact, she installed three RV sites before erecting a single building on the property.
She describes Safe Harbor Farm as being a little non-profit, in a little hole in the woods, on a super-quiet location, near a tiny, one-light southern town. But, it is 30 minutes from the ocean and situated between Jacksonville and New Bern, N.C.
As a retired veterinarian, Lynne specializes in dog behavior, especially training the human side of a leash. The farm also started a rescue for honeybees, which required her to create a number of thriving hives.
Workampers are mostly involved in landscaping around the preserve. They will trim brush, clip branches and spread woodchips along hiking trails. They will also care for lawns and even assist with building projects, such as creating new beehives.
If they have a desire to work with bees or dogs, Workampers are able to do so, but that time does not count toward the weekly commitment to volunteer 16 hours per week in exchange for a free full-hookup RV site. One of the three sites reserved for Workampers is in a quarter-acre fenced dog park.
Lynne enjoys utilizing Workampers because of the new insights and ideas they bring to Safe Harbor Farm. During the interview, she describes some of the more memorable things Workampers have done for the farm.
The center is open year round, which means Workampers can volunteer their time whenever it fits their schedules. However, Lynne cautions that it gets really warm in July and August.
Lynne said she really likes Workampers who cherish nature and approach each day with an appetite for learning. She especially enjoys working with self-starters who can see what needs to be done and simply jump in to do it or develop a plan to get it done.
Someone who is skilled at woodworking would be a big help on the farm, as would people who are comfortable operating landscaping equipment. Lynne said it's an ideal job for people who love dogs or own dogs and are looking for beautiful places to walk their dogs.
Volunteering 16 hours a week as an individual or couple ensures there is plenty of time left to explore North Carolina, visit the outer banks or simply frolic in the ocean. Lynne asks that Workampers make a one-month commitment. Many who have volunteered at Safe Harbor Farm in the past have spent several months at the facility.
Applying is as easy as visiting www.safeharborfarm.org and completing an online application. Lynne also posted photos of the farm and additional information about the facility.
People who want to learn about the dog training, which takes place at Safe Harbor Farm, can visit www.givesmiles.us. People can check out the center's YouTube channel as well.
Lynne is accepting applications now and pretty much year-round. For more information, visit www.safeharborfarm.org.
Today's episode is sponsored by Workamper News. With its Diamond and Platinum membership tools, Workamper News is much more than just a job-listing website. When you put the tools of this professional service into action, you'll find out just how easy it can be to turn your Workamping dreams into reality.
The one-year memberships open the door to a one-stop-shop for all-things Workamping. Being the original resource for Workamping, you'll find the largest number of job listings, be able to connect with a community of Workampers, and view resources compiled by experts who have been enjoying the RV lifestyle for many years.
If you're serious about leading a successful and enjoyable Workamping lifestyle, then a Diamond or Platinum membership is for you.  You can even get started with a free 30-day trial by visiting workamper.com/trial. Embark on new adventures today with the support of Workamper News behind you!
That's all I have for this week's episode. Next week, I will be speaking with a man who has nine years of Workamping experiences to share, and he has also written a children's book about some of them. I'll have that interview on the next episode of The Workamper Show. If you like this podcast, please consider leaving a review wherever you download the episodes. Thanks for listening!