Podcast Episodes
Duane and Jan Sawyer discuss their first Workamping job and their decision to go full-time RVing in Episode 160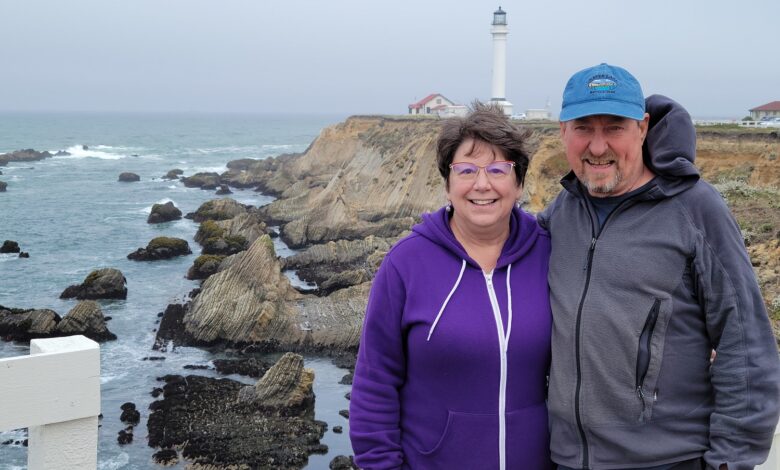 Podcast: Play in new window | Download
Subscribe: Google Podcasts | Spotify | Stitcher | TuneIn | RSS
Today I am interviewing a couple from Colorado who have been RVing part-time since 2002. They started with a pop-up, upgraded to a travel trailer and even lived in a cabin for a while. But the freedom to travel proved to be strong, and they returned to RVing when COVID-19 caused job challenges for her and shut down a business he had owned for many years.
At the end of 2020, Duane and Jan Sawyer were dissatisfied with the direction their jobs were headed. Jan had worked as a supervisor for decades, but trying to manage people remotely in Zoom meetings just took the fun out of working. With the economy literally shut down for years, demand for screen-printed T-shirts evaporated for sports teams and special events. That caused Duane to shut down a business he owned for many years.
As all that drama was unfolding, Jan saw an ad for Workamper News which enticed her to explore living and working on the road. When the Sawyers discovered Workamping would allow them to work outdoors and still work with people without owning the place, they were sold.
They've only had one Workamping job so far, but it was a winner. They spent a summer at the Gualala River Redwood Park campground in California along a river beneath giant redwood trees only a mile from the Pacific coast. Duane was on the campground's maintenance crew and Jan worked in the camp store.
They really didn't want a full-time job, and this opportunity only required 25 to 30 hours a week. That meant they had plenty of time to cruise up and down the coast. They spent some time in San Francisco, but mostly enjoyed beautiful scenery along the coast.
The Sawyers describe various tasks they performed at the campground and some interesting activities they enjoyed on their time off. When the season ended, Duane and Jan drove the long way back home while stopping at every national park they could find between California and Colorado.
They liked the experience so much, they decided to sell their home and hit the road as full-time RVers this spring.
The Workamping job they had at the RV park in California seemed ideally suited to their personalities and work interests. It came with some wonderful perks like free firewood, free ice cream, a shelf in a communal freezer and a free pass to visit local beaches.
In 2022, they've already lined up a new Workamping job, this time in Montana at an RV park near West Yellowstone. That job will allow them to spend time in Wyoming and Yellowstone National Park.
Duane described steps they take to evaluate Workamping jobs and ensure a position will be a good fit for them. One of the best pieces of advice Duane offered was the need to go with the flow and perform jobs the way owners and managers want them done.
Workampers generally aren't in charge of the business. Consequently, their job is to simply take care of customers and make sure they're having a good time. It's too stressful for Workampers to come into a business and try to change things to match their preferred way of doing something when they're only going to be at the job for a few months.
I wish Duane and Jan Sawyer the best of luck as they sell their Colorado home and prepare for a summer of adventure in Montana.
If you have an interesting story about Workamping or RV travel experiences that you'd like to share with others, I'm looking for people to interview for upcoming podcast episodes. I'm also interested in talking to people who operate businesses from their RVs.
All I need is about 30 to 40 minutes of your time to record the interview and I'll even provide you with some questions to ponder in advance.
If you're interested in learning more about being a podcast guest or scheduling a time to be interviewed, please send me an email to podcast@workamper.com.
We had some Zoom challenges on this call which resulted in the audio sound cutting in and out in some parts of the interview. I've done my best to enhance the sound or edit out the pauses. But, if it sounds like the audio just cuts out abruptly from time to time, you know why.
Next week, I'll interview a couple who had some interesting jobs working at an RV park, selling Christmas trees and even working in Alaska. They'll share their story on the next episode of the Workamper Show.