Podcast Episodes
Darin Uselman describes Workamping opportunities at 500-plus KOAs in Episode 063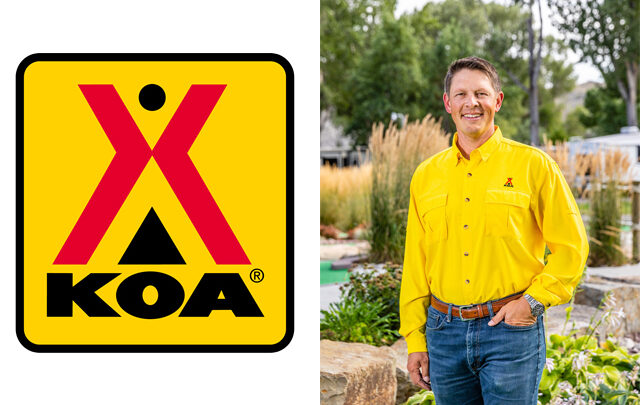 Podcast: Play in new window | Download
Subscribe: Google Podcasts | Spotify | Stitcher | TuneIn | RSS
Darin Uselman is the vice president of franchise services for Kampgrounds of America, or KOA as the company is often referred.
He helps campground owners by educating them on quality standards and KOA's brand positioning. His team helps integrate new owners into the system, and provides education and training for KOA staff, which includes Workampers who attend KOA University Online.
Almost every one of the 525 KOA campgrounds employ Workampers. For some campgrounds, Workampers are the only help they hire to help run the park.
Campground owners make their own hiring decisions. What Darin's team does is create a platform for conversations between the owners and prospective Workampers.
Darin describes that platform as being similar to a dating service where campground owners and managers can post their jobs so that thousands of prospective Workampers can learn about the positions and apply for those that sound like a good fit.
There are almost 1,000 job postings listed every year at www.workatkoa.com.
Some of the jobs are seasonal in nature while others are short-term for a few months and others can be year-round. There are full- or part-time jobs available. All of the jobs are paid positions, and some campgrounds provide discounts on campsites for Workampers staying there.
KOA uses its own software at all of its locations, and Workampers will need to learn how to use it. Fortunately, KOA offers training courses online that can be accessed as soon as a Workamper is hired.
With its bright yellow signs and staff dressed in yellow shirts, KOA has been an iconic brand in the outdoor recreation industry for almost 60 years. It has some of the highest brand recognition of any company in America.
KOA has three types of campgrounds within its brand. They include:
KOA Journeys, which are generally overnight spots in convenient locations near major highways.
KOA Holidays often serve as basecamps for people coming to a popular area with a lot of local attractions. These campgrounds usually offer upgraded features as well.
KOA Resorts are top-of-the-line destination campgrounds themselves where people stay, play and often eat right on site. The resorts are focused heavily on recreation.
Some of the campgrounds specifically serve families with kids while others are targeting seasoned citizens. Some cater primarily to RV owners, while others have lots of cabins and tent sites, too.
The campgrounds offer a variety of jobs for Workampers from checking guests in and out, cleaning sites or cabins, maintaining features like the pool, leading activities like hayrides, staffing campstores and even providing food service.
The company offers some nice perks to Workampers, too, like significant discounts to stay at other KOAs while on their way to a new job.
If a Workamper has enjoyed a successful experience working at one KOA, it's often easy for them to move from one campground to another.
For years, I have said that if I wasn't doing what I am right now, I would go work at a campground to help people have fun, and KOA would be near the top of the list of places I'd consider working.
For more information about jobs at a KOA, visit their website at www.workatkoa.com.
You can also find a whole bunch of Workamping jobs at Workamper News, a magazine and online publication that connects RVers to full- and part-time jobs around the country.
Whether it is running a business from your RV or working short-term jobs for a variety of employers, Workamper News can give you information to help plan a course to live your own dream and get you on the road faster than you thought possible.
For more information about opportunities to live, work and play in your RV, visit www.workampernews.com.