Podcast Episodes
Denise Fuller describes her RV experience and motivation for launching Camp Quilter Kits in Episode 115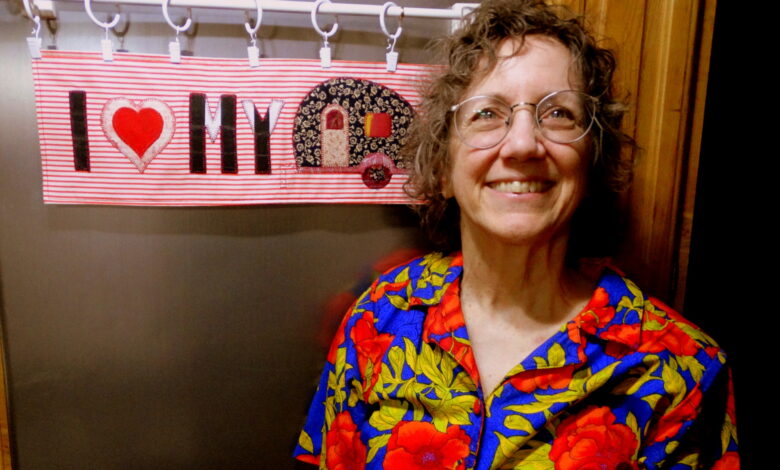 Podcast: Play in new window | Download
Subscribe: Google Podcasts | Spotify | Stitcher | TuneIn | RSS
This week I will be interviewing a woman who launched a business that she can operate from her RV to inspire others to try their hand at quilting.
My grandmother loved to quilt. She made blankets for all her children, grandchildren and even her great grandchildren. She inspired my own daughter to follow in her footsteps by creating ornate quilts of her own. People who quilt find it to be very relaxing, and they have something to show for their effort.
But, quilting doesn't have to be as elaborate as queen-size blankets. People can quilt wall decorations, placemats, pillow inserts, table runners, mug rugs and even greeting cards. The problem for RVers is that quilting can take up a lot of space to store patterns and supplies.
That was a dilemma facing Denise Fuller, an RVer from Oregon who loved quilting. Her friends and family would rave about the things she quilted and many people often expressed a desire to do the same thing. But, quilting can be a tough hobby to start with a pretty steep learning curve.
So, last year, with everyone stuck inside for COVID, Denise saw an opportunity to encourage others to try quilting. She started a business she could run out of her RV to create kits that people can buy online. Designed specifically for RVers and others who live in confined quarters, the kits come with patterns, batting and other supplies to complete smaller quilting projects.
She even started a "block of the month club" to create unique quilted fabric blocks that can be decorations by themselves or combined with other blocks to create a larger quilt.
Denise also created a special kit in honor of a woman who loved to sew, but developed dementia and lost that skill. A portion of the money raised from each Wanda's Journey kit that Denise sells is donated to the Alzheimer's Association.
She also created a Facebook group just for RVers who enjoy quilting.
Denise and her husband, Mark, had been full-time RVers for six years before they bought a summer home in Door County, Wis., on the tip of the peninsula. A retired truck driver, Mark went through training to become a certified RV technician. Today, they split their time between Wisconsin in the summers and Arizona in the winter.
The Fullers were full-time RVers for six years and have had multiple Workamping jobs along their journey. They harvested sugar beets, sold Christmas trees, served as activities directors for an RV park in Oklahoma, packed boxes for Amazon in Nevada, and worked at various campgrounds from Alaska to Florida.
The couple loved the natural beauty of Alaska and recalled seeing lots of wild animals and watching glaciers calve, which is a very memorable experience in itself.
Even though the Fullers spend their summers in beautiful Door County, Wis., they still RV six months of the year. They spend much of their winter time in Arizona where Denise works as a receptionist for H&R Block during their busy tax season. Mark continues to make money by fixing RVs wherever they may be.
The Fullers have enjoyed some interesting challenges on their journey, like getting lost in New York City while towing a 35-foot RV through the streets of Chinatown and almost being buried in an avalanche of sugar beets. They also learned the hard way it's important to tell employers that they're traveling with a German shepherd because some campgrounds restrict those dog breeds.
Despite all the places they have visited so far, and the fact they have been to every state except Hawaii, the Fullers still have some things on their bucket list of places to visit, like Lake Superior.
Denise created a personal blog about her experiences over the years that people can find at www.denisefuller.com.
People who are interested in launching or enhancing a quilting hobby can check out the many different quilting kits that Denise sells at www.campquilterkits.com.
Today's episode is sponsored by Workamper News. With its Diamond and Platinum membership tools, Workamper News is much more than just a job-listing website. When you put the tools of this professional service into action, you'll find out just how easy it can be to turn your Workamping dreams into reality.
The one-year memberships open the door to a one-stop-shop for all-things Workamping. Being the original resource for Workamping, you'll find the largest number of job listings, be able to connect with a community of Workampers, and view resources compiled by experts who have been enjoying the RV lifestyle for many years.
If you're serious about leading a successful and enjoyable Workamping lifestyle, a Diamond or Platinum membership is for you.  You can even get started with a free 30-day trial by visiting www.workamper.com/trial.