Podcast Episodes
Barbara and Brad Cunningham recall Workamping in Alaska in Episode 159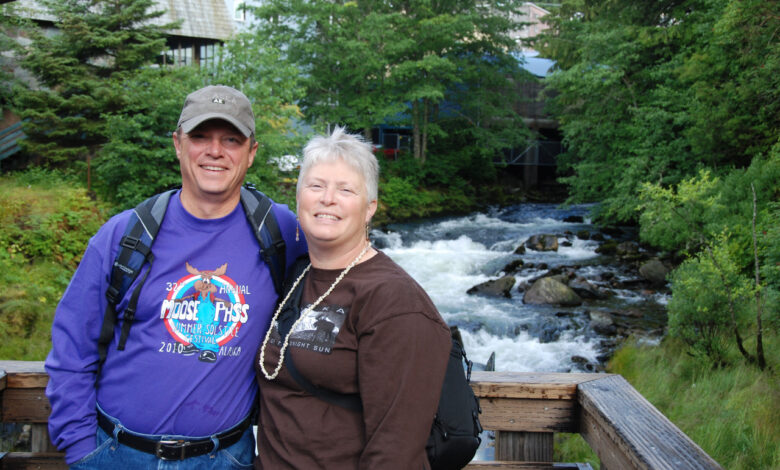 Podcast: Play in new window | Download
Subscribe: Google Podcasts | Spotify | Stitcher | TuneIn | RSS
Today, I'm going to interview a couple who has been RVing and Workamping at a variety of jobs for more than 10 years.
Barbara and Brad Cunningham started camping in the 1990s using tents and occasionally renting an RV. In 2009, they took the plunge and bought their first 35-foot Class A motorhome.
They have been Workamping for years, but on a schedule that allows them to play for a while, then work for a while. If they really wanted to check out an area, it just made sense for the couple to find a Workamping job. Whenever they do that, the Cunninghams really enjoy becoming local residents for a few months while enjoying nearby recreation opportunities.
They worked several jobs at RV parks where Barbara tended to duties in the front office checking in guests and taking reservations while Brad worked outside maintaining the property and guiding people to their campsites. One campground included horse stables and another was on the Oregon coast. They even worked for an RV park where the sites were owned by RVers themselves.
One job they both really enjoyed involved taking care of three rental homes for a private owner in Alaska. In fact, the couple spent several seasons working that job. Barbara and Brad would greet new renters when they came in for a few days or a few weeks, then clean the homes and get them ready for new renters to arrive.
It was the ability to live in Alaska that made that job so enjoyable because the Cunninghams had lots of time to explore the region. They initially thought it would be fun to work in Alaska, but then realized there was far more to see and do than they thought. That's why they came back for a second season a few years later.
They would watch glaciers push ice into the ocean that would become floating blue icebergs. They could watch whales feeding and playing just like people watch on National Geographic episodes. They watched bears trying to catch salmon jumping out of the water or they tried their hand at fishing themselves. Barbara and Brad also got to enjoy a dogsled tour.
They share some tips for people interested in visiting Alaska and describe the Milepost publication that helped them find everything they needed from things to do to the location of gas stations and grocery stores, which are spread out in small towns and big cities.
It sounds like Alaska was their favorite place to visit simply because of the variety of experiences it offered. Where else can you take a cruise to see glaciers and sea life, then dock somewhere for a delicious dinner and a chance to hike in the wilderness? They could also take a train trip and enjoy some spectacular scenery along the way.
They really enjoyed working for Spruce Moose Chalets near Moose Pass, Alaska.  The paid job offered a great deal of flexibility to do things around whatever had to be done to serve guests and maintain three chalet homes. There was a full-hookup RV site on the property, and the business was centrally located to a lot of popular activities.
The job was also unique in that there wasn't someone looking over their shoulders every day. The Cunninghams knew in advance when guests were set to arrive or depart, and they either had to help the guests settle in or straighten up the homes when they checked out.
Guests had their contact information if there was a problem or they needed some advice. But most of the time the Cunninghams just stayed out of the guests' way and went wandering around by themselves.
The couple offered some good advice for finding a job Workampers will like and it involved communicating upfront with the employer before accepting a job so everyone was clear what they were expected to do and expecting to receive in exchange.
The Cunninghams were also bold in reaching out to prospective employers even if they didn't see any help wanted ads. Once they settled on an area they'd like to visit, Barbara or Brad would cold call a few businesses, ask to speak to a manager and then ask if the firm hired Workampers. If it did, they'd start a conversation and actually landed a few jobs that way.
The key is to take time to plan in advance so Workampers have more options. I know Barbara and Brad Cunningham will enjoy some fabulous memories as a result.
Today's episode is sponsored by Workamper News. With its Diamond and Platinum membership tools, Workamper News is much more than just a job-listing website. When you put the tools of this professional service into action, you'll find out just how easy it can be to turn your Workamping dreams into reality.
The one-year memberships open the door to a one-stop-shop for all-things Workamping. Being the original resource for Workamping, you'll find the largest number of job listings, be able to connect with a community of Workampers, and view resources compiled by experts who have been enjoying the RV lifestyle for many years.
If you're serious about leading a successful and enjoyable Workamping lifestyle, then a Diamond or Platinum membership is for you.  You can even get started with a free 30-day trial by visiting www.workamper.com/trial. Embark on new adventures today with the support of Workamper News behind you!
That's all I have for this week's show. Next week I'll be speaking with a couple from Colorado who took up RVing after COVID killed their business. They'll provide more details on the next episode of The Workamper Show. Thanks for listening!