Podcast Episodes
Kimberly Leal and Phil Grunder share their Workamping experiences on Episode 097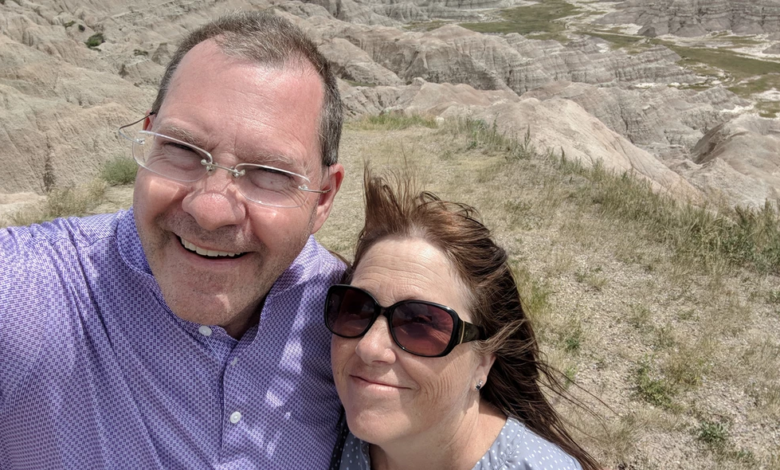 Podcast: Play in new window | Download | Embed
Subscribe: Google Podcasts | Spotify | Stitcher | TuneIn | RSS
Today I am going to interview a couple who met on E-Harmony and discovered they shared a love for travel. Today, they are passionate about sharing the Workamping and RVing lifestyle with others.
Kimberly Leal and Phil Gunder have been together for almost six years. They started full-time RVing about two and a half years ago with their two dogs and a cat in a 28-foot travel trailer.
Kimberly grew up in Missouri, but Phil had already amassed a lot a travel experience due to his 22-year career in the U.S. Air Force.
They started a website, called BC RV Travels, to chronicle their experiences and share their thoughts on places they stayed and activities they enjoyed while visiting a particular area.
Like many new full-time RVers, Kimberly and Phil got off to a quick start by spending much of the first year simply traveling before they discovered Workamping. Since then, they have completed three assignments, all of which were at campgrounds.
Their first experience was at an ocean-front RV park in Florida where it was not uncommon to see 3- or 4-foot sharks in the water off the shore.
The next job was at a private campground in New Hampshire where they had plenty of time to explore the New England area because of a unique work schedule. They would work three days and enjoy seven days off, which was a big plus when their grandchildren came to visit.
From there, they found a job working at a KOA near Denver where they experienced an interesting weather phenomenon. This fall, the temperature dropped from 85 degrees to 19 degrees overnight, followed by a snowstorm that left 8 inches of snow on the ground.
When they left Colorado, they went to Texas for a while to contemplate their next move. Kimberly and Phil maintain a list of interesting work assignments they learn about from other people or while reading job listings on Workamper News. They review those periodically in planning their travels.
Kimberly and Phil already have a lot of fun and interesting memories about the places they worked and the areas they visited. They also met some wonderful people along the way who remain pretty close friends.
They shared a hair-raising experience in which the tire started smoking, but even after the bearings were replaced, the entire wheel came off to the point the axle was dragging on the ground.
After experiencing sharks, sudden snow storms, tire problems – and a whole bunch of positive events as well – Kimberly and Phil chronicle all their adventures on their blog that can be read at www.bcrvtravels.com.
During the interview, Phil noted that he reviews job listings from the Workamper News hotline emails he receives every day. He keeps folders of the jobs they find really interesting, all sorted by the states they want to visit. So, when they are ready to plan their next adventure, they have a ready reference of possible jobs to pursue and places to go.
Whether it's through the Workamper News magazine that comes out six times a year, or the daily Workamper Hotline, you can get notified of thousands of short-term, full- and part-time jobs around the country.
As a member, you also get access to tools to help you get started as a Workamper, develop an effective resume, leave and read evaluations of Workamping experiences, and improve the overall RV lifestyle by viewing dozens of helpful videos. For more information, visit www.workamper.com.
This episode is sponsored by the National RV Training Academy in Athens, Texas. The academy's one-week live training or home study course will teach you everything you need to know to fix about 80 percent of the problems people experience with their RVs.
You can also sign up for additional training to become an RV inspector, campground technician or to provide mobile RV service. For more information, visit www.nrvta.com.
That's all we have for this week's show. Next week, I'll talk with an employer from Vermont about a fun opportunity to help people enjoy their vacations in one of the most scenic areas of America.