Podcast Episodes
James and Tina McCoy describe their Workamping experiences in Episode 243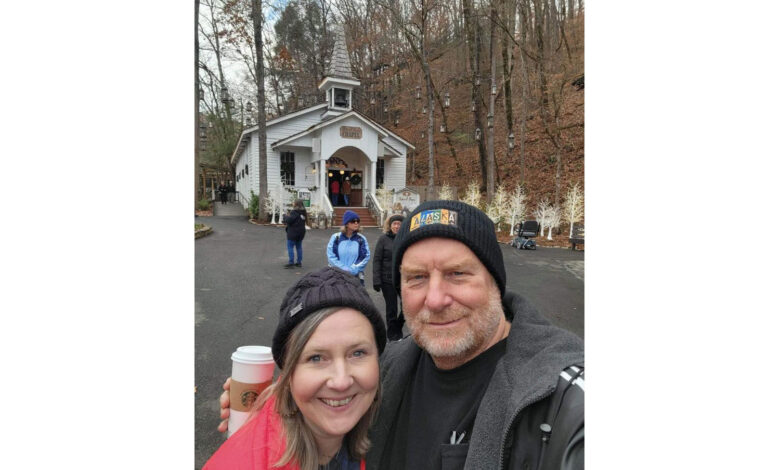 Podcast: Play in new window | Download | Embed
Subscribe: Google Podcasts | Spotify | Stitcher | TuneIn | RSS
Today, I will be speaking with a couple who have been RVing for a number of years and worked at several different jobs to support their travel dreams.
James and Tina McCoy are originally from Pennsylvania where James served as a pastor for 27 years working with youth and in organizing missions and local outreach programs.
Life was grand until COVID hit and put an end to all public gatherings in super-strict Pennsylvania. So, the couple sold everything they had, or gave it to their three children. Then they bought a truck and fifth wheel, and hit the road looking for adventure.
They were retiring a bit earlier than they had expected. However, Tina discovered the Workamper website and saw there were a lot of jobs available for people who still wanted to or needed to work.
Since then, the McCoys have worked at Glacier National Park and Grand Canyon National Park. James also worked as a non-medical transportation driver and Tina started a Thirty-One business selling gifts and fashion accessories.
One of their favorite jobs has been working on the trams at Dollywood amusement park in Tennessee. James serves as the driver, and Tina works as the conductor making sure everyone is one the tram. She also points things out to guests as the tram moves along.
The couple has been able to enjoy some wonderful perks on their journey. The free RV sites are nice, but the ability to see bears while working brought them a different type of enjoyment. They have access to a free clinic at Dollywood, but also get free admission to a lot of shows and attractions.
They discovered that working for companies like Xanterra Corporation opens the door to multiple Workamping opportunities in different states.
The biggest perk for them is the flexibility to travel wherever they want to go and to make adjustments to their itinerary on the fly in order to take care of family emergencies that may arise.
The McCoys have faced some challenges while RVing, like a time when they experienced three flat tires in one day over the course of 300 miles.
James worked as a mechanic for a while before going into ministry, but he said it helps to be somewhat mechanically inclined with an ability to do some problem solving while RVing. Without that knowledge, RVing can be expensive because people will need to rely on mechanics to address frequent repairs.
James said he has had more conversations about faith with people on the road than he ever expected. He outlined several opportunities where he and Tina could meet people wherever they were on their faith journey, love on them, share their stories, and answer their questions.
The McCoys still have a lot of things on their bucket lists which they'd like to accomplish before finding land in a temperate climate to develop into a new home base.
James and Tina don't live a lavish life, but they realize they don't need a lot of things to be truly happy. For now, they are content to spend the Christmas season at Dollywood, but remain open to new adventures.
To connect with the McCoys, email them at [email protected] or check out the Nomads of the Way Facebook group.
Today's episode is sponsored by Workamper News. With its Diamond and Platinum membership tools, Workamper News is much more than just a job-listing website. When you put the tools of this professional service into action, you'll find out just how easy it can be to turn your Workamping dreams into reality.
The one-year memberships open the door to a one-stop-shop for all-things Workamping. Being the original resource for Workamping, you'll find the largest number of job listings, be able to connect with a community of Workampers, and view resources compiled by experts who have been enjoying the RV lifestyle for many years.
If you're serious about leading a successful and enjoyable Workamping lifestyle, then a Diamond or Platinum membership is for you.  You can even get started with a free 30-day trial by visiting workamper.com/trial. Embark on new adventures today with the support of Workamper News behind you!
That's all I have for today's show. Next week, I'll be speaking with the CEO of a company which specializes in creating innovative living and working spaces in RVs, especially vintage Airstream travel trailers. I'll have that interview on the next episode of The Workamper Show. Thanks for listening!