Podcast Episodes
In Episode 217, Michelle and Chris Small describe losing everything in a fast-moving RV fire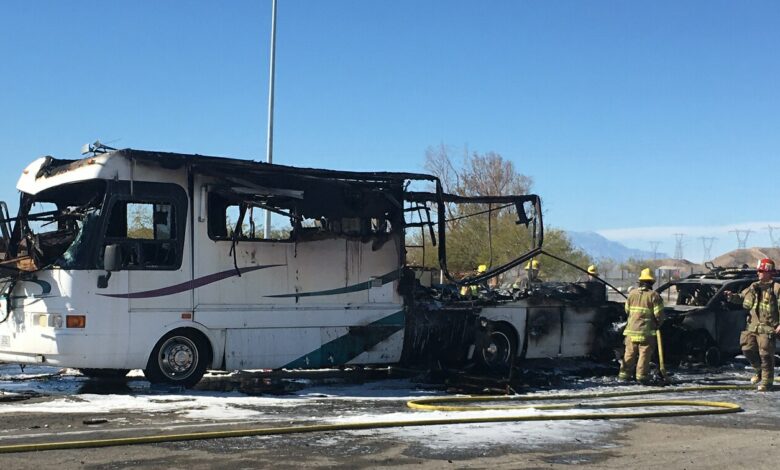 Podcast: Play in new window | Download
Subscribe: Google Podcasts | Spotify | Stitcher | TuneIn | RSS
Today I have a special episode of The Workamper Show because it contains an important message for all RVers, whether they are full-time or part-time. Are you sure you have enough insurance to cover your RV and personal belongings in the event of a catastrophic fire? I'll be talking to a couple who thought they were covered, until a fire destroyed their RV in less than 15 minutes.
On Friday, Nov. 18, 2022, Chris and Michelle Small stopped at a rest area outside of Cactus City, Calif., while enroute to visit her family in New Mexico.
As Michelle was putting a leash on their dog, Chris went outside to check the engine fluids. That's when he discovered the engine compartment of their 20-year-old diesel motorhome was on fire. He raced back to warn Michelle, who grabbed the dog and her purse.
Because the RV was a diesel pusher, that meant the engine was in the back, just below their bedroom. It also meant the engine was right above the tow hitch, which made it impossible for Chris to disconnect their tow vehicle before it burst into flames, too.
As the couple watched helplessly from a distance, the RV and tow vehicle erupted and burned to a shell in 15 minutes before the local fire department could arrive and douse the flames.
They were grateful to escape with their lives, their dog and whatever money Michelle had in her purse and Chris had in his wallet. Chris and Michelle were stranded in the middle of nowhere without a car, extra clothes, food or any of their belongings. But, their nightmare would get even worse.
Although USAA wrote the couple a check to cover their totaled car within days of the fire, it took nearly 13 weeks for a different firm which insured the RV to settle a claim on the motorhome.
The fire spread quickly and created toxic fumes and thick black smoke. So, the couple dared not venture back into the RV to even try rescuing important documents, personal belongings and cherished keepsakes.
Ironically, the couple had prepared "go bags" with everything they'd need for a few days in the event they had to suddenly evacuate a campground. However, the backpacks were inside the RV, and not in an outside compartment which they could have accessed easily before the fire spread.
So, that's lesson one – prepare go-bags for emergencies, but place them in outside compartments.
Lesson two is to double check with your insurance company to make sure your policy covers personal belongings. Chris and Michelle made the mistake of thinking that full, comprehensive coverage would cover the RV and everything in it. However, they discovered after the fire that there was no coverage for contents in the motorhome, tow vehicle and the tow dolly itself. Chris also lost all the tools he used in his handyman business to help support their travel lifestyle.
The insurance agent who sold them the policy had offered them renter's insurance, not RV insurance, because they did not own a home. The firm also requested copies of receipts showing the couple had purchased add-on products, like a futon and television. However, all their receipts and records were destroyed in the fire and no digital copies existed.
So, that's lesson three – make sure you have digital copies of receipts and photographs of your belongings all stored in the cloud or away from your RV.
The Small's also discovered that for less than $40 per month, they could have had a policy that would have covered all $50,000 worth of belongings. Sometimes it works to your disadvantage to try saving a little money on monthly premiums by excluding coverage and increasing deductibles. But, when a tragedy strikes, you'll wish you had paid the extra money for a better plan.
Chris and Michelle could have kept their story to themselves and chalked up the incident to an unfortunate learning experience. But, they wanted to share their story in hopes of helping other people avoid a similar fate. So, do yourself a favor and check your insurance policy today to make sure it covers everything you hope it would if fire destroyed your RV and belongings.
A friend of theirs started a GoFundMe fundraiser to help Chris and Michelle replace some of the items lost in the fire that were not covered by insurance. People who are interested in helping out, can visit www.gofundme.com/f/fire-claims-all-couples-possessions-in-rv-car.
That's all for this special episode of The Workamper Show. I hope it enlightened you to a potential problem and the things you can do today to reduce the impact of an accident or other disaster.
We'll resume our regular podcast schedule on Tuesday when I interview a Workamper who helps people radiate wellness every day. Thanks for listening.