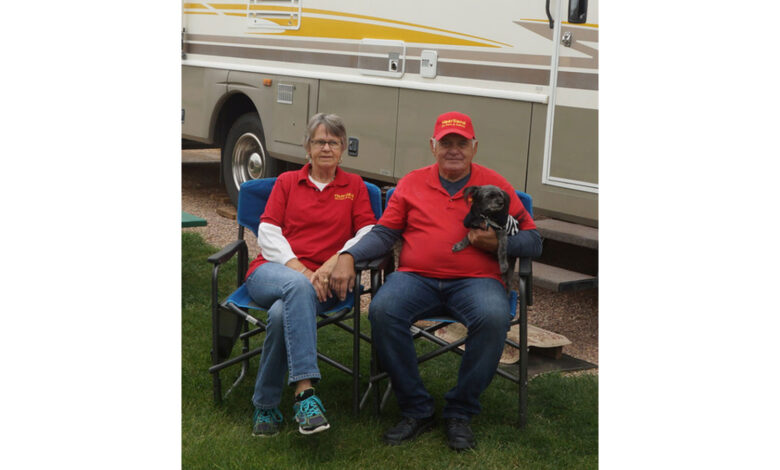 Podcast: Play in new window | Download | Embed
Subscribe: Google Podcasts | Spotify | Stitcher | TuneIn | RSS
Today I will be speaking with a man who has been RVing for more than 19 years. He has some very interesting ideas about how to find or create an ideal Workamping job.
Today's episode is brought to you by the featured employers at Workamper.com.  These Workamper employers have taken the extra step to share some photos and detailed information about their Workamper programs.
Opportunities exist for solos, couples and families, whether they are full-time, part-time, seasonal and even long-term jobs. Some are income opportunities and others involve volunteering at locations throughout the United States.  Go to workamper.com/fe to meet the featured employers today.
Employers who are seeking to hire Workampers can learn about the benefits of year-round recruiting by becoming a featured employer. More information about featured employers is available at workamper.com/fedetails.
When Jack Vido started the RV lifestyle, he was using a big triple-axle fifth wheel to transport RVs from the factory to dealerships. Later, he downsized to a two-axle fifth wheel before settling into a motorhome for the conveniences it offered when traveling.
A former professional truck driver for a while, Jack's first Workamping job was with an RV transport company, but then he found a way to make more money doing the same type of work. He approached a specific dealership asking to be hired as their agent to ensure RVs were sale-ready at the factory before driving them all the way to California.
Jack had also served as a corporate photographer for most of his career. Today, he approaches campgrounds about being hired to take pictures of all the activities at the park and posting them to social media. While many Workamping jobs pay around $12 per hour, Jack was bringing in up to $1,800 per month managing social media for campgrounds. But the RV parks were willing to pay him because the enhanced social media drew so much attention that the parks started selling out of campsites.
He also developed a marketing idea for one campground where he approached a local dealer with an offer to purchase two weeknights at the RV park for $25, during which time the dealership's customer would get extra attention. The new RVers would get help backing into a site, connecting to utilities and invited to dinner for an informal orientation. When they were ready to leave, the RVers would get help preparing for travel, uncoupling, dumping tanks and getting on their way.
It was a win for the dealership to help their customers get off on the right foot. It was a win for the campground because the new RVers enjoyed the experience so much they often booked additional stays. It was a win for the RVers because they saved a lot of time and avoided painful experiences by learning one-on-one with an experienced RVer. It was a win for Jack because he got paid more to orchestrate the sessions.
Jack talks about his favorite places to visit as well the desire he and his wife have to use profits derived from their YouTube channel to help working-class people with unexpected financial problems. Get Your Kicks at 66 offers specific advice on how to retire and enjoy the kind of life you've dreamed about.
What I liked most about our discussion was that Jack seems to be an outside-the-box thinker who makes things happen in a way that benefits him as well as companies that hire him.
He loves the thrill of creating positions that businesses hadn't considered or even knew would be beneficial to have someone providing that kind of service. Jack can jump in and get a program running and then move on to a different adventure while leaving the business better than it was before.
He also noted that there isn't a typical pay scale when you're creating your own job.
Jack said employers are thrilled to have a Workamper approaching them with an "I want to work" attitude rather than a "give me a job" attitude. He said it works well because he researches opportunities first, then lives up to the promises he makes. As a result, when he leaves, everyone was happier for the shared experiences.
Jack described one of the most ingenious ideas I have heard about finding a job in an area a Workamper wants to visit. Jack has two cell phones. One number he keeps for friends and family to use. But he changes the second phone to a local telephone number when he gets to an area. That way, he can apply for local jobs and employers are more inclined to speak with him because they think he's from that area.
This would be a way to turn any volunteer camp host job into a paid position by working for a local company. A Workamper could give the 15 to 20 hours needed to receive a free campsite, but then go to work locally to make money. That opens the door to people who can't afford to go full-time RVing because they need a steady income.
Jack said he likes the RVing and Workamping lifestyle for the freedom it provides, and he seems to have more freedom than many other Workampers I've interviewed.
People can connect with Jack, follow some of his experiences and get practical retirement advice by checking out his Get Your Kicks at 66 YouTube channel. People can also email him at [email protected].
That's all for this week's show. If you'd like to share your RVing and Workamping experiences with others, I'd welcome an opportunity to interview you for a future episode of The Workamper Show. Just send an email to [email protected] and we'll get the ball rolling. Thanks for listening!