Podcast Episodes
In Episode 203, John DiPietro talks about Workamping in New England and his 2022 Do It Now tour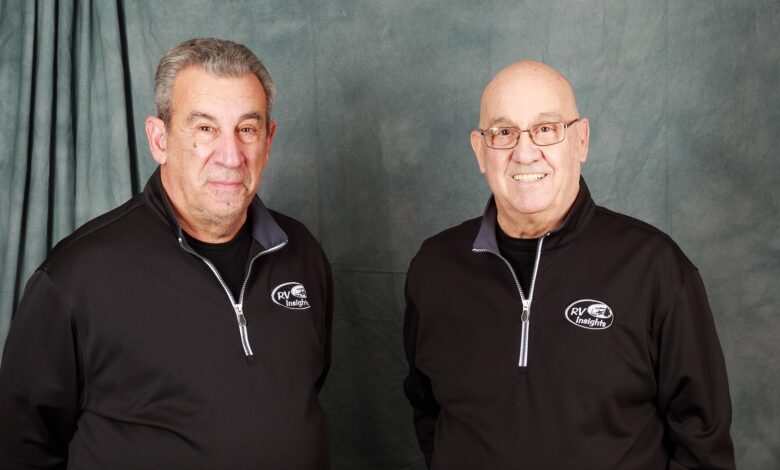 Podcast: Play in new window | Download | Embed
Subscribe: Google Podcasts | Spotify | Stitcher | TuneIn | RSS
Today I am interviewing one of the co-hosts of two popular RV-related shows, one of which is about camping and the other pertaining to RVing in New England.
John DiPietro is originally from the Boston area where he worked in radio for most of his career, first in advertising and later behind the microphone. Almost seven years ago, he partnered with Bob Zagami, the executive director of the New England RV Dealers Association, to launch a weekly live show produced every Wednesday on Facebook. Called RVing in New England, the show started by talking about places to visit in that region as well speaking with the owners of nearby businesses that support RVers.
The strange thing was that that content became so popular that people from around America started listening in to hear Bob and John banter back-and-forth with their guests, who came from all walks of life and from all around the country and even Canada.
The popularity of the show attracted the attention of the folks behind the RV Life network of websites, who reached out to Bob and John three years ago to talk about producing a nationwide video show called the Camper Report, which comes out every Friday.
For that, Bob generally interviews a corporate icon about what's happening in the RV industry and John focuses on the fun side of what people can do with their RV. John interviews campground owners, people who work at tourist attractions and people who just love to camp.
During our interview, John describes some of the many things people can do when they visit the New England area. But, more importantly, he strongly advocates for people to find jobs Workamping in New England so they have an entire season or two to truly enjoy all that region has to offer in terms of scenic beauty, history and culture.
Later John describes an adventure he took with his wife this summer, which they called the Do It Now tour to encourage people to stop dreaming about RVing someday, but to do whatever it takes to do it now while they are young enough and healthy enough to enjoy the journey.
Although John was encouraging people to visit New England and to get Workamping jobs in Maine, New Hampshire, Vermont, Massachusetts, Connecticut or Rhode Island, he really advocated for people to get out and see the country and work at any of the many Workamping jobs that are available.
John said many people used higher gas prices as an excuse for not venturing out last summer. He addresses that concern by pointing out that a 1,000-mile RV trip will cost somewhere between $100 and $200 more for gas in 2023 than it did in 2019. Then John offered suggestions on ways RVers could recoup that money, if necessary.
John and I both know full-time RVers who were forced off the road due to health problems. But by the time that happened, they had already enjoyed the experiences and had the memories.
Too many people keep putting off even starting an RV lifestyle for a number of reasons and always assuming they'll be able to start later. Unfortunately, when later arrives, they are sometimes too old or too infirm to really enjoy the experience. Rather than memories, those folks are left with regret.
That was the central message to John's Do It Now tour that he did this summer with his wife. He's planning another one in 2023. You can see videos about John's trip on the New England RV Dealers Association's website at www.nervda.com. They will be part of the RVing in New England episodes recorded this summer.
People can also watch John and his co-host, Bob Zagami, on the Camper Report show at www.camperreport.com. The videos are also available on YouTube. John can be reached by email at [email protected].
I wish John the best of luck as he plans his 2023 Do It Now tour. He hinted he might even visit my home state of Wisconsin. Either way, it should be a very memorable trip and I encourage Workampers to tune into John and Bob's shows because they are highly informative.
Today's episode is sponsored by Workamper News. With its Diamond and Platinum membership tools, Workamper News is much more than just a job-listing website. When you put the tools of this professional service into action, you'll find out just how easy it can be to turn your Workamping dreams into reality.
The one-year memberships open the door to a one-stop-shop for all-things Workamping. Being the original resource for Workamping, you'll find the largest number of job listings, be able to connect with a community of Workampers, and view resources compiled by experts who have been enjoying the RV lifestyle for many years.
If you're serious about leading a successful and enjoyable Workamping lifestyle, then a Diamond or Platinum membership is for you.  You can even get started with a free 30-day trial by visiting www.workamper.com/trial. Embark on new adventures today with the support of Workamper News behind you!
That's all I have for this week's show. It's hard to believe we only have two more episodes in 2022. We have some wonderful interviews lined up and I'm not sure which ones will be published first, but I know they'll offer some great value and information. Thank you for tuning it to today's episode of The Workamper Show.