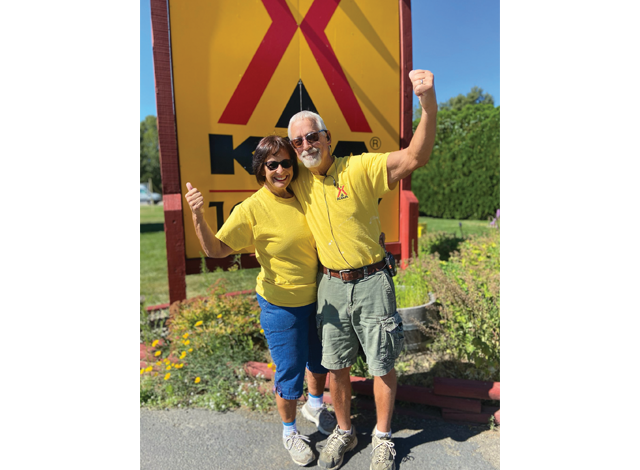 Podcast: Play in new window | Download | Embed
Subscribe: Google Podcasts | Spotify | Stitcher | TuneIn | RSS
Today's show features an interview with a couple who have been RVing part time since 1994 and shifted to full time in 2016.
Ron and Gerry Bays are from Castle Rock, Wash., but they got tired of the nearly-consistent rain in that part of the country and just decided to hit the road. They had already retired from Ron's career as a barge crane operator for a chemical plant and decided to become Workampers.
Their first assignment was a volunteer position at a state park, but they soon decided they wanted to be paid for their time as well as get a free RV site. Their first paid job was working for a KOA after simply calling the campground and asking if the business hired Workampers. As luck would have it, the owner had just returned from a campground convention and decided to start a Workamping program at that park.
Since then, all of their jobs have been working for campgrounds. Ron really likes meeting different people and learning more about them. He also likes landscaping jobs and helping newly-arriving campers get settled into their sites.
Gerry likes meeting new people and forming friendships with other Workampers and people they meet at the campgrounds they're working.
One of their favorite jobs was working at a recreation center at a campground in Fort Collins, Colo. Ron liked helping the kids visiting the campground because they had so much energy. He would help families with paddle boats or bumper boats, and Gerry would help them with mini-golf, bouncy toys and bicycle rentals.
They faced some challenges in their experiences while adjusting to different elevations and quickly-changing temperatures where they'd go from wearing shorts one day to contending with snow the next. They also recalled a time when they got desperately lost in Boston and required directions from some helpful firefighters to get on their way again.
I loved that their biggest motivator for Workamping was to keep busy in retirement. They said they could not imagine just doing nothing day after day, and Workamping proved to be a wonderful way to keep active and remain productive.
Plus, they get to visit a lot of different places they've always wanted to see. Workamping gave them an opportunity to really check out those areas and all the activities that were available to them.
Gerry made a good point about knowing how tall your RV is before you get behind the wheel. They recalled a situation when they wound up on a road that could only accommodate passenger cars. Fortunately, some flashing lights and a police officer helped direct them to a different road so they wouldn't get stuck under a bridge.
Workamping helps the couple save money in retirement by giving them free or discounted campsites as well as free or discounted electricity, internet service, laundry, firewood and other perks. That gives them more money to do special things when they travel.
Ron and Gerry still have a number of places they'd like to visit while they're young enough to enjoy the experience. I wish them the best of luck in 2021 and beyond in all their adventures.
You can also enjoy a life of adventure even before you retire, and Workamper News can help turn your travel dreams into reality. With its Diamond and Platinum membership tools, Workamper News is much more than just a job-listing website.
The one-year memberships open the door to a one-stop-shop for all-things Workamping. Being the original resource for Workamping, you'll find the largest number of job listings, be able to connect with an active community of Workampers, and take advantage of resources compiled by experts who have enjoyed the lifestyle for many years.
Most Diamond and Platinum members receive inquiries from their online resumes within a day of being posted. The Workamper experiences section of the website has been piling up reviews of employers since 2007.  Each archived issue of the magazine describes fun places to live and work. Hotline jobs are emailed directly to you so you can find jobs in states you're most interested in visiting.
If you're serious about living a successful and enjoyable Workamping lifestyle, you can start a free 30-day trial membership by visiting www.workamper.com/trial.
This episode is sponsored by the National RV Training Academy in Athens, Texas. The academy's one-week live training or home study course will teach you everything you need to know to fix about 80 percent of the problems people experience with their RVs.
You can also sign up for additional training to become an RV inspector, campground technician or to provide mobile RV service. For more information, visit www.nrvta.com.