Podcast Episodes
In Episode 199, full-time RVer Bubba Wages describes making money selling Vollara products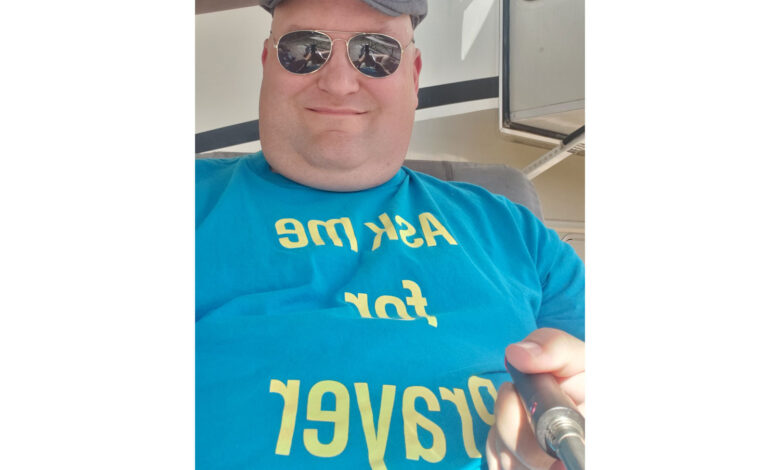 Podcast: Play in new window | Download | Embed
Subscribe: Google Podcasts | Spotify | Stitcher | TuneIn | RSS
Today I will be interviewing a full-time RVer who supports his travel lifestyle by selling healthy living products and he describes how other Workampers can do the same.
Greg Wages, or Bubba as he likes to be called, is originally from Georgia. Today, he and his wife are parked at the Three Flags RV Resort in Wildwood, Fla., very close to the famed Villages which attract a lot of people over 55.
Bubba is an independent business representative for Vollara, a company headquartered in Dallas, but with warehouses around the United States. The company produces devices to ensure healthier living. For example, Vollara's air and surface sanitizer reduces COVID and other pathogens within minutes of being turned on. The company's Living Water product works to filter out harmful elements and enables users to switch between alkaline water for drinking and acidic water for cleaning.
Other devices control odors from smoking or pets, and Vollara offers a complete line of nutrition supplements and products as well.
Bubba became aware of the product through his church, which was selling them for personal use. Later, he and his wife opted to sell the products full-time. He describes his referral-based business, what it involves and how much people can make working full- or part-time.
The company produced a series of videos to train independent reps on the products and to help people set-up their own businesses. The reps do not have to buy specific quantities of product to get started, nor do they have to maintain inventory. They can sell products by talking to people one-to-one, or they can demonstrate products to small home-groups or at larger gatherings, like RV shows and fairs.
Health-based products are in demand after COVID reminded people how important it was to eat healthier and to keep their air and surfaces clean. For RVers, the ability to clean the air when cooped up inside their rig is important, as is ensuring a healthy water supply when hooked up to campground connections whether they are connected to wells or city water.
Controlling odors is important, too, because smells from a neighbor's outdoor cooking or campfire can drift into the RV and get trapped in clothing or furniture. Anyone who travels with pets and young children know they are especially adept at making messes that emit odors. So the ability to rid a rig of those unwanted smells make the RVing experience even more enjoyable.
And, with a busy lifestyle, especially one that involves a lot of quick meals or eating out, the need for health supplements is essential to provide proper balance for mind and body. I can see how a company like Vollara can provide products and services RVers and others need.
Bubba explained that it's possible for part-time independent business reps to make $500 to $2,000 per month, and people who treat it like a full-time business can make even more. Of course, nothing is guaranteed and income is often based on how much time people put into running their business enterprises. But, no special skills or licenses are needed to get started selling Vollara products.
People who are interested in learning more about Vollara, its history and the products it sells, visit www.vollara.com. For information on buying the products or getting started in a business of your own, reach out to Bubba directly by emailing him at [email protected].
Today's episode is sponsored by The Dreamer's Journey, it is an online course and community produced by Workamper News. Life is way too short to keep your dreams on hold, so don't be held back by fear because you were designed for more!  Get started in the RV lifestyle the right way with this comprehensive guide.
For just $29.95 for one year of access, Dreamers have unlimited viewing of 50-plus videos to learn things like what type of RV to buy, goal setting, how to budget for the adventure, developing a positive mindset, setting up a domicile and operating a small business on the road, plus everything about Workamping and how to find the right job for you. Each video is 30-90 minutes long to give in-depth coverage on each topic.
There's no wrong time to get started.  For more information, visit www.rvdreamersjourney.com.
That's all I have for today's show. Next week is a special week for The Workamper Show. It will be our 200th episode and Workamper News Director Jody Anderson Duquette will be back with a special show where she's going to describe 200 different jobs Workampers can get to make money while enjoying a full-time RVing lifestyle.
I'll have that recording on the next episode of The Workamper Show. Thanks for listening! If you enjoy this show and the interviews, please consider leaving a review wherever you download or listen to the episodes.