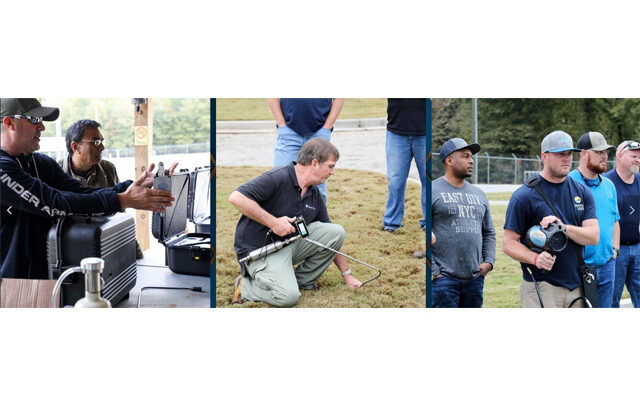 Podcast: Play in new window | Download | Embed
Subscribe: Google Podcasts | Spotify | TuneIn | RSS
Today we are going to talk about a great workamper opportunity, especially for younger folks who are still looking for full-time work with the ability to travel throughout the country.
Eric Reed is the vice president of human resources for Southern Cross, a firm that contracts with utility companies throughout America to help detect natural gas leaks in pipelines.
The workers walk along roads and property with a sophisticated sniffer and record their findings on a laptop. The utility companies can analyze those readings and detect where repairs are needed in the pipelines.
Workampers also engage in reading meters and replacing meters at homes and businesses.
The work isn't dangerous or even that difficult, but people can walk three to five miles a day.
It is generally full-time work for which workampers are paid an hourly wage as well as a per-diem rate of $300 per week to cover their RV site and utilities. Plus, when they're moving from one project site to another, the company not only pays the standard federal mileage rate, but the firm tacks on 25 cents per mile on top of that.
Full-time workampers also get medical supplemental insurance, vision, dental, disability and life insurance.
The company can keep a worker busy for most of the year, year after year. So, it's a great opportunity for full-time RVing families who don't mind staying in one area for several months and moving to another location. It's also a good job for solo RVers.
I'd like the job for the autonomy it provides in that you're given an assignment and as long as you do the job, you don't have a boss breathing down your neck.
And, it's important work, too. It is much better for utility companies to detect leaks in the pipelines early enough to correct the problems.
Eric Reed is hiring 40 workampers for Southern Cross projects this year. So, visit their website at www.southerncrosshire.com and fill out an application soon.
This is just one of the opportunities available through Workamper News, a magazine and online publication that connects RVers to full- and part-time jobs around the country.
Whether it is running a business from your RV or working short-term jobs for a variety of employers, Workamper News can give you information to help plan a course to live your own dream and get you on the road faster than you thought possible. For more information about opportunities to live, work and play in your RV, visit www.workampernews.com.