Podcast Episodes
Desiree Schultz welcomes Workampers to Pennsylvania's Yogi at Shangri-La in Episode 066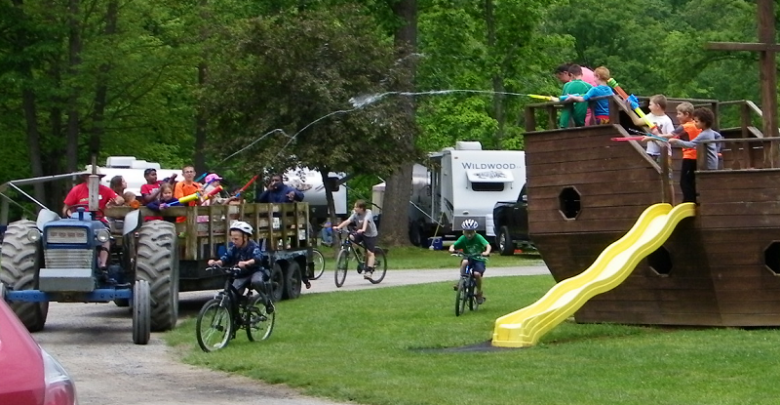 Podcast: Play in new window | Download
Subscribe: Google Podcasts | Spotify | Stitcher | TuneIn | RSS
Today we will talk with a campground manager who loves to have fun, especially with the help of a trio of bears.
Desiree Schultz, or Ranger Dez as she prefers, is the manager of Yogi at Shangri-La, a family-friendly campground in Milton, Pa., which is just outside of Lewisberg and about an hour north of Harrisburg.
The 191-site park boasts of a variety of amenities including a heated pool, splash pad, catch-and-release fishing, a recreation pavilion, bike rentals, a large group campfire and a busy retail store as well as a snack bar.
Ranger Dez is looking for Workampers this summer as well as people for the 2021 season, and she's rolling out the welcome mat with some pretty nice perks.
For example, Workampers get to stay in the extra-wide, extra-long premier RV sites in a shady part of the park set aside just for Workampers. Each site comes with 50-amp power, water, sewer and cable.
The park hires a few Workampers to stay over the winter helping with special projects. Those folks get to stay in a heated pet-friendly cabin.
Workampers help in the office, do housekeeping, lead activities, manage the snack bar and help with recruiting for Yogi, Cindy and Boo-Boo bear, who make frequent appearances throughout the day.
Ranger Dez hires 12 Workamping couples a year, however, really good singles aren't ruled out. The Workampers make a commitment to work six hours a week to pay for their site, but then they earn $8 per hour for each hour worked past the initial six.
Workampers also receive a $20 monthly laundry allowance to help keep uniforms in tip-top shape, and they can buy as much propane as they'd like at half-price.
The park typically opens around April 1, but this year Yogi came out of hibernation just a few weeks ago. Once Memorial Day arrives, the park is non-stop busy through Labor Day. Then, after a week of limited activity as kids adjust back to school, the park swings open the doors for its Halloween Trail of Terror, which fills every site every weekend through most of October.
Families who visit Jellystone Parks are really looking forward to enjoying a memorable experience and Workampers who love kids can really ensure that happens.
The park is looking for Workampers this summer, so submit a resume and set up an interview. The park will email photos of the Workamper sites and the park to help people visualize what it would be like to spend the summer there.
Because there are a lot of kids at the park, a background check is required. Once that is complete, the park enters into an agreement to stand behind what they promised the Workampers.
One of the best parts of every day is when the water wagon makes its way through the park. People come out of the woodwork with squirt guns and water blasters to ensure everyone gets a chance to cool down.
Ranger Dez takes very good care of Workampers. They get extended time off to explore the area well known for its historic sites, like Gettysburg and Valley Forge. There are a lot of scenic drives through Amish country and the campground is only two hours away from historic Philadelphia, and an hour away from Hershey where people can learn how the candy company makes its delicious chocolates.
For more information about this opportunity, call Ranger Dez at (570) 524-4561 or email her at [email protected].
Workamper News, a magazine and online publication, connects RVers to full- and part-time jobs around the country. Whether it is running a business from your RV or working short-term jobs for a variety of employers, Workamper News can give you information to help plan a course to live your own dream and get you on the road faster than you thought possible.
For more information about opportunities to live, work and play in your RV, visit www.workampernews.com.