Podcast Episodes
In Episode 179, Chris Smith describes Workamping opportunities at bed and breakfast inns in Arkansas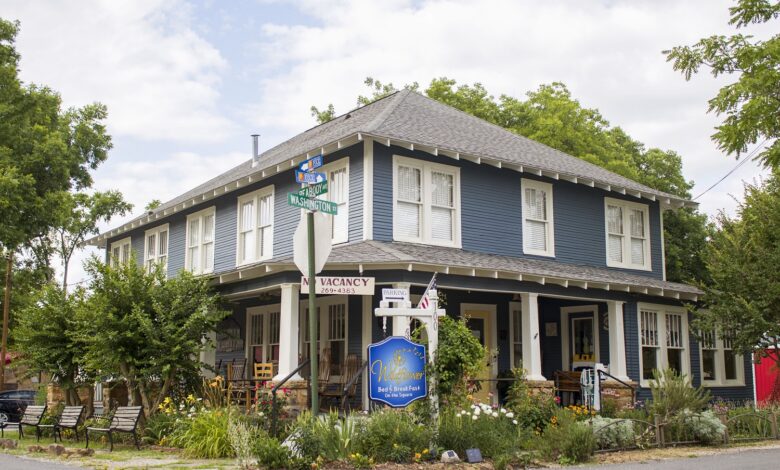 Podcast: Play in new window | Download | Embed
Subscribe: Google Podcasts | Spotify | Stitcher | TuneIn | RSS
Today I am interviewing a man who owns several bed and breakfast inns in Arkansas. He hires Workampers to help serve guests and maintain the properties.
Chris Smith has owned the Wildflower Bed and Breakfast in Mountain View, Ark., for seven years. He recently purchased another property, the Ozark Country Inn, which is a few blocks away from the Wildflower. Chris also operates a small music venue on one of his properties where he hosts shows and concerts.
Mountain View is two hours south of Branson, Mo., and two hours north of Little Rock, Ark. It's right in the middle of the Ozark Mountains. Chris says people need to be intentional about visiting the community because it is not near any major highways. Yet, thousands of people flock to the city every year because it's known as the Folk Music Capital of the World.
Last year, Chris created an RV site at the Wildflower specifically for Workampers to use. Since then, he and his wife have employed four Workampers. It worked so well that they now use a Workamper at each property. Typically, solo Workampers are hired, but Chris will consider couples, too, and families with teenage children.
His Workampers help with housekeeping, kitchen clean up, taking reservations and checking in guests. They are also involved in the music events by selling concessions.
The properties aren't very large. There are eight rooms at the Wildflower plus two cottages. The Ozark features six rooms and a small house for the full-time innkeeper.
Workampers usually work from Thursday to Monday. They may put in six-hour shifts most days and up to eight hours a day on busy weekends. Kitchen cleanup often requires two hours of time, and housekeeping tasks may take three to four hours, depending upon how many guests are departing that day.
The first 15 hours of work every week is used to cover expenses for the Workamper's full-hookup RV site, which includes broadband wireless plus breakfast on days they are working. Then Workampers are paid $12 per hour for every hour beyond 15 hours per week. Chris and his wife often treat his staff to dinner every week or two and Workampers also receive free tickets to the Ozark Folk Center State Park.
If they like to cook, Workampers can help prepare breakfast, but it's not required. The beauty of staying at those type of facilities is that the breakfasts are often made from scratch. They are much higher-end meals than guests at hotels generally receive.
The season typically runs from March through November. Chris is not looking for Workampers at the moment, but there may be a position available this fall. He is currently interviewing people to start work in March 2023.
There are no special skills or qualifications required to work at either facility. All Workampers are expected to help clean rooms and the kitchen. They should be friendly and sociable because bed and breakfast inns typically attract people who love to socialize with other guests.
Workampers will need to be able to use a computer to use the reservations software. If they have special skills, like maintenance or handyman services, Workampers may be able to use those skills on special projects.
People who are interested in applying for the job can simply call Chris at 870-269-4383. He will schedule a Zoom interview to answer questions and evaluate how well the Workamper interacts. He will also check references. To really stand out as an applicant, Workampers can stress their cleaning ability, eye for detail and desire to interact with others.
There are plenty of things for people to do in the Mountain View area, including music concerts which take place almost every day somewhere in the city. The region is popular for its hiking, fishing, horseback riding, kayaking and canoeing.  When they are not working, Workampers can visit Branson, Mo., or Little Rock. Hot Spring, Ark., is only three hours away as is Memphis.
If you like music, this will be a fabulous job for you. For more information about working at the Wildflower Bed and Breakfast Inn or Ozark Country Inn, people can visit www.thewildflowerbandb.com/workamper.
Today's episode is sponsored by Workamper News. With its Diamond and Platinum membership tools, Workamper News is much more than just a job-listing website. When you put the tools of this professional service into action, you'll find out just how easy it can be to turn your Workamping dreams into reality.
The one-year memberships open the door to a one-stop-shop for all-things Workamping. Being the original resource for Workamping, you'll find the largest number of job listings, be able to connect with a community of Workampers, and view resources compiled by experts who have been enjoying the RV lifestyle for many years.
If you're serious about leading a successful and enjoyable Workamping lifestyle, then a Diamond or Platinum membership is for you.  You can even get started with a free 30-day trial by visiting www.workamper.com/trial. Embark on new adventures today with the support of Workamper News behind you!
That's all for this week's show. Next week I will be speaking with a Workamper who makes a living helping other RVers to preserve their memories and organize their photographs and videos. I'll have that interview on the next episode of The Workamper Show. Thanks for listening and have a safe, memorable Independence Day holiday.