Podcast Episodes
Ranger Tyler Marye describes Workamping opportunities with the Army Corps of Engineers in New Mexico in Episode 107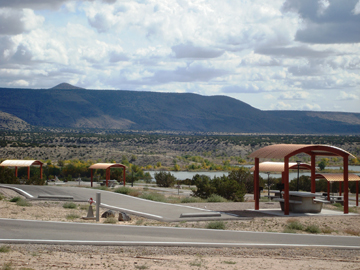 Podcast: Play in new window | Download | Embed
Subscribe: Google Podcasts | Spotify | TuneIn | RSS
Today we will be talking with a U.S. Army Corps of Engineers park ranger about opportunities this summer at a project in northern New Mexico.
Tyler Marye is a park ranger at the U.S. Army Corps of Engineers Cochiti Lake Project near Pena Blanca, N.M., which is located between Santa Fe and Albuquerque and just a few miles off Interstate 25.
Tyler is looking for paid gate attendants, and that involves greeting guests on arrival, opening and closing the gates, issuing permits, collecting fees, and educating people about park rules. There are also a few volunteer positions open this summer.
Paid Workampers put in about 41 hours a week over a seven-day period, but they remain at the park the full week. They aren't technically working the whole time, but they stay on-site in case something comes up. Then, when that week ends, after a two-hour transition period, another set of Workampers comes on duty and takes over for the following week.
So, the gate attendants work a seven-day on, seven-day off schedule. Volunteers don't have as stringent a time commitment.
Whether paid for volunteer, Workampers have ample time to explore the many things to do in that area. Santa Fe is rich in culture, as is Albuquerque. It's relatively close to Colorado, Arizona and Texas.
Work typically takes place from mid-April to mid-October, which ensures you're in the area for the legendary Albuquerque Balloon Festival featuring hundreds of hot air balloons drifting across the valley.
New Mexico has been under some pretty heavy restrictions for more than a year, and everyone is hoping they'll be able to get out and start recreating again soon. When they do, I suspect it will be a very busy summer for all of the parks and campgrounds in New Mexico.
So this Workamping opportunity is an ideal one for Workampers who desire to spend time in The Land of Enchantment.
No special skills are required for the job. All Workampers receive orientation training that goes over how the software works, covers policies pertaining to rules and interacting with the public.
Tyler is looking for people who like to have a good balance between work and play. Volunteer positions are also available and they don't require the same level of commitment as the paid contractors.
For more information about the paid and volunteer jobs, email Ranger Marye at [email protected].
Today's show is sponsored by the Small Business RVer School. This new course from Workamper is designed specifically for entrepreneurs on the move and helps you build a business you can run anytime from anywhere.
The self-directed course helps you be your own boss while reducing stress and saving on taxes. Through a series of online videos, and monthly calls, you are taught the steps necessary to build and manage a successful mobile business.
Life is too short. So, choose what you want to do and when you want to do it by starting a business of your own. For more information, visit www.smallbizrver.com.
This episode is sponsored by the National RV Training Academy in Athens, Texas. The academy's one-week live training or home study course will teach you everything you need to know to fix about 80 percent of the problems people experience with their RVs.
You can also sign up for additional training to become an RV inspector, campground technician or to provide mobile RV service. For more information, visit www.nrvta.com.