Podcast Episodes
Mike and Donna Bender describe how they make money fixing and inspecting RVs on Episode 101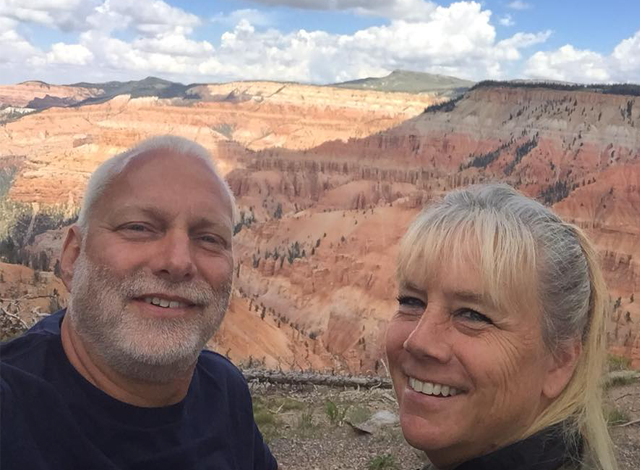 Podcast: Play in new window | Download | Embed
Subscribe: Google Podcasts | Spotify | TuneIn | RSS
For our last podcast of 2020, I will be interviewing Georgia residents who now do RV inspections full time.
Mike and Donna Bender are both originally from Pennsylvania, but later had a farm in South Carolina. Then, they opted to do some traveling before settling down in the Atlanta area to make a career of inspecting and repairing RVs.
Because they had one child on the east coast and another on the west, Mike and Donna saw full-time RVing as a way to see the country and maintain those important family relationships.
While other people must usually contend with selling a sticks-and-bricks home in order to move into an RV, the Benders had to sell an entire farm. They describe what it took to downsize as well as list some of the items they thought would be essential for RV travel, but they later opted to purge as well.
Early in their adventure, they stumbled upon an opportunity to work for a natural gas company inspecting gas lines throughout the country. When they learned of the opportunity to make money repairing RVs, they opted to take the training and attain their certification.
It was a natural fit for Mike because he loved to tinker on things. While they were on the road, people were often asking for help with their own RVs, and he would offer his assistance for free. When he decided to launch a business repairing RVs, he enrolled in the National RV Training Academy and Donna went along for the ride.
But, while taking the RV Fundamentals class, their eyes were opened to opportunities to make money inspecting RVs. That seemed to align with Donna's passions as well. So, after they completed the first week of training together, Donna continued along a path to become an RV inspector and Mike completed five weeks of training to become a certified technician.
They explain why they opted to launch the business and why they believe the company has grown exponentially in recent months. Mike and Donna describe the training as well as the steps they took to start and grow their business. In the process, they offer some very helpful advice on what to look for when buying a new or used RV.
Mike and Donna have been fixing and inspecting RVs since August and have been flabbergasted as to how well it has taken off.
They are so busy that they often put in 60-hour weeks, not out of necessity because they need the money, but because there is such high demand for that type of service.
Mike noted that he can't even go to a grocery store in his truck with signage promoting RV repairs without being stopped by someone looking for help. He'll also drive through a campground or state park and invariably be flagged down by someone needing service work.
The couple makes a good team by working together and they encourage other couples to follow suit in starting their own RV inspection or RV repair business.
You can learn more about Mike and Donna Bender and their company, RVIMT, by visiting www.rvimt.com.
For more information about classes offered by the National RV Training Academy to help you become a certified RV technician or certified RV inspector, visit www.nrvta.com.
In fact, if you just wanted to learn how to fix your own RV to save on repair bills and ensure you're not stranded anywhere, the RV Fundamentals class may be just what you need. You'll learn how to diagnose and repair about 80 percent of the problems you're likely to encounter in your RV.
You can learn more by visiting www.nrvta.com.
Today's episode is sponsored by Workamper News, a magazine and online publication that connects RVers to full- and part-time jobs around the country. Whether it is running a business from your RV or working short-term jobs for a variety of employers, Workamper News can give you information to help plan a course to live your own dream and get you on the road faster than you thought possible.
For more information about opportunities to live, work and play in your RV, visit www.workampernews.com.