Podcast Episodes
In Podcast 071, Lu Syrett describes current opportunities at Utah's historic Ruby's Inn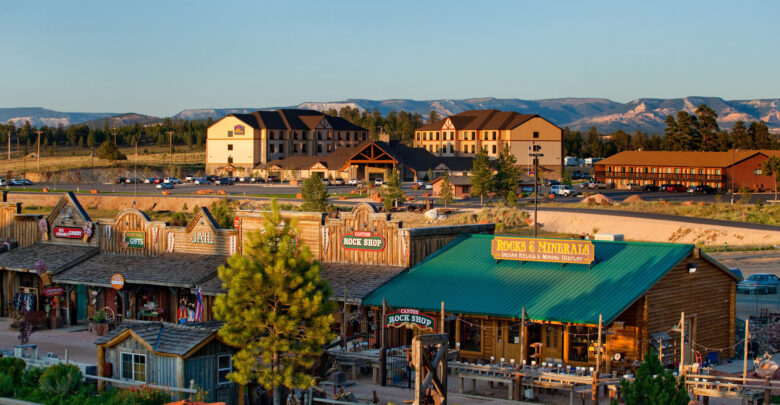 Podcast: Play in new window | Download
Subscribe: Google Podcasts | Spotify | Stitcher | TuneIn | RSS
Today we are going to hear from an employer whose business has been hiring Workampers for decades and is still looking for people to work this summer.
Luciene Syrett, or Lu as she likes to be called, is the gift shop manager at Ruby's Inn, which is located just outside of Bryce Canyon National Park.
The family-owned business was started in 1916 by her great-grandfather, Reuben Syrett, who liked to be called Ruby. Today, the sixth generation of Syretts are working there.
It may have started as a simple inn to greet travelers who wanted to see the spectacular canyon. However, Ruby's Inn has grown into a destination itself. It now involves 800 hotel rooms spread over three properties as well as a 150-site, full hook-up RV park.
The compound is located in a rural part of southern Utah, but right in the middle of what is called Monument Valley. It is only a few hours from the Grand Canyon, Zion National Park, Capitol Reef National Park, Grand Staircase-Escalante National Monument and Canyonlands National Park.
Ruby's Inn hires 700 people each season, many of whom are Workampers. They hire so many that the family built a separate 70-site RV park just to create a community for Workampers.
Lu describes some of the duties Workampers can perform. They include helping in the hotels or RV park, staffing one of three restaurants, assisting guests at the nightly country music show, inspecting hotel rooms, scooping ice cream or selling candies at a specialty shop, fixing cars at the auto center, or keeping shelves stocked at the general store.
The season typically begins in late March and continues through the end of October. All the jobs are paid and come with generous bonuses for working after Labor Day.
Ruby's Inn sounds like a really fun place to work in the truly spectacular Monument Valley of Utah.
The Syrett family is especially appreciative of their Workampers because they play vital roles in serving the tens of thousands of people who visit their family-owned business each year.
Because Ruby's Inn is located in a rural area, the family relies upon Workampers to supplement the local labor who must often come from long distances just to get to work.
The family works hard to make sure that Workampers feel welcome and valued. They orchestrate regular potluck dinners to help people get to know each other and the rest of the family.
I appreciate Lu Syrett for taking time to talk to me about the many opportunities still available for Workampers this year.
I liked Lu's explanation of how the family ensures Workampers are comfortable with their jobs by assigning an experienced buddy to help each person learn the ropes. It also helps them forge friendships quickly with other staff members.
State laws may prevent the company from giving away a free campsite, but renting a full hook-up RV site for $150 per month anywhere in Monument Valley is a spectacular deal.
To entice people to stay through the fall shoulder season, Ruby's Inn offers a generous bonus to work after Labor Day when schools are back in session, and the firm loses many of its teenage and college-age workers.
Workampers are still needed to work this summer and fall. To find out more information about the company and types of jobs Workampers can perform, visit www.rubysinn.com/employment.
Workamper News, a magazine and online publication, connects RVers to full- and part-time jobs around the country. Whether it is running a business from your RV or working short-term jobs for a variety of employers, Workamper News can give you information to help plan a course to live your own dream and get you on the road faster than you thought possible.
For more information about opportunities to live, work and play in your RV, visit www.workampernews.com.