Podcast Episodes
In Episode 205, Kristy Halvorsen describes 'coddiwompling,' how it changed her life, and how she inspires others to pursue it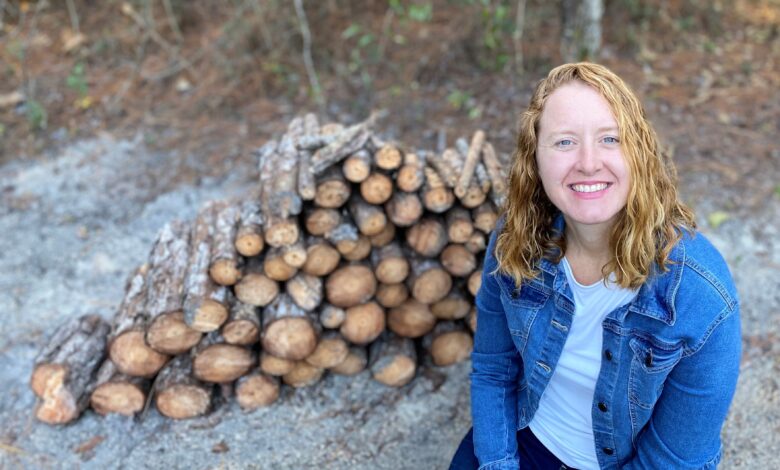 Podcast: Play in new window | Download
Subscribe: Google Podcasts | Spotify | Stitcher | TuneIn | RSS
It's our last podcast episode of 2022 and I'll be interviewing a woman who will inspire you to stop talking about changing up your life "someday," and take that all-important first step to do it now. In fact, she'll have you anxious to go "coddiwompling" yourself in 2023.
Kristy Halvorsen was living a great life. She was firefighter and paramedic who rose to the rank of lieutenant. It paid well, provided daily challenges and was very rewarding to her personally. But, she yearned for freedom to go anywhere and just follow her passions. Eight years ago, Kristy was following the same well-worn path so many people follow. Her plan was to work until she turned 52 and then retire so she could travel around the country and the world.
However, sometime in her 30s, Kristy started asking herself why she needed to wait until she was 52 with bad knees or some other issue that would prevent her from visiting places and doing things she's always dreamed of doing. Kristy realized that she was just one work-related injury away from not being able to hike and bike and do all the other things she loves to do outdoors.
In 2015, she developed a five-year plan to quit her job and hit the road living a fully-mobile lifestyle. In 2017, Kristy started living an entirely different life. She bought a 2002 Airstream travel trailer, added solar power and a composting toilet, then began what Kristy calls a modern-day walkabout.
She rarely spends time in campgrounds, opting instead to spend as much time as possible set up in the middle of nowhere on property owned by the Bureau of Land Management and National Forest Service.
Of all the benefits to her new lifestyle, the one Kristy enjoys the most is the flexibility to go somewhere and stay for a day, a week or a month before moving on. She also discovered that there are a lot of people who want to learn how to do what she's been doing.
So, Kristy offers coaching services to teach people how to go coddiwompling, which is a term that describes heading in a direction without the constraints of what people believe is possible. When people embrace the concept of coddiwompling, Kristy said they become more alive and that's when the unimaginable happens, but in a good way.
I'm envious of her lifestyle because Kristy can just wake up and decide to move on or stop somewhere that looks really interesting and opt to stay as long as she'd like just to explore the area. Kristy really doesn't follow a plan at all. She explained there is a difference between being drawn to a plan, and planning because of a fear or belief that creating and following a plan is absolutely necessary.
Kristy calls it coddiwompling to follow an inner compass without a plan and the freedom to just wander. During the process she has enjoyed several amazing experiences and met some pretty incredible people along the way.
She set up a business to help coach or guide people to adjusting their mindset to overcome a belief that they must follow a rigid plan or schedule. Through some deep conversations with people either one-on-one or in group sessions via Zoom, Kristy shows people they can experience life in a completely different way.
It's a valuable service because so many people simply bury their passions and purpose for life at a relatively early age in order to pursue the expectations of others or the plans other people set for them. While it may work well for many people, others struggle because they know they want to do something else. In fact, they may even feel called to pursue a different direction in their lives, but need courage to take the first step.
Kristy just doesn't teach people how to go RVing, although I am sure she'd be happy help others pursue that goal, if it's something that really inspires them to live a fuller life. Rather, Kristy teaches people to be more present in the moment rather than remaining stuck in the past or worried about the future.
She encourages people to just take one step and then, from that vantage point, determine the next step to take. Many people think they need to plan 14 steps ahead and, consequently, get caught up in the process of meticulous planning for every step and every contingency. Kristy calls that a real dream killer.
The breakthroughs people have by working with Kristy, not only energizes her, but her clients are inspired to refer others to Kristy to the point she always has people to help. Yet, Kristy maintains a schedule that doesn't tie her to a desk or a computer screen.
If you'd like to connect with Kristy, visit her website at www.kristyh.com as well as look for her on Instagram by searching for coddiwomplenow.  In fact, she's happy to have a complimentary coaching session with anyone to give them a taste of what exploring options in life together would open up for them. There is also an opportunity to join her next group coaching session on Feb. 6.
As you close out 2022, take time to evaluate where your life is headed. If it's not in the direction you want to be going, perhaps Kristy can help. Or review the resources available at www.kristyh.com for help in turning your life around. Make 2023 a transformational year for you.
If you're just exploring the RV lifestyle and Workamping options, consider enrolling in The Dreamer's Journey, a new online course produced by Workamper News. Life is way too short to keep your dreams on hold, so don't be held back by fear because you were designed for more!  Get started with the RV lifestyle the right way with this comprehensive guide.
For just $29.95 for one year of access, Dreamers have unlimited viewing of 50+ videos to learn things like what type of RV to buy, goal setting, how to budget for the adventure, developing a positive mindset, setting up a domicile, operating a small business on the road, plus all about Workamping and how to find the right job for you. Each video is 30-90 minutes long giving in-depth coverage on each topic.
There's no wrong time to get started.  For more information, visit www.rvdreamersjourney.com.
That's all I have planned for this, our final episode of 2022. Our first show of 2023 will feature an interview with an employer who has two interesting short-term work experiences this spring in the Houston area. So, if you're tired of living in the frigid north, be sure to tune in next week to learn more about this opportunity. I'll have the details on the next episode of The Workamper Show. Thanks for listening and may you enjoy a happy, healthy, adventurous and memorable new year!