Podcast Episodes
Episode 223 features Crystal Barnett, with Express Employment Professionals, talking about the Michigan beet harvest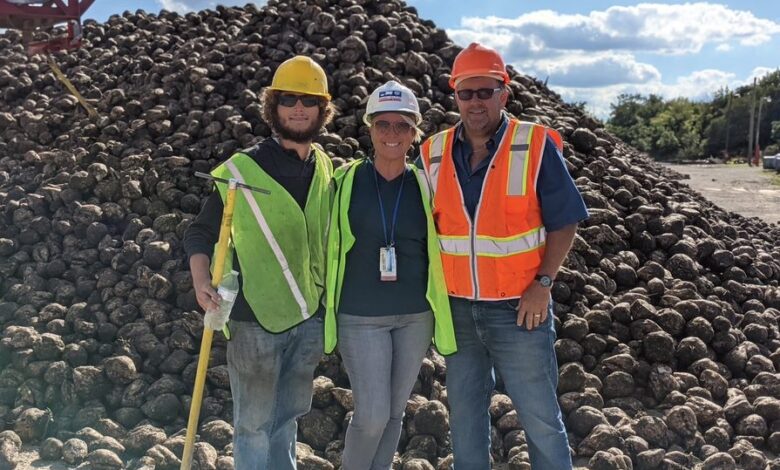 Podcast: Play in new window | Download | Embed
Subscribe: Google Podcasts | Spotify | Stitcher | TuneIn | RSS
This week I will be speaking with an employer from Michigan who has a lucrative short-term Workamping opportunity this fall helping to harvest sugar beets.
Crystal Barnett is a project manager for Express Employment Professionals, a company based in Grand Forks, N.D., that hires Workampers for a variety of jobs. Today, she is talking about an opportunity for 400 Workampers to help harvest sugar beets this fall in the thumb of Michigan.
Workampers will be working specifically for Michigan Sugar Company. They are not working in the fields helping to remove beets from the ground. Rather, Workampers serve at receiving facilities where truckloads of sugar beets arrive for processing.
Trucks deliver beets to the site where they are unloaded, piled and tested for sugar quantity. There are generally three different Workamper positions available. The first is a caretaker, which takes samples of the arriving beets and submits them to a lab for testing. Caretakers also make sure the grounds remain free of any obstructions or hazards.
Pilars operate equipment that signals truck drivers where to dump their loads. They are also responsible for ensuring people on the ground stay out of harm's way. Pilar jobs are often given to people who have experience operating small equipment, such as forklifts. Those Workampers undergo an audition for a pilar job.
Harvest leaders oversee an entire crew during the season. They come in about a month earlier than other Workampers to get more specific training. People who have management experience are encouraged to apply for the leader jobs.
Outside of the scale house, the jobs take place outdoors in different types of weather. Most Workampers are on their feet the entire 9-hour shift.
The season starts in mid-October and usually extends 21 days. The company asks for a 30-day commitment in case of really bad weather that can grind the operation to a halt or slow things considerably.
It's very easy for Workampers to put in 40 hours in a week, and overtime pay is available, but not required. There are no days off during the actual harvest so Workampers can put in 21 days in a row, if weather cooperates.
However, Workampers can expect to make $1,300 per week with overtime.
I have interviewed Workampers and employers in the past who have worked the sugar beet harvest in other states. But, this is the first time we have talked to someone about working at a harvest site in Michigan.
The fall season in Michigan is spectacular with all the vibrant colors and cooler days. Workampers often arrive in the area a few weeks before the harvest begins to enjoy the fall foliage before heading to their winter jobs.
There are 400 openings for Workampers to work the Michigan beet harvest this year.
They will be required to lift up to 25 pounds by themselves, stand for up to 9 hours at a time, and do some bending and lifting. However, I have talked to Workampers in their 60s who find the work to be challenging, but not difficult.
Express Employment Professionals begins recruiting for the next season as soon as the current season ends. So the company is always looking for Workampers. Applying is as simple as visiting www.michiganbeetharvest.com. There they will find answers to popular questions as well as an online application form.
Once the application is submitted, an interview is scheduled. If it seems like the Workampers would be a good fit for the job, a conditional employment offer is extended on the spot. The one condition is that Workampers need to show up to get the job with all the documents they are told in advance to bring with them.
The thumb of Michigan is a fun place to visit. It is two and a half hours from Mackinac Island, which is a popular tourist destination depicting 19th century living. The famous Mackinac Bridge is one of the longest suspension bridges in the northern hemisphere. The 26,300-foot bridge connects lower Michigan to the upper peninsula.
The Bay City area is about 90 minutes from Ann Arbor, Mich., and The Big House, a historic 110,000-seat venue where University of Michigan football games are played. The harvest area is also about four hours from Toronto, Ontario, and the Canadian side of Niagara Falls.
So apply today to get one of the 400 jobs offered to Workampers who would like to make some significant money for the holidays relatively quickly by harvesting sugar beets. For more information, check out www.michiganbeetharvest.com.
Today's episode is sponsored by The Dreamer's Journey, it is an online course and community produced by Workamper News. Life is way too short to keep your dreams on hold, so don't be held back by fear because you were designed for more!  Get started in the RV lifestyle the right way with this comprehensive guide.
For just $29.95 for one year of access, Dreamers have unlimited viewing of 50-plus videos to learn things like what type of RV to buy, goal setting, how to budget for the adventure, developing a positive mindset, setting up a domicile and operating a small business on the road, plus everything about Workamping and how to find the right job for you. Each video is 30-90 minutes long to give in-depth coverage on each topic.
There's no wrong time to get started.  For more information, visit www.rvdreamersjourney.com.
That's all I have for this week's show. Next time, I will be speaking with a woman who has been RVing with her husband, Workamping, running a roofing business and roadschooling her seven children during the past 10 years. She certainly has some stories to tell and I'll have that interview on the next episode of The Workamper Show.
If you like our interviews, please consider leaving a review wherever you downloaded the episode. Thanks for listening!