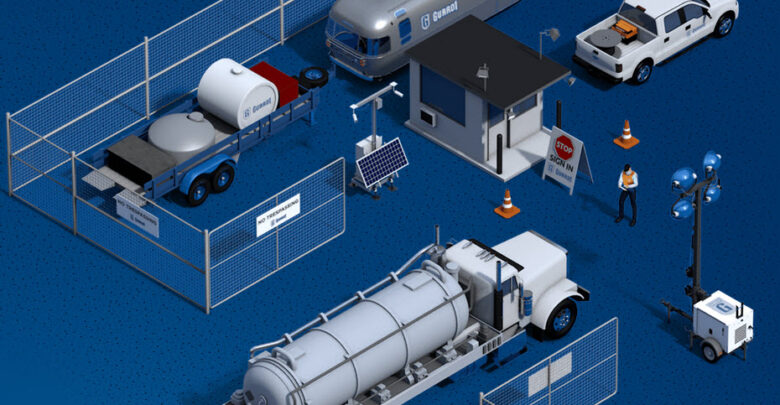 Podcast: Play in new window | Download
Subscribe: Google Podcasts | Spotify | Stitcher | TuneIn | RSS
Today, we're going to look at a full-time workamping job as an oil field gate guard.
Guard 1 Services provides security to the oil industry by staffing gates through which trucks and oil workers pass every day. The company has hired workampers for many years to staff those gates and control entry into and out of the oil fields, primarily in Texas.
I'll be talking to James Jenkins, the recruiting coordinator from Guard 1 Services. The company staffs 100 gates with workampers who typically stay onsite 24 hours a day.
The guards record information about every person and vehicle entering an oil field. They use iPads to gather the information about people and to take pictures of the vehicles.
Generally, the work starts at 5 a.m. and continues until 7 or 8 p.m. However, the guards need to be available to open the gate any time day or night.
That's why Guard 1 prefers to work with couples who can split the duties to ensure someone is continuously at the gate.
The workampers can stay in their RVs and come out when entry or exit is needed, so it is not like they are standing outside the entire time.
James talks about the requirements to get a security guard license and what is needed to complete the application and take the various tests.
The job pays between $150 to $200 per day, and a free RV pad with full hookups is included.
I have talked with several people who worked these guard assignments in the past and it is generally not difficult work at all.
A truck or car rolls into the site, which activates a sensor that sounds a buzzer inside the guard's RV. The guard goes outside to check the credentials of people seeking access to the site, and takes a picture of the vehicles and what might be on the trucks.
The guard opens the gate, allows the vehicle to pass, and closes it again. The guards are looking for suspicious activity, and reporting anything out of the ordinary so it can be checked out by someone else.
At $4,500 per month minimum, it pays very well for a workamping position, especially with a free full-hookup RV site included in the compensation.
People have told me that it isn't difficult work at all. The biggest challenge is needing someone to be onsite 24 hours a day.
James Jenkins said that couples can work 30 or 60 days – or longer – and then come back to do it again at a different location.
People who would like more information can find it at www.guard1services.com.
This is just one of the hundreds of jobs available through Workamper News, a magazine and online publication that connects RVers to full- and part-time jobs around the country.
Whether it is running a business from your RV or working short-term jobs for a variety of employers, Workamper News can give you information to help plan a course to live your own dream and get you on the road faster than you thought possible.
For more information about opportunities to live, work and play in your RV, visit www.workampernews.com.