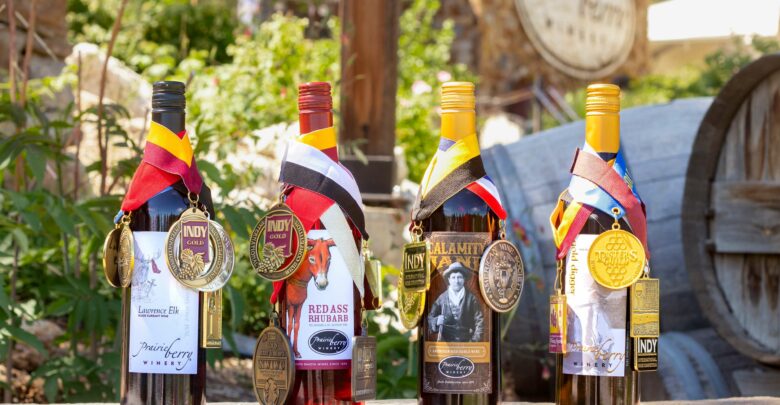 Podcast: Play in new window | Download
Subscribe: Google Podcasts | Spotify | Stitcher | TuneIn | RSS
Workamping can be a fun experience. There's no doubt about that. It's even better when you can learn something while having fun, and then pass that knowledge on to other people. That's one of the perks working for Prairie Berry Winery, and that's the focus of today's show.
Our guests are Amanda Burleson and Ermin Husidic.
The winery is located in the hill country of South Dakota, in a spectacular part of America. It's right in the center of Black Hills National Forest and just 20 miles from Mt. Rushmore and the Crazy Horse Memorial.
The company's wines have won more than 1,000 international awards. They not only offer traditional grape wines, but also wines produced from locally-grown fruits, or prairie berries, as they are called. There are up to 30 different wines offered each summer.
Workampers lead customers through wine-tasting events to find the best wines to pair with a variety of foods. Prairie Berry also staffs a kitchen that creates a variety of handmade sandwiches, pizzas, salads, artisan plates, and desserts.
Best of all, they get training in the winemaking and brewing processes. If you've ever wanted to know how to select the right wine for a meal, you'll learn that and more by spending a season with Prairie Berry.
The company is hiring full- and part-time workampers for the 2020 season.
It's a great opportunity for people who enjoy good wine, and helping others to learn more about the winemaking process.
I had the opportunity to visit a winery in California a few years ago where I learned how different wines accent different foods. It was truly remarkable how one type of wine would make the flavors of meat, cheese, chocolate and salty foods really come alive.
For a guy who grew up in Wisconsin drinking wine from a box, it was an eye-opening experience. At Prairie Berry Winery, you'll learn much more about wines – so much so that you'll be the expert with friends and family.
What a wonderful opportunity to educate other people about the various types of wine, and how it's made. And, if wines aren't your thing, then you can work in the kitchen preparing some delicious sandwiches, pizzas and platters.
If you want to spend a summer in the area where Dances With Wolves was filmed, learn about wines, and meet a bunch of people wanting to have fun, then I'd encourage you to visit www.prairieberry.com and check out the careers page.