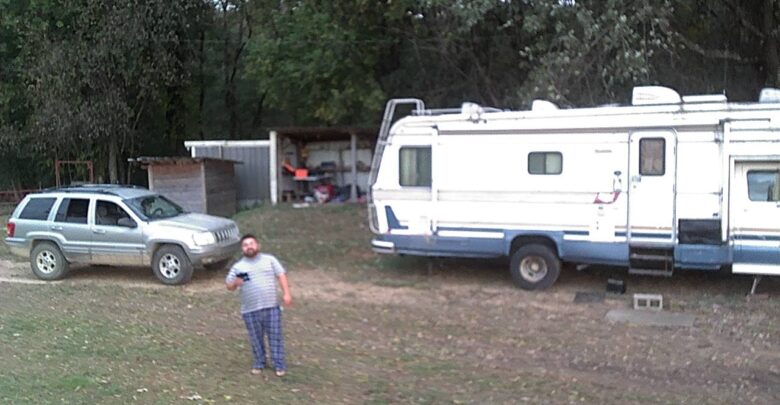 Podcast: Play in new window | Download
Subscribe: Google Podcasts | Spotify | Stitcher | TuneIn | RSS
People enjoy the RV lifestyle for many reasons. Some like to travel on sightseeing adventures, while others like to travel for a specific purpose. Today, we'll talk with a millennial RVer who travels around the nation working jobs to help clean up storm debris.
For the past nine years, Macgyver Hlad has found a workamping niche. He's a storm chaser of sorts who travels around America to areas impacted by natural disasters and finds jobs helping to remove storm debris.
He drives a modified log truck and finds debris on or near roadways, picks up the fallen trees or other objects, lifts them onto the truck and hauls them to a dump. He's also a wiz and operating chainsaws to help clear debris.
He bought his own motorhome in February. Prior to that he would use RVs with his dad or stay in hotels in the disaster areas.
It sounds like tough work, but Macgyver loves the freedom working outdoors offers – even when the circumstances are less than ideal. It's the idea of helping others is a strenuous situation that gives him a sense of purpose.
Having his own house on wheels is a big plus in an area where thousands of people might be looking for temporary shelter. He can also go anywhere on a whim where his skills are needed the most.
Like other millennials, he realizes that the scope of work has changed, and he's embracing what's called the gig economy where people work short-term jobs and move on.
I have talked to people who have had some incredible workamping jobs, but I think MacGyver Hlad's experience is one of my favorite stories.
While other people are running away from major storms and other disasters, MacGyver is running toward the area to help people and communities recover quickly.
With tattoos, piercings and blue hair, MacGyver isn't a typical workamper. But, that hasn't stopped him from finding ways to support his love for travel by applying his skills in ways that make money and provide a true sense of purpose.
He's traveling the nation and saving money in hopes of finding a place to settle down in a few years to open an animal rescue facility.
He's like me in that he loves to visit different areas of the country to enjoy the exquisite cuisines of a particular region. It really is one of the best perks of full-time RVing.
I wish MacGyver the best of luck as he pursues his dream. If he can do it, you can too.
Whether it is running a business from your RV or working short-term jobs for a variety of employers, Workamper News can give you information to help plan a course to live your own dream and get you on the road faster than you thought possible. For more information about opportunities to live, work and play in your RV, visit www.workampernews.com.