Podcast Episodes
Beckie Martin talks about Workamping as a family in Episode 221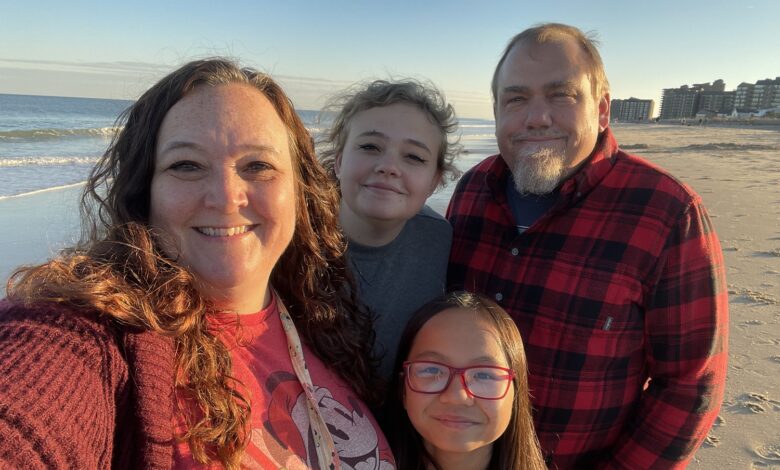 Podcast: Play in new window | Download | Embed
Subscribe: Google Podcasts | Spotify | Stitcher | TuneIn | RSS
Today I will be speaking with a woman who has been traveling with her husband and two daughters since 2020. She wants to talk about what it is like to be RVing and Workamping with younger children.
Beckie Martin is originally from Maryland. She and her husband, Randy, started talking about full-time RVing in 2018. Once they discovered the Fulltime Families organization, their discussion changed from "Can we do this?" to "How can we get started?"
The couple sold their home in 2019 and attended the Workamper Rendezvous event in Heber Springs, Ark., that fall where they made some helpful connections. Despite COVID lockdowns throwing a wrench into their plans to leave in May 2020, they opted to launch in October of that year in what Beckie calls a now or never decision.
Traveling across America had been a family dream for many years. Beckie's daughters are 16 and 11 years old, which are ideal ages to explore the country. Although the family had been looking at travel trailers, they settled on a fifth wheel to have a bit more room. They are accompanied on their journey by a 15-year-old dog.
One of the first lessons they learned was to apply for jobs a season in advance. They had traveled to Florida the first winter, but could not find a Workamping job. Fortunately, Randy found work with a temporary agency, which is an alternative I had not heard of Workampers pursuing. While dad was working, Beckie and the girls did some volunteer work.
Since then, the family has had several jobs where everyone could participate in one capacity or another, even if it meant picking up trash around a lake or working in a campground cafeteria. One campground hired the teenager as a regular worker, while the 11-year-old was able to get a job working one hour a week helping to create tie-dye shirts.
I enjoyed hearing about Beckie's Workamping and family travel experiences. Although they had to come off the road for a while, she admitted to experiencing wanderlust to continue the adventure.
Beckie had always homeschooled her kids, but RVing to historic sites and natural wonders added an entirely different dimension to the girls' education. The kids did find connecting with other children to be a challenge some days, but thanks to the internet, they were able to maintain connections with lifelong friends and others they met on their journey.
Joining Thousand Trails was a good investment for them because most of those campgrounds have plenty of children staying there. Being around other families who were also full-time RVing enhanced the experience for the Martins. They were able to get together for potlucks or worship nights. The family has made several connections to other families who enjoy meeting up with each other in different states.
The most frequent challenge the family faced was trying to figure out where various smells were coming from and how to control them. Beckie also encouraged people to be diligent in travel planning to make sure they look at maps rather than rely entirely on GPS, which may not take into consideration the difficulty of navigating switchback roads or avoiding low bridges.
Beckie enjoyed it when Workamping jobs would try to give everyone two days off together, one of which was used for rest and the other for exploring. She said the greatest treasures were often out-of-the-way places they encountered by accident.
The most important advice Beckie provided to other Workampers was to ask lots of questions, and don't be afraid about doing so. She said most people are willing to help and asking questions is often the best way to learn new things.
To connect with Beckie, look for her on Facebook at www.facebook.com/randybeckie.martin.
Today's episode is sponsored by The Dreamer's Journey, it is an online course and community produced by Workamper News. Life is way too short to keep your dreams on hold, so don't be held back by fear because you were designed for more!  Get started in the RV lifestyle the right way with this comprehensive guide.
For just $29.95 for one year of access, Dreamers have unlimited viewing of 50-plus videos to learn things like what type of RV to buy, goal setting, how to budget for the adventure, developing a positive mindset, setting up a domicile and operating a small business on the road, plus everything about Workamping and how to find the right job for you. Each video is 30-90 minutes long to give in-depth coverage on each topic.
There's no wrong time to get started.  For more information, visit www.rvdreamersjourney.com.
That's all we have for this week's show. I'm not certain who will be featured on next week's podcast. We have one employer and two Workampers waiting to go. To see who was selected, tune in next week for the next episode of The Workamper Show. Thank you for listening!