Podcast Episodes
In episode 146, Steven Tree describes juggling a full-time job as a pilot with his young family's dream of full-time RVing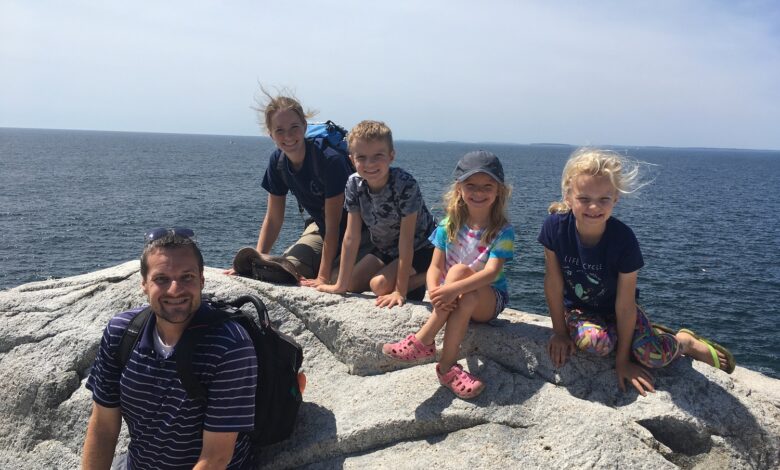 Podcast: Play in new window | Download | Embed
Subscribe: Google Podcasts | Spotify | TuneIn | RSS
Today I am going to interview a Workamper with one of the most novel jobs I've seen among people living the full-time RV lifestyle with a family. The man is a pilot for a major airline.
Steven Tree, his wife and three kids – ages 10, 8 and 6 – embarked upon their RV journey a little over a year ago. Prior to that, they had been living near Ann Arbor, Mich.
They had contemplated a full-time RV lifestyle for several years, and just decided to jump in and do it. They sold their home and bought a fifth wheel. When they left on their journey, it was the first time they had ever used an RV.
What makes the family's experience so unique is that Steven is a pilot for a major airline. He can technically travel anywhere in the country so long as he has access to an airport in order to fly to his home base. The job requires him to be away from his family 12 to 15 days a month in three- to four-day increments.
He flies all over the country and to Mexico or Central America upon occasion. When his time is up, Steven flies back to wherever his family is parked at the moment. He does have some schedule flexibility so that if the family really wants to do some significant travel, he can work up to 10 days in a row, but quite a few days off after that.
As a general rule, Steven will ensure the RV is parked at a full-hookup site in a safe location with plenty of things for his family to do while he is gone. Then, if they want to do any boondocking or more adventurous travel, they do it on those days when he can join them.
His wife is involved in roadschooling the kids as well as planning all the family excursions when they arrive at a new destination. They absolutely love national parks. In fact, the children have acquired 92 Junior Ranger badges from the parks they have visited in the past year alone.
One activity the family really enjoys together is hiking. They will frequently go on an 8- to 10-mile hike every week as the kids lead the way.
It took some adjustment for the children to move out of a house where they had separate bedrooms and move into an RV where they have separate bunkbeds. However, they adjusted well and now really enjoy the ability to visit new places and see exciting things.
Everyone is already making some incredible memories and will often recall key points about places they visit when talking among themselves or with other people. Next summer, they are planning to travel up the west coast to explore the Pacific Northwest to view the volcanoes, mountains, ocean and search for wildlife.
Steven is fortunate to work for a company where most of the airborne employees commute from other places to their home base. Steven didn't really need to get permission to venture out in an RV, and nobody will question the decision as long as he continues to make it to work on the days he is scheduled to fly.
The family has faced a few challenges on the road, like a blown tire that stranded them along an Arizona highway for a few hours. But, Steven's oldest son has taken a great interest in troubleshooting any problems that may come up and, so far, he has been able to partner with mom to address any issues.
Roadschooling, which is basically homeschooling, but done in an RV, is a unique opportunity for parents to really expose their children to some historical places and scientific information where they can experience it first hand and learn from real experts in the field.
Steven described several national parks they have visited and the activities their children have enjoyed along the way. Each child has discovered something truly interesting at one of the sites. For example, his art-loving daughter came alive when visiting Weir National Historic Park, which was the working studio of famous artist J. Walden Weir.
Both Steven and his wife have harbored a desire to travel since the early days of their relationship. When the kids came along, she set aside her career as a veterinarian to spend more time guiding their education and tending to their needs. After some friends embraced RV travel full time, Steven and his wife just decided if they don't do it now, when would it ever happen so the family could enjoy traveling together?
I really wish the Tree family the best of luck as they continue their adventures on the ground, and in Steven's case, in the air.
Today's episode is sponsored by The Dreamer's Journey, it is an online course and community produced by Workamper News. Life is way too short to keep your dreams on hold, so don't be held back by fear because you were designed for more!  Get started in the RV lifestyle the right way with this comprehensive guide.
For just $29.95 for one year of access, Dreamers have unlimited viewing of 50-plus videos to learn things like what type of RV to buy, goal setting, how to budget for the adventure, developing a positive mindset, setting up a domicile and operating a small business on the road, plus everything about Workamping and how to find the right job for you. Each video is 30-90 minutes long to give in-depth coverage on each topic.
There's no wrong time to get started.  For more information, visit www.rvdreamersjourney.com.
That's all I have for today's show. Next week, I will be speaking with a man who runs a marketing business from his RV serving clients all over America. I'll have that interview of the next episode of The Workamper Show. Thank you for listening!