Podcast Episodes
Episode 023 features opportunities at Silver Dollar City and with Guest Services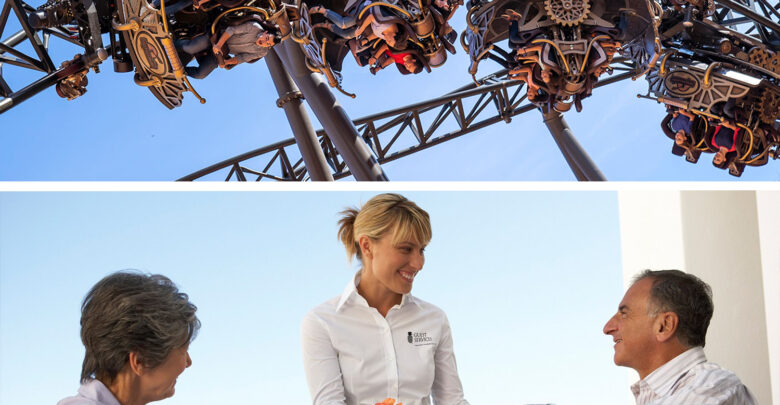 Podcast: Play in new window | Download
Subscribe: Apple Podcasts | Google Podcasts | Spotify | Stitcher | TuneIn | RSS
Today's episode will feature interviews with two more employers who participated in the 2019 Workamper Rendezvous.
For our first interview today, we'll speak with Jo Brooks, the human resources recruiter, and Jessica Norton, a human resources specialist, at Silver Dollar City, which is a theme park and water park in Branson, Mo.
The site offers 40 rides and attractions, 18 restaurants and 60 retail centers plus a campground, most of which are staffed with workampers.
The workampers are hired for jobs in a specific area, but can be trained to work in multiple areas, if they wish. The minimum age to work there is 14, so families traveling with teens can get them jobs, too.
Silver Dollar City's typical season runs from mid-March to January 1, however most workampers are employed during the summer months.
There are some short-term positions available to help during the park's fall festival and Christmas season. However, the park is hiring now for summer positions.
The perks for workamping at Silver Dollar City include a free season pass to the theme park and waterpark, and each paycheck includes complimentary day passes workampers can give to friends and relatives.
Full-time seasonal employees can sign up for health, dental and vision insurance. People who really want to haul in even more cash can work overtime during the summer.
In fact, 2020 will be a good year to work there as the water park is opening a new attraction called Mystic River Falls, which features the tallest drop for a family raft adventure in the northern hemisphere.
The company will be celebrating its 60th Diamond Jubilee anniversary in 2020, and there are a lot of special activities planned around that.
To learn more about the plethora of opportunities available at Silver Dollar City, visit www.silverdollarcity.com/employment. There is a short video on that page that also talks about working at the park.
For our second interview today, we'll speak with Stephanie Tschahl, with Guest Services, a contractor with several state and national parks, that is looking for workampers all over America.
The firm manages the Everglades National Park in Florida as well as Lake Mead in Arizona, Big Sur in California, Mount Rainier in Washington, and several others.
Guest Services is looking for workampers to staff food service operations, retail jobs and even serve as campground hosts.
If you're looking to visit a specific part of the country, chances are good that Stephanie Tschahl will be able to find a job for you in that region by working for Guest Services.
Workampers get some nice discounts with the company in the retail stores, as well as free use of boats and bikes. These are full-time jobs, although some part-time positions may be available, depending upon the area.
The company is hiring for spring and summer jobs right now. You can learn more information about the type of positions and qualifications by visiting www.guestservices.com/careers.
This is just one of many job opportunities available to people who work from their RVs. Whether it is running a business from your RV or working short-term jobs for a variety of employers, Workamper News can give you information to help plan a course to live your own dream and get you on the road faster than you thought possible.
For more information about opportunities to live, work and play in your RV, visit www.workampernews.com.