Podcast Episodes
On Episode 244, Christopher Smith describes Workamping at Ozark Country Inn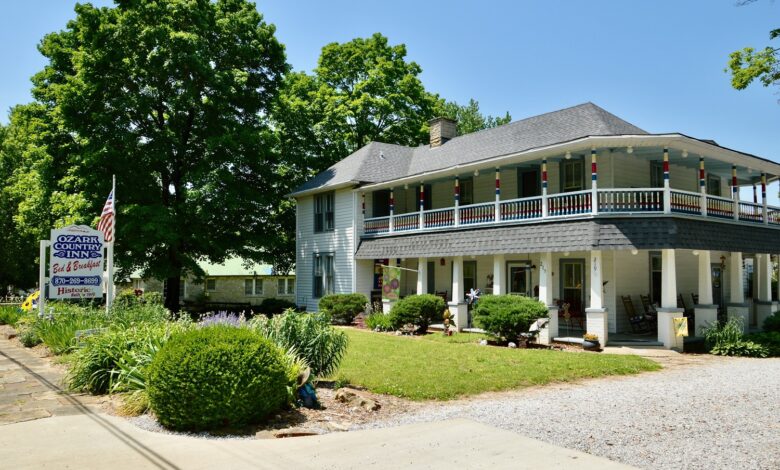 Podcast: Play in new window | Download | Embed
Subscribe: Google Podcasts | Spotify | Stitcher | TuneIn | RSS
Today I will be speaking with someone who has a unique opportunity for a couple to help run a bed and breakfast inn within the Ozark Mountains of Arkansas.
Christopher Smith owns the Ozark Country Inn, which is a bed and breakfast inn located in Mountain View, Ark. The 115-year-old, seven-bedroom home is considered a historic building, but it has been renovated several times to provide modern amenities.
Mountain View is an idyllic small town. In fact, Christopher says people have to be intentional about visiting the community known for its bluegrass and folk music.
Ozark Country Inn is a popular bed and breakfast not only for its proximity to Mountain View's historic Court Square, but also because all the bedrooms have their own private bathrooms. There is also a two-bedroom cottage behind the main building with a full kitchen, living room and dining room.
A Workamping couple is needed to help check guests in and out, and perform housekeeping duties after guests depart. They also ensure common areas are kept clean and tidy. Workampers help maintain the impressive flower gardens outside the home, and they prepare breakfast for guests every morning.
Ideally, Christopher is looking for a couple who is friendly, sociable and loves dealing with people to provide genuine, old-fashioned southern hospitality. Workampers should also be comfortable using computers. If they love to garden, especially tending flowers, that is a plus.
The seasonal jobs begin in February and continue through July. However, Workampers can opt to stay through November if they wish.
Although Workampers would start in February to help get the home ready for guests, they pretty much ease into their duties because the inn doesn't start getting really busy until April. The busiest the inn ever gets is hosting 12 guests at a time.
Christopher explained that Workampers are expected to make a commitment until July. At that time, the couple can move on or opt to stay the entire season and work until November. If the couple opts to leave in July, then Christopher will be looking for a replacement to work from July through November.
Workampers typically work 30 to 40 hours per week. The first 15 hours of the work week are devoted to covering the cost for a 50-amp, full-hookup RV site near the cottage behind the main building. However, Workampers are paid $12 for every hour beyond the first 15 hours they work.
The days typically begin by 7 a.m. whenever there are guests staying at the inn. That way breakfast is ready to be served by 8:30 a.m. and everything is cleaned up by 11 a.m. at the latest. After that, Workampers have the rest of the day off.
Christopher does ask that Workampers remain in town when guests are staying at the facility or are expected to check in that day. However, arrangements can be made to cover required duties if the Workampers want to travel. They typically have Tuesdays and Wednesdays off.
He said bed and breakfast inns attract a special type of clientele who are typically more laid back and sociable than guests found at other types of accommodations. Cooking breakfast isn't difficult. Workampers simply follow recipes to prepare an easy menu of standard breakfast items.
For a small town, Mountain View provides a lot of recreational opportunities for Workampers to engage in during their free time. Horseback riding is popular, but so is touring art galleries and enjoying bluegrass or folk music at many venues. Local restaurants provide lots of dining options.
Christopher said there is music playing somewhere nearly every night during peak season. However, Branson, Mo., is only a few hours away, and so is Little Rock, the capital of Arkansas. People who enjoy outdoor activities will find plenty to do at nearby Greer's Ferry Lake and Buffalo National River.
Applications are being accepted right now for the job starting in February. For more information, visit www.ozarkcountryinn.com/workamper-information.
Today's episode is sponsored by Workamper News. With its Diamond and Platinum membership tools, Workamper News is much more than just a job-listing website. When you put the tools of this professional service into action, you'll find out just how easy it can be to turn your Workamping dreams into reality.
The one-year memberships open the door to a one-stop-shop for all-things Workamping. Being the original resource for Workamping, you'll find the largest number of job listings, be able to connect with a community of Workampers, and view resources compiled by experts who have been enjoying the RV lifestyle for many years.
If you're serious about leading a successful and enjoyable Workamping lifestyle, then a Diamond or Platinum membership is for you.  You can even get started with a free 30-day trial by visiting workamper.com/trial. Embark on new adventures today with the support of Workamper News behind you!
That's all I have for today's show. Next week, I will be speaking with another employer about an incredible Workamping opportunity deep in the Alaskan wilderness. I will have that interview on the next episode of The Workamper Show. Thank you for listening. If you like these interviews, please consider leaving a review wherever you download the episodes.