Podcast Episodes
Jared Creach explains how he supports his family by fixing RVs on Episode 150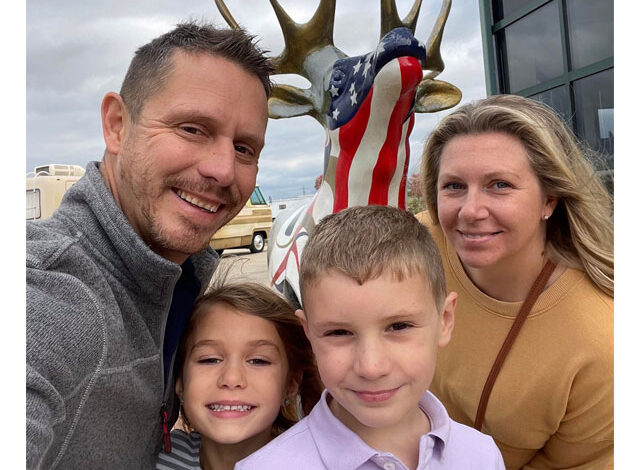 Podcast: Play in new window | Download
Subscribe: Google Podcasts | Spotify | Stitcher | TuneIn | RSS
Today I am speaking with a mobile RV service technician who supports his young family on the road by fixing RVs wherever they travel.
Jared Creach and his family have been RVing since 2014. He and his wife have a 9-year-old boy and a 6-year-old girl who travels with them as well as a 20-year-old son who is on his own. Prior to 2014, they were weekend RVers while Jared worked a corporate job at a General Motors assembly plant in Kansas.
The family was attracted to the RV lifestyle as a way to have more control of their lives as well as to spend more time together as a family while the children were young.
They settled on a Nitro toy hauler so the kids could bunk in the back and they have room for a golf cart to drive around the campgrounds they visit.
Today, Jared supports his family by serving as a mobile RV technician. He had always tinkered with his own RV to keep it in working order. But, once they started full-time travel, Jared realized the need for mobile service technicians just to help people like him who lived in their RVs and could not afford to leave their units for several days or weeks at a time to get something repaired.
There is often plenty of work to keep him busy by just fixing RVs at the campgrounds they visit. In fact, he has received calls for service within 20 minutes of his arrival. The key is to contact the campground in advance to find out if there is already a mobile service technician on-site and, if not, to let managers know when his family will arrive and be able to provide service.
Once he arrives at a campground, Jared drops off a stack of business cards with the office staff and places a few in the mail area as well. Generally, just word-of-mouth that a mobile service technician will be staying at the campground for a while is enough for other guests to anticipate Jared's arrival.
The family is often at the same campground for two weeks to a month before moving on. His wife also owns her own business providing health supplements to clients wherever they may be. A former nurse, she has been offering Plexus products to customers for more than 10 years, which means she has built up a regular client base to support her business.
Jared typically works a few hours every day and schedules his repair jobs around the family's roadschooling adventures and other things they want to do together, like visiting museums and national parks.
Jared completed RV technician training in Indiana. It took about six weeks to learn how to do pre-delivery inspections on new and used RVs, then learn to diagnose and repair problems with the rigs. His training covered RV appliances, plumbing issues and the like, but he also took separate courses from RV suppliers to learn to fix refrigerators, sliderooms and levelers.
His biggest challenge on the road is to maintain a supply of parts for items that are frequently repaired, like motherboards for RV furnaces, and to get parts for various equipment found in recreation vehicles. However, he has been able to find parts he needs and have them shipped directly from suppliers or from Amazon. He has to make sure he purchases certified parts rather than cheaper knockoffs.
Another challenge is to find places to stay. Jared doesn't want to interfere with other mobile service technicians who are already staying at an RV park, and he is finding there are more RVs on the road today than there are places to park them, especially in some areas of the country.
To ensure they have somewhere to go, the family plans their route months in advance. For example, they set up their winter travel schedule in August. Right now, their time is booked through March. Then, they hope to head west where Jared really wants to spend time visiting national parks in Utah before heading over to California to admire giant sequoia trees. They have already booked time to visit the Yellowstone region next summer.
Michigan has been one of the family's favorite places to visit so far, but they really like spending time on the coasts. However, the mountains of Asheville, N.C., were an out-of-the-way place they enjoyed visiting as well.
His advice to people considering jumping into the RV lifestyle is to learn how to maintain their own rigs so unexpected repairs can't slow them down. But, when they need service on the road, Jared strongly recommends looking for certified mobile technicians to perform the work. They are often less expensive than larger repair centers and have faster availability to get problems addressed quickly.
I wish Jared and his wife tremendous success with their businesses as the family continues their adventures in 2022.
Today's episode is sponsored by Workamper News. With its Diamond and Platinum membership tools, Workamper News is much more than just a job-listing website. When you put the tools of this professional service into action, you'll find out just how easy it can be to turn your Workamping dreams into reality.
The one-year memberships open the door to a one-stop-shop for all-things Workamping. Being the original resource for Workamping, you'll find the largest number of job listings, be able to connect with a community of Workampers, and view resources compiled by experts who have been enjoying the RV lifestyle for many years.
If you're serious about leading a successful and enjoyable Workamping lifestyle, then a Diamond or Platinum membership is for you.  You can even get started with a free 30-day trial by visiting www.workamper.com/trial. Embark on new adventures today with the support of Workamper News behind you!
That's all I have for this week's show. Next week, I am speaking with a woman who runs several RV-based businesses with her husband that enables them to travel America with their three daughters. She offers a lot of advice on what to consider before jumping into the full-time RV lifestyle. I'll have that interview on the next episode of The Workamper Show. Thanks for listening!