Podcast Episodes
In Episode 189, J.C. Burchett describes Workamping jobs at Walnut Hills Campground in Virginia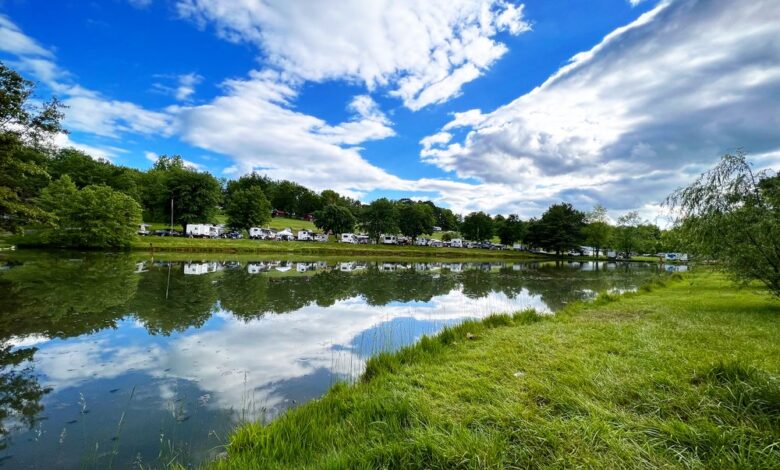 Podcast: Play in new window | Download | Embed
Subscribe: Google Podcasts | Spotify | TuneIn | RSS
Today I will be interviewing an employer from a very scenic part of Virginia who is looking for Workampers next summer to help at his campground.
J.C. Burchett is the manager of Walnut Hills Campground in Staunton, Va. With 150 campsites, 13 primitive cabins and nine deluxe cabins that include bathrooms and kitchens, the campground is located in the Shenandoah Valley about two hours southwest of Washington, D.C.
J.C. and his wife, Lisa, took over the park in January. Prior to that, they had been Workampers themselves traveling with their two children. During that journey, they learned about the campground industry and eventually hooked up with an investment group which needed an on-site campground manager in Virginia.
Workampers perform typical campground duties, such as registering guests, taking reservations, delivering firewood and general cleanup or maintenance around the park. J.C. said he likes to cross-train Workampers to do multiple jobs so they aren't stuck doing the same things over and over.
Although the campground is open year-round, Workampers are generally needed from late April until late October. In return, they get a free full-hookup campsite and they get paid $12 per hour for all hours worked. J.C. hopes to find four Workampers to work in 2023.
He likes to schedule couples so they are working together and can have the same days off. Teenagers over 18 who are traveling with their families can also work at the campground. Right now, Walnut Hills cannot accommodate solo Workampers.
The only real qualification to becoming a Workamper at Walnut Hills is being eager to learn. People with specialized skills, such as carpentry, can always be utilized, but those skills are not required. To really stand out in the application process, simply show excitement about coming to work at the campground.
To apply for the job, people can send an email to [email protected]. Then J.C. will schedule an interview via Zoom to get to know applicants a little better.
That part of Virginia is a nice place to spend the summer. It is located far enough away from big cities that Workampers can enjoy a rural experience, while still being able to drive a few hours to visit some really historic places. J.C. described the area as a natural paradise with relatively easy access to fishing and ocean beaches.
Washington, D.C. is two hours away while Gettysburg is three hours north. Historic Jamestown and Williamsburg are a little over two and a half hours away. People can also board a train in Washington, D.C., and be in New York City three hours later.
For more information about the campground and things to do in that area, visit www.walnuthillscampground.com. If you'd like to apply for the job, send an email to [email protected].
Today's episode is sponsored by The Dreamer's Journey, it is an online course and community produced by Workamper News. Life is way too short to keep your dreams on hold, so don't be held back by fear because you were designed for more!  Get started in the RV lifestyle the right way with this comprehensive guide.
For just $29.95 for one year of access, Dreamers have unlimited viewing of 50-plus videos to learn things like what type of RV to buy, goal setting, how to budget for the adventure, developing a positive mindset, setting up a domicile and operating a small business on the road, plus everything about Workamping and how to find the right job for you. Each video is 30-90 minutes long to give in-depth coverage on each topic.
There's no wrong time to get started.  For more information, visit www.rvdreamersjourney.com.
That's all I have for this week's show. Next time, I'll be speaking with a Workamper who will describe his RVing experience and some of the jobs he and his wife have done as they've traveled. I'll have that interview on the next episode of The Workamper Show. Thanks for listening!