Podcast Episodes
Glenn Tucker seeks Workampers to help with coastal kayaking and bicycle tours in Maine in Episode 068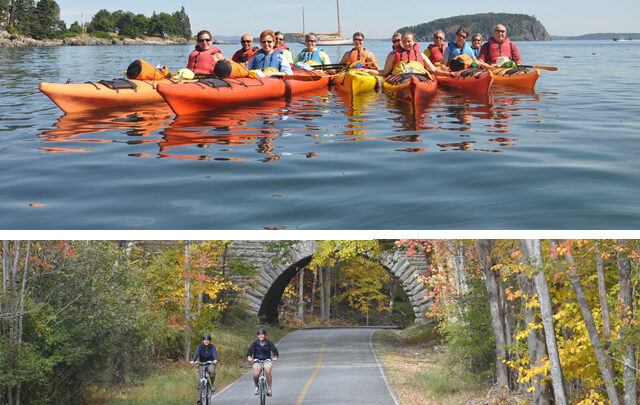 Podcast: Play in new window | Download
Subscribe: Google Podcasts | Spotify | Stitcher | TuneIn | RSS
Today we will talk with the owner of a company that offers kayak and bicycle tours in Maine, and he's looking for Workampers in 2021.
Glenn Tucker is the owner of Coastal Kayaking Tours and Acadia Bike in Bar Harbor, Maine, which is the gateway to Acadia National Park.
He calls them soft adventure businesses that just about anyone can enjoy. The firm maintains a fleet of bicycles to rent so people can peddle on the car-free carriage roads of the national park. His team also takes people on guided kayaking tours along Frenchman Bay where they paddle among the Porcupine Islands.
Glenn is looking for 16 to 20 Workampers in 2021 to serve in customer service positions by taking reservations and renting out the bicycles. Workampers also ensure that guests get where they need to go to begin their adventures.
The companies cater to cruise ships coming into Bar Harbor, which generally sees 150 ships per year loaded with people looking for fun. The passengers book excursions where they are picked up from the dock and taken to their chosen activities.
The full-time seasonal positions typically start May 1 and continue through the end of October, which means that Workampers will be spending time in one of the most beautiful areas of America during the popular fall foliage season.
Workampers start at $12 per hour, but if you have a commercial driver's license and are comfortable operating a bus, you get a $2 per hour bonus for doing that.
The company has worked out an arrangement to secure an RV site for Workampers at a cost of $400 per month. That's an exceptional rate for Maine in the summer!
Glen will be looking for up to 20 Workampers for the 2021 season. So, if this sounds like a great adventure for you, too, then you will want to reach out to Glenn soon to begin the application process.
I like that he believes in the adage that the best surprise is no surprise at all. Glenn ensures that all of the Workamper duties and expectations are fully laid out before offering a contract. He also encourages people to thoroughly investigate his company and talk to other Workampers who have worked with him.
He especially desires Workampers with strong ethics and customer-service skills. He will cross-train the Workampers so they can serve in different positions to ensure that customers are taken care of quickly.
If you have ever been on a cruise, you know how hectic it is to get people from the dock to their chosen adventures quickly and efficiently so that they can spend as much time as they can either biking or kayaking.
Maine is one of my favorite places to visit. Workampers can tour the quaint coastal villages or head up to Canada, Nova Scotia or Prince Edward Island or even to Boston and the White Mountains of New Hampshire and Vermont. There is so much to do in Maine, too, either by car, bike or boat. It would be a summer to remember.
If you'd like to work for Coastal Kayaking Tours and Acadia Bike in 2021, reach out to Glenn Tucker any time after July 1. You can reach him through one of two websites: www.coastalkayakingtours.com or www.acadiabike.com.
Workamper News, a magazine and online publication, connects RVers to full- and part-time jobs around the country. Whether it is running a business from your RV or working short-term jobs for a variety of employers, Workamper News can give you information to help plan a course to live your own dream and get you on the road faster than you thought possible.
For more information about opportunities to live, work and play in your RV, visit www.workampernews.com.