Podcast Episodes
In Episode 222, Gary Kolenich describes RVing and designing apparel for GoRVLivin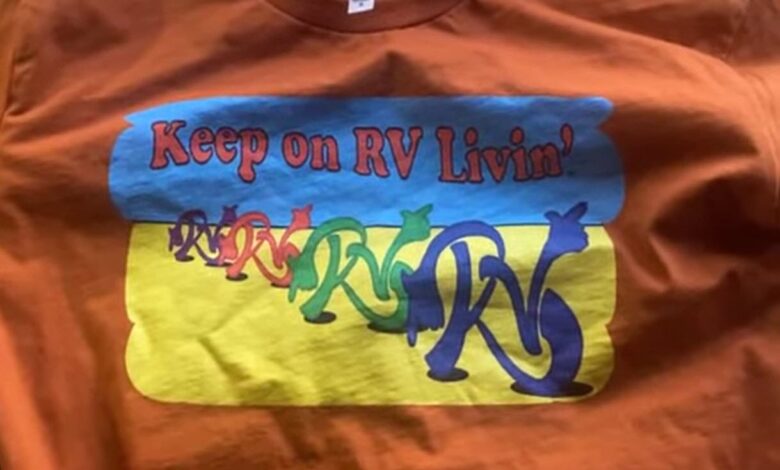 Podcast: Play in new window | Download | Embed
Subscribe: Google Podcasts | Spotify | TuneIn | RSS
Today I will be speaking with a Workamper who developed a business idea to design and sell apparel items from his RV.
Gary Kolenich has been RVing and Workamping for six years. While others may take years to plan their RV adventure, Gary and his wife jumped in quickly.
The couple had operated a spa in Jackson Hole, Wy., for many years, but decided they wanted to do something entirely different. So they shut down the spa and bought an RV instead. With just a few months of planning, they hit the road. However, the experience proved to be a crucible in that both Gary and his wife eventually opted to go in different directions. After getting divorced, Gary continued to live in the RV.
He went to work as a gate guard at an oilfield in Texas. He was working 24 hours a day for two days in a row, which he did for nearly two years. During that time, he took courses to learn how to use Adobe Illustrator and Photoshop. He decided to put his new-found knowledge to work by designing apparel for RVers.
He had seen RV-related shirts for sale at RV parks, stores and at other places, but he was not impressed with the designs. So Gary created his own for several years until he met another designer who was just as creative. Now Gary comes up with a concept, pays the designer to polish it up and then sells the shirts through his own online store at www.gorvlivin.com.
Gary set up the store on Shopify so the shirts can be printed on demand, which means he doesn't have to pay for or store vast amounts of inventory. Best of all, people can buy shirts and have them shipped directly to them wherever they may be.
As a solo Workamper, Gary certainly has enjoyed a variety of Workamping jobs, including working as a gate guard at an oil field in Texas, cleaning fishing boats for a resort in Montana, doing boat inspections in Colorado, and even working at a general store at Death Valley, Calif. This summer, he will be managing an RV park in Ohio.
While that pays the bills and often provides an RV site for Gary, his real passion is in designing and selling hooded sweatshirts and other apparel specially for RVers. I thought it was interesting how Gary put his products through the gauntlet by testing the shirt's durability and the ink's ability to retain colors by exposing them to desert sun.
But what Gary really likes to do is to play in the mountains with his two dogs and engage in recreational shooting. Workamping jobs enable him to earn money to enjoy some extended alone time to experience peace and quiet in the wilderness.
He has faced some challenges, such as having his RV surrounded by a pack of coyotes, contending with rattlesnakes, and towing his RV on fumes along a steep, narrow and winding mountain road for 20 miles until he could reach a gas station.
That's the best part about Workamping and RVing – making memories that you'll share with family and friends for years to come.
If you would like to connect with Gary or order one of his shirts, be sure to check out his website at www. GoRVLivin.com.
Today's episode is sponsored by Workamper News. With its Diamond and Platinum membership tools, Workamper News is much more than just a job-listing website. When you put the tools of this professional service into action, you'll find out just how easy it can be to turn your Workamping dreams into reality.
The one-year memberships open the door to a one-stop-shop for all-things Workamping. Being the original resource for Workamping, you'll find the largest number of job listings, be able to connect with a community of Workampers, and view resources compiled by experts who have been enjoying the RV lifestyle for many years.
If you're serious about leading a successful and enjoyable Workamping lifestyle, then a Diamond or Platinum membership is for you.  You can even get started with a free 30-day trial by visiting www.workamper.com/trial. Embark on new adventures today with the support of Workamper News behind you!
That's all we have for today's show. Next week, I will be speaking with an employer about a short-term opportunity to earn money harvesting sugar beets in the thumb of Michigan this fall. I'll have all the details on the next episode of The Workamper Show. Thank you for listening!