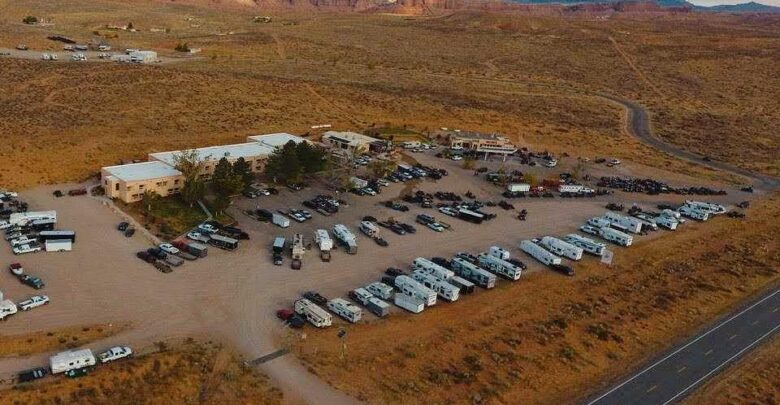 Podcast: Play in new window | Download
Subscribe: Google Podcasts | Spotify | Stitcher | TuneIn | RSS
Most people who are workamping know that campgrounds hire people as hosts or to help register guests. However, people may not realize that lodges also hire workampers to serve guests.
Ticaboo Lodge is located in the northern Lake Powell region of Utah. The lake is massive, extending 186 miles from Arizona into Utah. The lake is in the middle of the Glen Canyon National Recreation Area.
Ticaboo Lodge is 72-room lodge that offers dining as well as an offshore marina and boating services. By boating services, they mean pleasure boating as well as houseboat rentals. The lodge serves as a base for tons of adventure activities including whitewater rafting.
It is open year-round, but the lodge is looking for full- and part-time workampers from April to October to staff retail stores, food service jobs, customer service functions as well as housekeeping and maintenance.
Ticaboo Lodge is located in a remote area. Grand Junction is the closest big city, and it's three hours away. However, the scenery near the lodge is spectacular and working there comes with some fun perks.
Spending a summer in the spectacular Lake Powell region of Utah sounds like an incredible opportunity. To fully get away from the hustle and bustle of a hectic life is an added benefit.
There are so many recreational opportunities available within a short distance of the lodge that I know people who love the outdoors would have no trouble enjoying an adventurous summer.
Just the ability to rent boats and ATVs at discounted rates or even tag along on some of the adventure trips the lodge offers to guests – all  of that is a unique perk.
Fishing is plentiful along the 186-mile lake that fingers its way through that region. So is skiing, hiking, canoeing and, certainly, sightseeing.
It's a remote area, but if you can get food deliveries via Schwan's and the company-operated convenience stores, and make a trip or two per month to the big city of Grand Junction, Colo., you'll have everything you need for an adventurous summer.
For more information, be sure to visit www.ticaboolodge.com.
Whether it is running a business from your RV or working short-term jobs for a variety of employers, Workamper News can give you information to help plan a course to live your own dream and get you on the road faster than you thought possible. For more information about opportunities to live, work and play in your RV, visit www.workampernews.com.