Podcast Episodes
Ranger Angela Erskine describes volunteer opportunities in south-central Massachusetts in Episode 177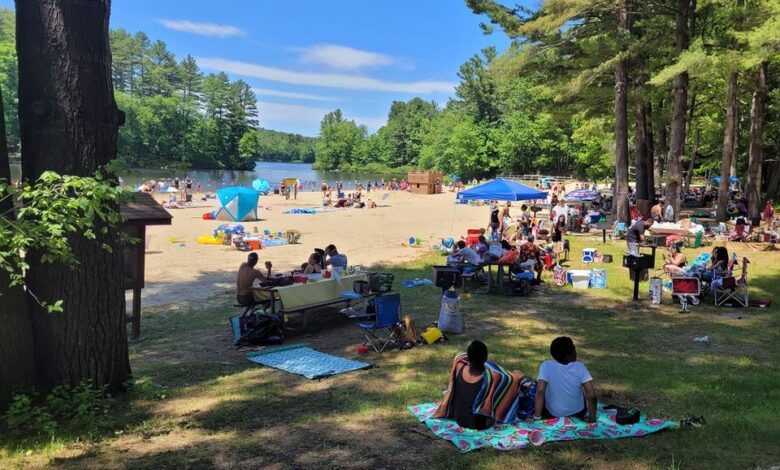 Podcast: Play in new window | Download
Subscribe: Google Podcasts | Spotify | Stitcher | TuneIn | RSS
Today, I am going to speak with a U.S. Army Corps of Engineers ranger about Workamping opportunities in south-central Massachusetts.
Angela Erskine works at the U.S. Army Corps of Engineers project at Buffumville Lake and Hodges Village Dam, which is located in south-central Massachusetts, just a few miles from the Connecticut border. The 483-acre Buffumville recreation area includes a day-use park with a boat ramp and 300 feet of shoreline used as a warm water beach. There are also five fishing platforms and 7 miles of hiking trails near the lake.
The adjacent Hodges Village Dam features 963 acres of recreation space along the colder water lake. It offers 22 miles of hiking trails as well as canoe and kayak launch sites. Disc golf is available at both locations.
The project is located 7 minutes from Oxford and 50 miles southwest of Boston, which means there is plenty of opportunity to enjoy a quiet, natural respite not too far from one of the largest, most historic cities in America.
Workampers are needed to help perform maintenance on hiking trails, pick up trash, greet guests, keep the facilities clean and generally ensure people are able to have a good time. They might do some light mowing, repair stairs or painting.
There are no camping facilities at either location, so Workampers typically serve as extra eyes and ears to help rangers ensure the park operates smoothly.
Angela said a big portion of a Workamper's duties involve keeping visitors safe by reminding them of rules pertaining to life jackets, and of the need to keep hydrated while using the lakes. Workampers are not involved in any law enforcement-type activities. If a situation arises where that kind of help is needed, Workampers simply call rangers and ask them to get involved.
The positions are volunteer and seasonal in nature. The parks are typically open the second weekend in May through the second weekend in September, which coincides with school schedules. Most of the visitors to the parks are families with children.
Workampers are required to work at least 20 hours a week per person and generally be on duty during weekends when the park is busiest, but there is some scheduling flexibility. Workampers receive a free full-hookup RV site in exchange for their time, as well as a golf cart they get to keep on site and use when working.
There aren't any specific skills needed to do the job other than a love for being outdoors and working with the public. Angela said rangers work with Workampers to assign them jobs they're skilled at performing, whether it's light construction, landscaping or interacting with visitors.
From time-to-time, Workampers may get involved in interpretive programming, such as helping with presentations or nature walks.
The application process is as simple as contacting Angela to express an interest in working at the project. Then she will schedule a call to provide more information about the project, answer questions and see if it would be a good fit for the Workampers.
Being a federal operation, all Workampers are required to go through a background check, which includes being fingerprinted. If they will be required to operate government vehicles, then Workampers will have to take defensive driving and safety training classes.
Although it is a volunteer position, it lets Workampers stay in a very popular part of the country for free. There are plenty of historical sites to visit in Boston, Salem, Martha's Vineyard and Springfield. It's a quick drive to Providence, Rhode Island, and Hartford, Conn. It's super easy to take a train from New Haven, Conn., to New York City. Or, people can enjoy a scenic drive into Maine.
If you're interested in Revolutionary War or colonial history, there are plenty of places to visit within a few hours of Buffumville Lake and Hodges Village Dam.
For more information about volunteer Workamping opportunities with the U.S. Army Corps of Engineers, visit usace.usajobs.gov.
Today's episode is sponsored by Workamper News. With its Diamond and Platinum membership tools, Workamper News is much more than just a job-listing website. When you put the tools of this professional service into action, you'll find out just how easy it can be to turn your Workamping dreams into reality.
The one-year memberships open the door to a one-stop-shop for all-things Workamping. Being the original resource for Workamping, you'll find the largest number of job listings, be able to connect with a community of Workampers, and view resources compiled by experts who have been enjoying the RV lifestyle for many years.
If you're serious about leading a successful and enjoyable Workamping lifestyle, then a Diamond or Platinum membership is for you.  You can even get started with a free 30-day trial by visiting www.workamper.com/trial. Embark on new adventures today with the support of Workamper News behind you!
That's all I have for this week's show. Next week, I'll be speaking with a woman who travels the country writing news stories and features for a major RV industry publication. I'll have that interview on the next episode of the Workamper Show. Thanks for listening!