Podcast Episodes
In Episode 200, Jody and Luke Duquette outline 200 possible jobs for Workampers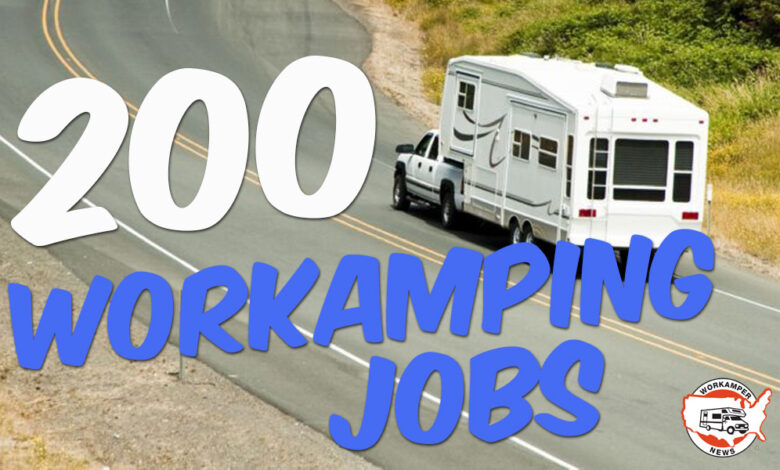 Podcast: Play in new window | Download | Embed
Subscribe: Google Podcasts | Spotify | TuneIn | RSS
Today is a very special episode of The Workamper Show. It's Episode 200 and we're going to celebrate in a fun way by describing 200 different types of Workamping jobs offered by our amazing employer members.
By definition, Workamping is doing any kind of work while living in an RV, so it really encompasses a lot of different opportunities in many industries. Sometimes Workamping is portrayed as just "working in a campground" or "working a job where an RV site is provided," but those are limited definitions which don't paint the whole picture.
Since this is the 200th episode of The Workamper Show podcast, we thought it would be fun to describe 200 different Workamping positions. The dynamic duo of Jody and Luke Duquette, the leaders of Workamper News, will guide you through the list. As they do, you'll see that Workamping can be a fit for many types of people with varying personalities, wants and needs.
When compiling this list, Jody and Luke combed through the employer members of Workamper News and the help wanted ads published for 35 years in the magazine and shared through our popular website at Workamper.com.
Certainly, there are other opportunities out there that Jody and Luke won't cover today. But this episode will give you a great idea of the variety of jobs you'll find as a Workamper News member – a variety you won't find anywhere else. By utilizing the most robust toolkit that we've created for Workampers, it makes it easy to find the right jobs.
Speaking of variety, Workampers can be volunteers, W-2 employees, independent contractors or small business owners. Most positions available are going to fall under the typical description of a W-2 employee. The compensation for these positions is going to vary. Even if it's the same "position or role," the compensation provided by each employer is different.
We caution you on making assumptions about duties and compensation when reviewing help wanted ads. These jobs are like snowflakes in that no two are the same. So when Jody and Luke talk about these positions, they're giving you a generalization or a compilation of what they've seen employers share.
You'll want to be sure to do your research and ask many questions of each employer you're interested in working for, so that you can make an educated decision regarding whether or not it's the right opportunity for you.
Before we dive into the detailed positions, remember that sometimes you'll see an employer advertising that they are seeking a "Workamper." The job title is "Workamper" and this is one of those situations where an employer has a specific definition in their mind of what a Workamper does. But the duties of a Workamper could mean A LOT of different things. In those cases, you will certainly want to be sure to clarify the expected job duties before accepting any job you may be offered.
Jody and Luke Duquette, the Workamper News executive director and technical director, put in a lot of work to identify more than 200 jobs that Workampers typically perform for employers. The crazy thing is that's not even all of the opportunities available for Workampers. It's truly amazing to learn about all the fun stuff that Workampers can find to do.
In the 35 years since Workamper News began, the opportunities available have really evolved as new businesses and entities have become aware of this great niche of people. Just as we have for nearly four decades, all of us at Workamper News will continue to provide you with the best avenues for learning how to be successful in this lifestyle and how to easily find the right jobs for you.
One of those avenues is this podcast! Thanks so much for listening and for supporting us so we can provide this resource for you. Not many podcasts achieve a 200-episode milestone. The vast majority of them fizzle out before their 10th episode.
It's a matter of luck that our 200th episode coincides with Thanksgiving. So, in that spirit, we salute you, our faithful listeners, for tuning in week after week. We have enjoyed producing some wonderful interviews of Workampers sharing their experiences and interviews of employers who offer some pretty neat opportunities to help Workampers support a fun travel lifestyle.
But we're not through yet. If you would like to share your experience as a Workamper, or if you are looking for Workampers to perform any job, or if you run a business from your RV, we would love to interview you for a future episode. Please send an email to [email protected].
We have some great things planned for 2023. So, here's to another 200 episodes! Thank you for listening.
For more information about becoming a Workamper or to learn how to enjoy a successful Workamping lifestyle, visit www.workamper.com.