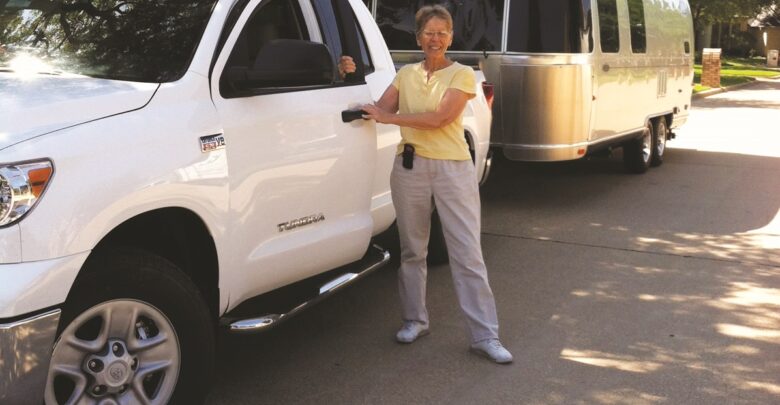 Podcast: Play in new window | Download
Subscribe: Google Podcasts | Spotify | Stitcher | TuneIn | RSS
We've all heard the saying that you are as young as you feel. Today we're going to talk with a woman who started RVing and Workamping when she was 73 years old.
Barbara Alpher has enjoyed camping much of her life, but always in tents. When her mother died in 2013, she made a decision that changed her life. She bought a travel trailer and hit the road seeking adventure. The remarkable thing is that Barbara was 73 years old at the time.
She is spending this winter in southwest Arizona working at a wildlife refuge where she staffs the visitors center answering questions about the 118,000-acre refuge. Barbara also talks about other types of jobs she has worked, including a stint at Amazon.
She's got some advice for older folks who don't think they could ever RV by themselves.
Barbara describes how she overcame the challenge of a hip replacement while she was on the road, and how she deals with the residual effect of enduring a dropped foot. She has learned to look for specific perks with potential jobs to make her life easier while traveling.
Barbara Alpher is an inspiration. She has such a positive approach to life and the challenges she faced that I can't help but be encouraged by her story.
The idea that she opted to replace stuff with experiences says a lot about her priorities and her mission.
The fact that she is traveling by herself hauling a recreation vehicle all over the nation is inspiring enough. But to start doing that at age 73 is truly remarkable.
She plans her journeys by determining where she wants to go next, and then looking for jobs to support her when she arrives. Many times, it is the experience, not the money, that drives her decisions.
Barbara has made a lot of friends, not only among Workampers, but also with local residents wherever she settles for a while. She keeps her mind sharp by reading and visiting libraries in every community she stays.
Even with health challenges and typical RV problems, like tire blowouts, it hasn't dampened her enthusiasm for the RV lifestyle and Workamping. She always found the help she needed to continue her journey.
Barbara still has items she would like to check off her bucket list. That's the type of life I'd like to live in two decades when I'm knocking on the door to 80 years of age.
Barbara Alpher has done more in her 70s than most people do their entire lives. So, don't let age stop you from pursuing your dreams.
Whether it is running a business from your RV or working short-term jobs for a variety of employers, Workamper News can give you information to help plan a course to live your own dream and get you on the road faster than you thought possible. For more information about opportunities to live, work and play in your RV, visit www.workampernews.com.