Podcast Episodes
Sylven and Adrian Watson describe steps they're taking to ready for full-time living in Episode 083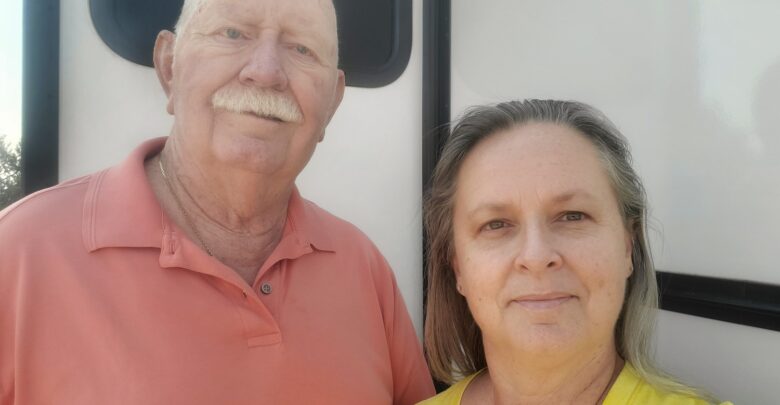 Podcast: Play in new window | Download | Embed
Subscribe: Google Podcasts | Spotify | Stitcher | TuneIn | RSS
Note: We were so saddened to hear that Adrian lost his battle with congestive heart failure in May 2021. Sylven will be continuing on with their plan and hopes to be back out on the road soon. We wish her nothing but the best and are thankful we got to know Adrian a bit.
This week we will talk with a couple from Colorado who are in the process of redesigning their lives to venture into the full-time RV and Workamping lifestyle.
Sylven and Adrian Watson are looking forward to the day they can uproot their lives and head out onto the open road. Right now, Sylven is working at a job that she finds emotionally taxing at times, and Adrian is already retired.
They have both done quite a bit of camping during their lives, and they just love being outdoors. The couple has owned an RV for 14 years, but use it primarily on weekends and for short-term vacations. They recently upgraded to a 38-foot travel trailer as they started getting serious about full-time RVing, and explain why they chose to stay with a travel trailer.
The Watsons are planning to take a shake-down trip in September to visit Yellowstone National Park and take another trip to New York later this year. As of now, they are planning to launch full time in early 2021.
Even though they had been RVing for quite some time, Sylven and Adrian opted to enroll in the new Dreamer's Journey course to get answers to some lingering questions so they could feel more confident about living in an RV full time.
They explain how the course made them feel more comfortable using their equipment and knowing what to do should something go wrong.
The Watsons have already started assembling a wish list of places they would like to visit and the types of jobs they would like to accept. That list includes the Florida panhandle and coastal Oregon.
Adrian is looking for a job where he can engage people and share stories. He thinks working as a docent for a museum or historical site would be a great job. Sylven has worked with computers for most of her career, so she thinks a job helping manage campground reservations would be a good fit.
There is a big difference between using an RV for weekend camping trips, and living and working from it on a full-time basis.
Even though they had been RVing for 14 years, Sylven and Adrian Watson knew there was still a lot to learn in order to enjoy full-time RVing the right way.
Since they had some time before Sylven retired, they opted to enroll in the new Dreamer's Journey class offered by Workamper News.
While attending the course, the couple decided they needed to upgrade their RV from a 20-year-old,
30-foot travel trailer for a brand new 38-foot travel trailer. They liked the convenience of towing a trailer rather than a fifth wheel, and didn't want to worry about maintaining a motorhome engine and drive train.
After attending the class, the Watsons also opted to get a tire pressure monitoring system for the trailer as well as the truck they'll be using to tow the RV. Now they will be able to see problems before they happen, such as a tire overheating or slowly deflating.
The couple also found the budgeting course helpful in ensuring they would have the resources needed to support themselves on the road. They're also ready to begin actively looking for jobs after learning how to use the Workamper resume builder tool.
I wish Sylven and Adrian Watson the best of luck as they prepare to launch this travel adventure along with Snuggles, their pet cockatoo.
If you're contemplating the full-time RVing and Workamping lifestyle, but aren't sure if you can do it or even if it's right for you, then perhaps you would benefit from enrolling in the new Dreamer's Journey course produced by Workamper News.
It is a comprehensive guide that will help you get started with the RV lifestyle the right way. With a 90 day subscription, people can participate in two online webinars every week to learn things like what type of RV to buy, goal setting, how to budget for the adventure, developing a positive mindset, where to call home, and how to find a job or start a mobile business.
All online events will be recorded for watching any time. Subscribers can also join an open question-and-answer session each month. For more information, visit www.rvdreamersjourney.com.
We should warn you that Snuggles, their excited pet cockatoo, can be heard in the background from time-to-time.