Podcast Episodes
Phil and Shar Roos describe their A Year to Volunteer mission in Podcast 078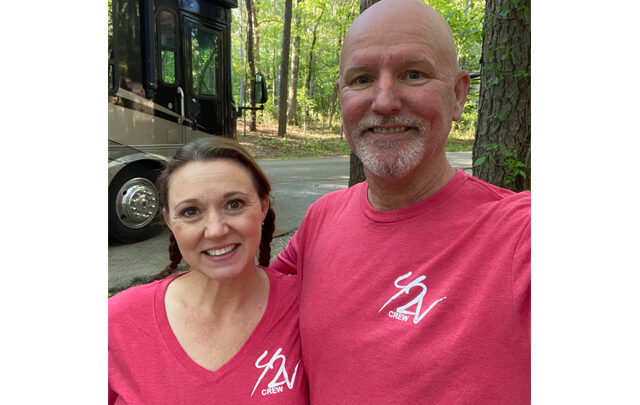 Podcast: Play in new window | Download
Subscribe: Google Podcasts | Spotify | Stitcher | TuneIn | RSS
Today, we are going to talk to the founders of the group A Year to Volunteer about ways Workampers can make a difference by getting involved in restoration projects around the country.
Phil and Shar Roos founded A Year to Volunteer in 2018, and launched their first project earlier this year. Initially, their goal was to retire and take a year off to volunteer doing something in all 50 states. Since then, their vision has grown to help connect other volunteers with opportunities to help around the country.
Today, their vision is to encourage everyone to volunteer to do something for 365 days over the span of their lifetimes. I suspect that will morph into something even bigger than Phil and Shar can imagine.
Most of their work at the moment is centered around restoring trails and fixing parks that were either damaged in storms or run down due to budget challenges. But the need for help is so immense that they'll have no problem finding projects to complete.
Members of their group typically provide manpower while the venues supply the materials needed to complete the projects.
For example, they just finished a six-week renovation project at Bucks Pocket State Park in Alabama. Budget cuts forced the park to close in 2015, but with everyone cooped up at home, officials really wanted to reopen it this year. As you can imagine, there was a lot of work to do to get the campground and trails ready to be reused.
A Year to Volunteer members came in with chain saws, loppers, pruners, tractors and a skid-steer loader to recondition the park so that it could reopen in June.
In other projects, volunteers have been involved in landscaping, painting, carpentry, pouring concrete, hanging wallpaper and even painting rocks that are then scattered around the park and on trails for people to find on fun scavenger hunts.
There aren't any real qualifications to be a volunteer because there is always something for someone to do that doesn't require a lot of skill. Some states offer specific training, but most projects are completed by people who have a few hours, a few days, a week or an entire month to devote to making improvements.
Right now, Phil and Shar just pick an area they'd like to visit, and look for opportunities to do some volunteer work nearby. Once the project is identified, they set up a schedule and alert other volunteers who help spread the word as well.
I love the premise of A Year to Volunteer, or spending 365 days throughout an entire lifetime giving time back to local communities.
Most government entities are in a difficult position, whether they are funded at the federal, state, county or local level.  Most agencies have reworked their budgets so that recreation fees and admissions pay for park operations. But, if the parks aren't in good condition, people tend to stay away, which deprives the park of needed fees to maintain the facilities. The parks get caught in an endless loop of lack of funding and reduced services.
Phil and Shar Roos are engaged in conversations with various government entities to identify projects that need to be completed. They already have three more projects planned yet this summer, and are talking to officials in three other states.
After listening to their story, I imagine that word will spread and Phil and Shar will become full-time coordinators to act as liaisons between various projects and volunteer leaders to the point there will be dozens of projects underway at the same time across the country.
This is a great opportunity for friends to do something together and make a difference for their local area, or for families to tackle projects with their children to get them in the habit of volunteering.
It often involves working outdoors, which can have therapeutic benefits as well in reducing stress, restoring joy and improving overall mental health. I think Phil and Shar Roos are on to something so big that they don't yet see the scope of where the organization could grow.
Since they started their first project in January, 92 people involved with A Year to Volunteer have already provided more than 6,000 hours of volunteer service, and they can all take pride in knowing they have made a difference in a local community.
That type of feel-good volunteer spirit is often contagious, especially when people can see their effort has had a real impact and will improve the lives of others.
I also appreciate Terrye Abbott describing her experience, and the people she has met on the project she helped complete. It is people like her who have a positive experience volunteering at one project that they step up to help on others.
If you'd like to join in on one of A Year to Volunteer's projects, visit www.ayeartovolunteer.com or check out their pages on Facebook and Instagram. You'll find pictures about projects the group has already completed as well as information about upcoming projects.
What Phil, Shar and Terrye are doing is still considered Workamping, even though they don't get paid. Some people can take time off between paid jobs to lend a hand, and others have the financial resources available that they see full-time volunteering as a way to enjoy their retirement.
Whether it is a volunteer position, a paid job or a potential business, Workamper News can connect you to opportunities around the nation you can work while traveling.
Workamper News can give you information to help plan a course to live your own dream and get you on the road faster than you thought possible. For more information about opportunities to live, work and play in your RV, visit www.workampernews.com.