Podcast Episodes
Lynne Swanson describes Safe Harbor Farm and its dog-friendly mission on Podcast 082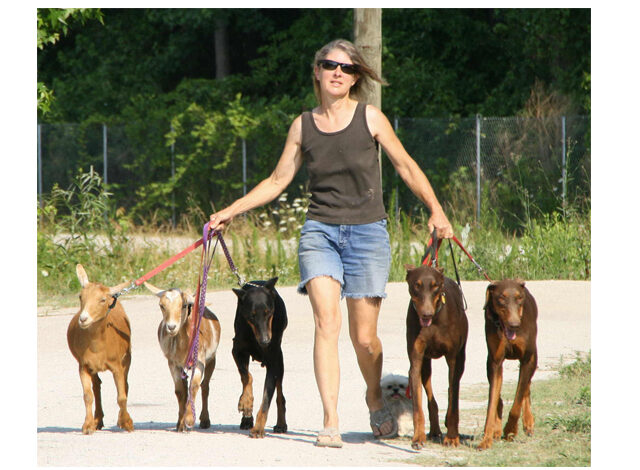 Podcast: Play in new window | Download
Subscribe: Google Podcasts | Spotify | Stitcher | TuneIn | RSS
Today we will talk with a woman who runs a mission in North Carolina that helps dog owners get help in training their pets, and she's looking for a few volunteer Workampers to offer services in exchange for a free RV site.
Lynn Swanson used to be a full-time RVer herself, but she came off the road to engage in a mission to teach dog owners practical ways to live more easily with their pets. Safe Harbor Farm, in cooperation with the Smiles Project, seeks ways to improve communication between dogs and their owners.
Their programs teach owners how to speak "dog" while creating a balance between human and canine psychology to bring out the best behavior on both sides of the leash.
The mission also provides canine behavior training for veterinary clinic staff, animal rescuers, boarding shelters and dog trainers across the United States and in Canada.
Lynne is a retired veterinarian and dog trainer who has lived with up to 20 dogs at the same time. Through that experience, she has discovered that dogs are actually among the best communicators on earth.
She is looking for several Workampers to help transform the center's 61-acre home base in North Carolina into a dog-friendly network of walking trails and group play areas.
The volunteers work side-by-side with a variety of animals from goats to cats to turtles. It's very dog-friendly place to work, so volunteers with pets will find themselves at home.
Lynn is looking for volunteers to work this fall and next spring, too. Workampers are asked to commit to 16 hours of service per week in exchange for a full hookup site. Most volunteers stay between one and three months, but she is open to longer-term agreements as well.
She is especially looking for people with social media experience.
Safe Harbor Farms sounds like it would be a really fun place to work if you like animals. It's where Noah's Ark meets Dr. Doolittle.
I'd like to thank Lynne Swanson for taking time to come on the show to tell us about her mission for the farm and the Smiles program.
The opportunity combines the best of living in rural North Carolina, while being within 30 minutes of the Atlantic coast. To serve 16 hours a week to help dogs and their owners in exchange for a free full-hookup RV site is a bargain.
As a charitable organization, Lynne is really looking for motivated self-starters to look around the compound and identify ways that it could be improved.  I was super impressed that Lynne said she could look around the property and remember the names and faces of people who were responsible for adding specific features and improvements to the farm.
Whether it is a volunteer or paid position, this is one way Workampers can leave a legacy whenever they work.
You'd have to drive some distance to get to a larger community, and the farm doesn't have its own wireless internet service; however, the wireless connections provided by Verizon and U.S. Cellular will keep Workampers online.
So, if you have a passion for dogs, a desire to tinker around and make something better than it was, and if you want to be part of a mission that is making life easier for pets and their owners, then get your application in early. That's especially true if you have experience doing social media promotions and building a supportive online community.
For more information about Safe Harbor Farm, visit www.safeharborfarm.org.
If you'd like to better understand your dog and how it communicates, then pick up a copy of Lynne's book titled SMILE!: And Other Practical Lessons Your Dogs Can Teach You (While You are Training Them) by visiting www.givesmiles.us.
If you are looking for a volunteer opportunity, or a full- or part-time job, Workamper News can help you land a short-term job working for a variety of employers. The magazine and online community can give you information to help plan a course to live your own dream and get you on the road faster than you thought possible.
For more information about opportunities to live, work and play in your RV, visit www.workampernews.com.